NBA Playoffs Bracket 2012: Miami Heat and Most Dangerous Postseason Threats
April 25, 2012

Ronald Martinez/Getty Images
The 2012 NBA playoffs are almost here, and there are a few teams that need to be feared the most. 
Every team has a shot at winning it all this year. The key is to get hot at the right time and anything can happen. 
However, some teams are much more prepared and have better talent to help them make a deep run. Should a team have to face one of these teams, it's not going to be easy advancing to the next round.
With that said, here's who I see as the three most dangerous postseason threats this year. Be sure to drop a comment and let me know which teams you like the most in the 2012 NBA playoffs. 
Miami Heat 
LeBron James is on a mission this year, and he's going to continue to dominate night in and night out until he wins a championship. 
This Heat team is loaded with talent. They're going to turn it up a notch in the playoffs, which doesn't bode well for the rest of the Eastern Conference. 
Dwyane Wade does have a banged-up finger right now, which could turn into an issue down the road.
However, if he's unable to go at any point, it will force LeBron to step up even more so, and that will lead to destruction for the opposing team. 
Oklahoma City Thunder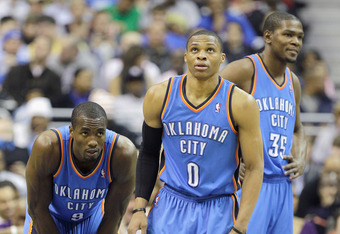 Rob Carr/Getty Images
It's uncertain whether or not the Thunder will have a fully healthy James Harden for the entire postseason, but the hope is that he's able to contribute. 
I think he'll press on and fight through if the Thunder advance to the second round, which shouldn't be a problem. 
They may be young, but the Thunder are highly dangerous, and their young star players will get the job done.
Oklahoma City is one of the favorites of the Western Conference, so look for Kevin Durant, Russell Westbrook, Serge Ibaka and Kendrick Perkins to take their game to new heights and go on a deep playoff run. 
Chicago Bulls 
Should Derrick Rose remain healthy for the entire playoffs, the Bulls have an incredibly good shot at winning another championship. 
With Rose, Luol Deng, Carlos Boozer, Joakim Noah and Richard Hamilton, this Chicago team is capable of beating anyone in the league. 
Dealing with the pressure that comes with being a No. 1 seed could hinder the Bulls, but there's no denying they've got the talent to make this a special postseason. 
In the end, Chicago will have a tough road to the championship, but the Bulls have the skill to get there. The Heat are their biggest obstacle, and NBA fans everywhere can only hope they meet again in the playoffs this year because it will be a very exciting series.