San Francisco 49ers 2012 Draft: Why to Expect Multiple Trades from Trent Baalke
April 24, 2012

Ezra Shaw/Getty Images
Matt Maiocco over at Comcast Sports Net Bay Area made a great point as it relates to the San Francisco 49ers' roster logistics. He pretty much stated that rookies are going to have a hard time cracking the 49ers' 46-man active roster on Sunday's in 2012. In fact, he laid out 46 players that are currently pretty much locked in on the active roster.
This makes all the sense in the world.
So, with seven draft picks, the 49ers could conceivably see all of them make the roster. Of course, this would mean that a combination of six of the following players would have to be released:
Josh Johnson, Colin Kaepernick, Anthony Dixon, Brandon Jacobs, Nate Byham, Kyle Williams, Ian Williams, Demarcus Dobbs, Perrish Cox, Tramaine Brock, Curtis Holcomb, C.J. Spillman and Colin Jones.
Are you comfortable with that? I am sure not!
What does this mean?
The 49ers are likely to be extremely active when it comes to trades over the course of the three-day draft event in New York City. They might look at moving Anthony Dixon and Scott Tolzien for draft picks if any team bites.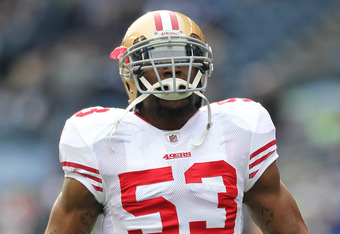 Otto Greule Jr/Getty Images
More than that, San Francisco might be looking to move up and down in specific rounds. For example, they might not like what they see at No. 30 and look to trade out of the first round in order to pick up extra selections later. These additional picks could be used later to move back up in later rounds.
This is something that Trent Baalke has done with mastery over the course of the last couple of drafts. Just think about him trading down in the third round of the 2010 NFL draft in order to draft NaVorro Bowman. The 49ers picked up an additional fourth-round pick in last year's draft that was used to trade up for Colin Kaepernick in the second round.
They also moved up in the fifth round last season in order to draft Daniel Kilgore, a player that many people considered a tremendous reach. The second-year player from Appalachian State is going to challenge for a starting job at the guard position in 2012.
See a theme here? You can pretty much guarantee that San Francisco isn't going to end up on Saturday with the very same picks we see right now.
What to do?
Well, there are a myriad of different options here. First, San Francisco could easily make trades for future picks, which seems to make some sense at this point. Remember when they traded their 2009 second-round pick to the Carolina Panthers for a first-rounder in 2010? That pick ended up being Mike Iupati, one of the best all-around guards in the National Football League right now.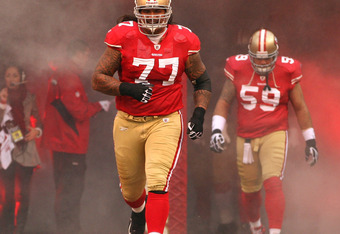 Ezra Shaw/Getty Images
A player like Brandon Weeden might fall to San Francisco at No. 30, which could set in motion a string of events that would force the 49ers to think long and hard about trading out of the initial round completely.
Some quarterback-needy team that "missed out" on Ryan Tannehill might look to trade into the end of the first round in order to acquire the Oklahoma State product. I am talking about the Miami Dolphins, Cleveland Browns, Seattle Seahawks and Kansas City Chiefs here.
The ESPN trade value chart seems to indicate that the 49ers could pick up an additional third- and sixth-round pick by just trading down 20 spots into the second round from the 30 slot. Is it worth it?
Then you have the possibility that the 49ers might just look to move up in the first round, surrendering one of their later picks in order to acquire a player like David DeCastro or Cordy Glenn. If a team, like the 49ers, have only a couple needs on the active roster, it might behoove them to actually bite the proverbial bullet and give up multiple picks to get that guy.
Conclusion
I am not pretending to be an expert here. After all, it was mind-numbing for me to orchestrate trades in a mock draft that I was a part of last month. Just imagine what it must be like in the 49ers war room come Thursday, Friday and Saturday.
No, I don't envy them at all. This is why Trent Baalke and Co. get paid the big bucks and I am writing this article at 3 A.M. from my laptop here in California.
What I will say is that you can definitely expect San Francisco to be involved in multiple trades this week. This has been Baalke's M.O. over the course of his couple seasons with the 49ers and it isn't going to change right now.
In fact, the landscape of the draft and of the 49ers roster leads me to believe that trades might even be more prevalent this time around. Don't fret, the 49ers couldn't be in a better situation with "Harbaalke" running the war room this week.