2012 NFL Draft: Cleveland Browns Latest News, Rumors and Storylines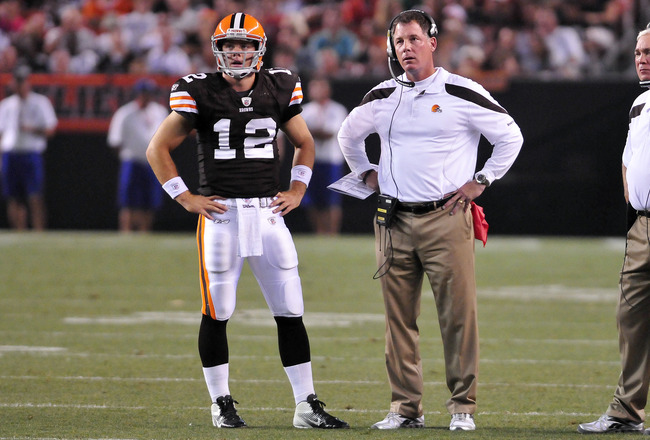 Jason Miller/Getty Images
"It is always darkest just before the day dawneth." - Thomas Fuller

Browns Backers, the 2012 NFL Draft is nearly upon us.

The Browns have attracted a fair amount of attention from the national media throughout the offseason for a number of reasons. National and local media predictably focused on the quarterback position.

The Browns' myriad of other needs precluded the front office from pinning their hopes on a new signal caller.

Whether in the form of the requisite four-year, $20 million deal for Matt Flynn or trading away first-round picks through the first term of the Chelsea Clinton administration to draft Robert Griffin III, the Browns resisted outside pressure to turnover the quarterback position with admirable reserve.

Management correctly recognized that while Colt McCoy certainly remains an unknown quantity, he is, to paraphrase Donald Rumsfeld, a known-unknown. We know that the Browns offense stunk up the joint so badly that Joe Montana couldn't have won seven games behind center in 2011. We also know that we don't know whether Colt will emerge as the next Montana or Bill Kilmer.

The picture at fourth overall for the Browns has evolved on a near-daily basis this spring as the Browns have been tentatively discussing trading up and down. If they remain at fourth, Cleveland's needs number so many that realistically as many as five or six players legitimately stand a chance to be chosen at fourth.

You can follow me on Twitter @StepanekButton
On Trading Down
4/26: Adam Schefter of ESPN is reporting that the Browns have traded their 4th overall pick, 4th, 5th and 7th round picks to the Vikings for the 3rd overall pick.
-----------------------------------------------------------------------------------------------
A team with as many needs as the Browns can never dismiss the strategy of hedging their bets by trading down for more picks.
Tom Heckert's record in the first two or three drafts in recent years should encourage Browns Backers on draft day, even if the fourth overall pick results in an anti-climactic trade to the...
By the way, who could the Browns potentially partner with on a deal to move down from fourth?
St. Louis Rams head coach Jeff Fisher acknowledged he would consider a move from sixth to fourth overall, and the Rams have a few extra first rounders formerly belonging to Dan Snyder.
Any team outside the top ten with eyes for Richardson, Blackmon or Claiborne will have to deal with the Browns to guarantee their prize.
If the Browns can acquire extra second or third round picks this year, a player like Lavonte David in the second round could prove a massive steal on draft day.
Rumors and Speculation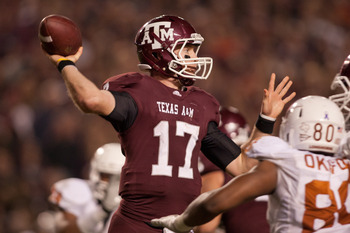 Darren Carroll/Getty Images
The NFL Network's Mike Mayock's pleas that someone take Ryan Tannehill in the top 10 have grown more shrill as the draft approaches.

Let's see how Mayock did on say, Cam Newton. Or Jimmy Clausen. But at least he would have rated Newton ahead of Blaine Gabbert, right?

While it's Tannehill's physical abilities that Mayock contends qualify the quarterback for consideration as a fourth overall pick, it was character that led the NFL Network draft analyst to question Newton's worthiness as a top selection.

Mayock even suggested that the Browns should or could trade up for Tannehill at third overall in the same breath he concedes that the one-and-a-half year starter would be a "project."

22nd overall is one story. But what NFL team with as many needs as the Browns drafts a "project," fourth overall, let alone trades up one pick for the third-best player at quarterback with the chance to grab the best available player at every other position? The notion almost merits a lobotomy.

If the Browns trade up to third overall and draft Tannehill, the consequences could be as dire as Mayock suggests they could be if the Dolphins pass him up a few picks later.

On Planet Earth, the choices at fourth overall appear to have narrowed to LSU cornerback Morris Claiborne, USC offensive tackle Matt Kalil, Oklahoma State wide receiver Justin Blackmon, Alabama running back Trent Richardson or the publicly-acknowledged possibility of a trade-down scenario.

Conflicting reports from NFL Network and the Plain Dealer's Mary Kay Cabot indicate the Browns have either have significant or zero interest in Arizona State linebacker Vontaze Burfict.
Workouts and Visits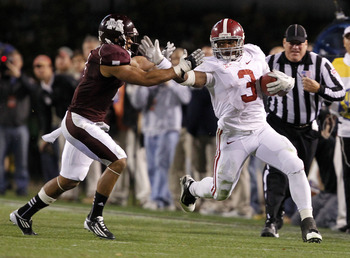 Butch Dill/Getty Images
What do Phil Taylor, Buster Skrine and Greg Little have in common other than their draft class?
The Browns invited them to a pre-draft visit in 2011. Expect this list from Ohio.com to contain one or two future Cleveland Browns.
*Player also worked out for the Browns.
4th Overall
Trent Richardson, RB, Alabama
Morris Claiborne, CB, LSU
Matt Kalil, OT, USC
Justin Blackmon, WR, Oklahoma State
22nd Overall
Cordy Glenn, OL, Georgia*
Kendall Wright, WR, Baylor
Whitney Mercilus, DE, Illinois
Jonathan Martin, OT, Stanford
Stephon Gilmore, CB, South Carolina
Michael Floyd, WR, Notre Dame
Ryan Tannehill, QB, Texas A&M*
Chandler Jones, DE, Syracuse
37th Overall
David Wilson, RB, Virginia Tech
Brandon Weeden, QB, Oklahoma State
Lavonte David, LB, Nebraska
Doug Martin, RB, Boise State
Bobby Wagner, LB, Utah State
Mitchell Schwartz, OT, California
Other Noteworthies
Amini Silatolu, OT, Midwestern State* (second or third round); Isaiah Pead, RB, Cincinnati* (second or third round); Ladarius Green, TE, Louisiana-Lafayette* (third or fourth round); Donald Stephenson, OT, Oklahoma* (third or fourth round)
Where Will the Browns Draft a Right Tackle?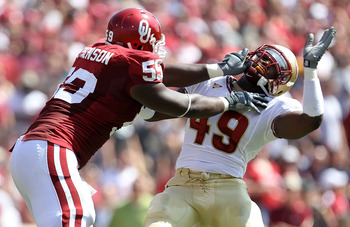 Ronald Martinez/Getty Images
Considering that the Browns have yet to invite Iowa's Riley Reiff or Ohio State's Mike Adams for a visit, the other tackles invited to Berea paint a clearer picture of how the Browns likely view their situation at right tackle.
Should Kalil fall to the Browns and no sufficient trade offers emerge, the fact that the Browns invited the USC All-American to a visit demonstrates they could see themselves drafting him should Minnesota leave the former Trojan at the altar on draft day.
At 22nd: if Jonathan Martin remains, the Browns would apparently look at the Stanford product given his invitation. Additionally, Georgia's Cordy Glenn displayed a diverse skill set as a collegian and his credentials as a plug-and-play starter at guard or tackle make him one of the most desirable prospects in the mid-to-late first round.
In the event Bobby Massie (Ole Miss) falls to the second round, he would constitute an attractive prospect if the Browns focus on the skill positions in the first round.
If the Browns address their needs at running back, cornerback, quarterback, outside linebacker or elsewhere in the first two rounds, look for California's Mitchell Schwartz, Oklahoma's Donald Stephenson and Midwestern State's Amini Silatolu as the Browns' early-mid-round options.
Prognosis
Like always, it depends on who's available, but it's no secret the Browns need a right tackle. If Kalil falls to fourth, or Glenn or Martin remain at 22nd, the Browns will more than likely pull the trigger. If not in the first round, the Browns could wait until the third round until they see another value pick at tackle. 22nd or 67th.
Where Will the Browns Draft an Outside Linebacker?
Given the combination of the Browns' needs, draft position and the class available, the second-to-third round will be the sweet spot for Cleveland at outside linebacker.
If UNC's Zach Brown or Oklahoma's Ronnell Lewis fall to the Browns at 37th overall, either would be a no-brainer for GM Tom Heckert. More realistically, Lavonte David will likely remain at 37th but no later. Despite his relatively small size (233 pounds), David's instincts have scouts drooling.
At 67th, Utah State's Bobby Wagner and California's Mychal Kendricks could fill the void should the Browns use their first three selections to bolster the offense.
Prognosis
Linebacker ranks as the Browns' greatest defensive necessity. The relative qualities of the classes at different positions and the degree of each of the Browns needs combine to paint the picture relatively clearly that the Browns will go for a linebacker no earlier than the second round but no later than the fourth. 37th or 67th.
Where Will the Browns Draft a Wide Receiver?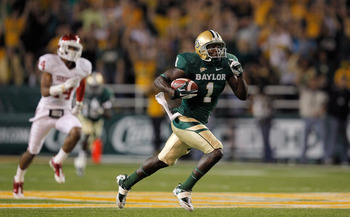 Sarah Glenn/Getty Images
The Cleveland Browns' visit list troublingly omits players like Rutgers' Mohamed Sanu and Georgia Tech's Stephen Hill. Interestingly, the visit list also appears to indicate the Browns apparent commitment to the receiver position in the first round.
The Browns need a receiver early. The question is whether they use their fourth overall on Blackmon or see who's available at 22nd overall.
Prognosis
Of all the positions in the 2012 NFL Draft, wide receiver runs the deepest. (Pun intended) If the Browns pass on Blackmon at fourth overall, the downgrade from Blackmon to Michael Floyd of Notre Dame or Kendall Wright from Baylor is negligible at best, non-existent at worst.
Barring the availability of Stanford OT Jonathan Martin, the second first-round pick appears to be the most advantageous place to take a receiver. 22nd.



Will the Browns Take a Chance on Ryan Tannehill?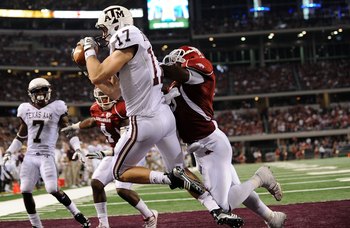 Ryan Tannehill catches a touchdown in his past life as a wide receiver.
Ronald Martinez/Getty Images
No doubt about it, Texas A&M's Ryan Tannehill could be a starting quarterback in the NFL. The senior demonstrated substantial ability during his campaign and had an outstanding pro day.
If the Browns take Tannehill, they will absolutely not do so at fourth overall.
The sheer logic of picking a third quarterback in the top four fails to compute, particularly when that quarterback whose team only two seasons ago listed him at wide receiver.
In reality, the Browns need the fourth and 22nd overall picks for other positions but if Tannehill falls into the second round, it's anyone's guess.
I suspect the Browns will pass and someone else snags the Aggie gunslinger in the middle of the first round.
Tannehill's effectiveness at wide receiver and quarterback in addition to his personal resilience make him a very attractive draft prospect, but the Browns' other needs will trump their interest in another potential project at quarterback.
If Cleveland does take a quarterback, it will be a descending Tannehill, or a player like Michigan State's Kirk Cousins or Wisconsin's Russell Wilson in the later rounds. At $6 million over the next two years, Seneca Wallace needs some competition for the backup spot.
Prognosis
Unlikely, but someone will.
What About Cornerback?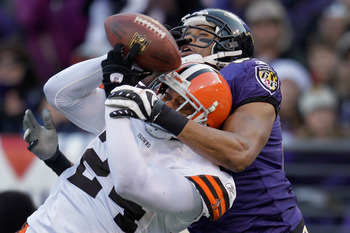 Rob Carr/Getty Images
Sheldon Brown's consistency and leadership since arriving from the Philadelphia Eagles make the veteran the kind of player the Browns want to keep around long-term.
Brown's age (34 this season) has sparked discussions in recent years as to whether the veteran defensive back will switch from cornerback to safety.
The loss of Mike Adams to the Broncos in the free agency mark could facilitate that move and team up Brown with strong safety T.J. Ward behind the Browns defense.
This will almost certainly transpire should the Browns select LSU's Morris Claiborne at fourth overall or South Carolina's Stephon Gilmore at 22nd. Also look for Jayron Hosely out of Virginia Tech at 37th overall. The Browns' pre-draft visits quietly indicate a high level of interest in taking a cornerback early.
That said, Sheldon Brown will perform solidly if at cornerback again in 2012 and the Browns can afford to miss on a corner early far more than they can afford to leave the draft without bona fide starters at right tackle, receiver, linebacker or running back.
Odds at Fourth Overall?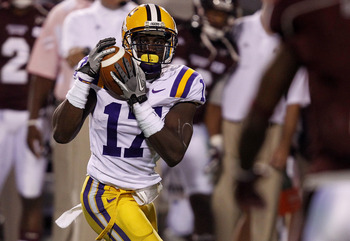 Butch Dill/Getty Images
The Browns' fourth overall selection ultimately will go one of four ways: Trent Richardson, Morris Claiborne, Matt Kalil or a trade-down. Justin Blackmon falls out as a result of the 2012 wide receiver class' relative strength.
Kalil and trading down both depend on the strategies of other organizations. Specifically, the Minnesota Vikings would have to pass on Kalil at third for the Browns to even have the option.
While Richardson meets an immediate need and the running game serves a vital purpose in the AFC North, the lifespan of a quality cornerback can reach two decades.
If the Browns take Claiborne, he and Joe Haden could very realistically dominate the Browns' defensive backfield for a period as long as a decade.
Odds at Fourth Overall
Morris Claiborne, CB, LSU: 1 out of 4
Trent Richardson, RB, Alabama: 1 out of 4
Trade-down: 1 out of 8
Justin Blackmon, WR, Oklahoma State: 1 out of 8
Matt Kalil, OT, USC: 1 out of 16
Other: 1 out of 16
Keep Reading

Cleveland Browns: Like this team?