Philadelphia Phillies: 25 Prospects off to Hot Starts in 2012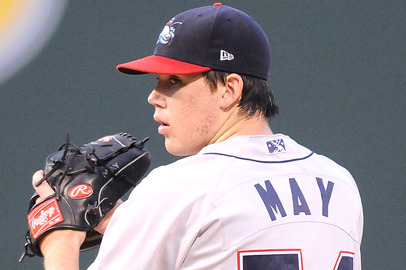 The Philadelphia Phillies have traded off a lot of their top prospects in recent seasons, lowering the value of their farm system, but with the way the MLB club has played at the beginning of the 2012 season, there are more than a few people who wouldn't mind looking ahead.
Though the Phillies have traded top talents to different organizations in order to land All-Star caliber players, the organization is still rich with plenty of prospects with extremely high ceilings.
We all know how the MLB club has fared early in the season, but what about some of the organization's best prospects? This slide show will take a look at 25 of the organization's prospects that are off to great starts in 2012.
*Note: All statistics used in this slide show cover the entire 2012 season and were noted on Monday, April 23rd, 2012.
For news, rumors, analysis and game recaps during spring training, check out Greg's blog: The Phillies Phactor!
Begin Slideshow

»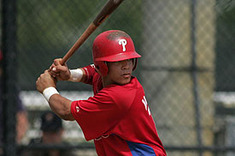 Here are a few guys who started the season off on the right foot, but didn't quite make the list.
Pitchers: Michael Schwimer, Adam Morgan, Austin Wright
Position Players: Sebastian Valle, Kelly Dugan, Tyson Gillies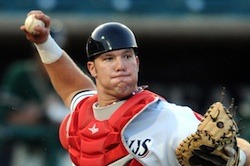 The Line: .263 / .333 / .421, 1 HR
The Phillies don't have much catching depth to speak of, so the club has to be excited about the quick start from right-handed hitting backstop Cameron Rupp.
Drafted in 2010, Rupp has improved his game in each season of his professional career heading into 2012, where he began play with the Clearwater Threshers. With Sebastian Valle moving up to Double-A, Rupp is tasked with handling the next wave of young Phillies pitchers, and he seems up to the task.
Then again, you have to question whether or not his future is really behind the plate. At six-foot-one, 240 pounds, Rupp is a big guy, and he has plenty of room to develop as a hitter, where he may have more upside at a position like first base.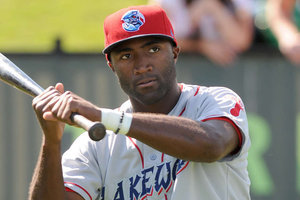 Photo: Tom Priddy / Four Seam Images
The Line: .240 / .397 / .360, 9 SB
You're going to be hearing a lot about Gauntlett Eldemire this season, and not just because he has an awesome name.
First and foremost, he's healthy. Eldemire missed the entire 2011 season with a wrist injury that required surgery. That is in his rear-view mirror.
Most importantly, you will be hearing about him because he has a tremendous ceiling. Having traded away most of their top tier position players, Eldemire has the kind of bat that can propel him to the top of that list. He has excellent contact and power tools and some speed to burn.
Now that he's healthy, don't be surprised to see him tear it up in Lakewood this season and fly up the Phillies' top prospects list.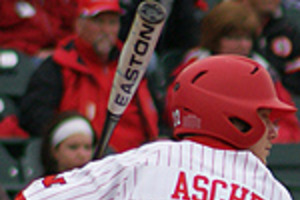 The Line: .313 / .365 / .396
Cody Asche is another guy that the Phillies will be keeping a close eye on. After years of not having a solid third base prospect, the organization suddenly finds themselves with a few. At the top of that list is Maikel Franco, but he is years away from the MLB.
The next guy is Asche, the 21-year-old third baseman drafted out of the University of Nebraska at Lincoln. After spending most of his first professional season at second base, Asche moved back over to the hot corner with the move up to Clearwater this season.
Whether or not the two are connected is uncertain, but he has certainly gotten off to a better start this season. A lefty with power potential, Asche is a guy to keep an eye on.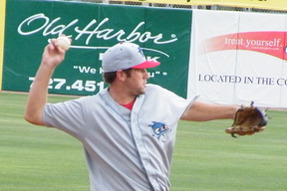 The Line: .291 / .344 / .418, 1 HR
Cody Overbeck may not be much more than a reserve player at the MLB level, but if he keeps tearing up Triple-A the way he has been over the last couple of seasons, the Phillies are going to have to at least give him a look.
The 25-year-old third baseman is aiming for his first full season with the Lehigh Valley IronPigs and is off to a great start. After hitting 24 home runs in each of the last two seasons, Overbeck is looking to prove that he has the chops to play in the MLB.
How long before the slumping Placido Polanco has to start looking over his shoulder?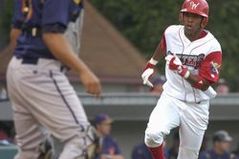 The Line: .360 / .370 / .400
2012 is going to be a big year for D'Arby Myers.
The Phillies drafted him out of high school in 2006 and he has been in the organization for a long time, but he has battled a number of injuries and the only consistency throughout his career has been that he has played inconsistently.
He has a lot of potential and is off to a good start early in the season, but after posting an OPS of .587 at Clearwater last season and never advancing above High-A, I have my doubts.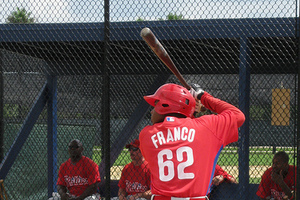 The Line: .263 / .333 / .439, 2 HR
Scouts love Maikel Franco. He has a lot of tools and didn't have to make much noise to open most scouts' eyes. At six-foot-one and 189 pounds, he still has a ton of room to grow, and though he isn't the most athletic of players, he has the ability to stick at third base.
The Phillies want to see how well he can hit against tougher competition. They moved him up to Lakewood this season and he has proved that he can so far this season.
At just 19-years-old, he is still a few years away from the MLB, but Franco could develop into the organization's next great third baseman.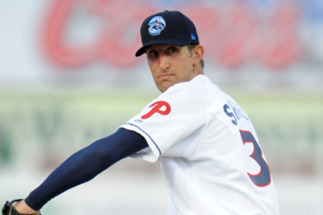 The Line: 1-1, 4.38 ERA, 1.216 WHIP
The Phillies like Colby Shreve a lot, but injuries, including a Tommy John surgery, have bogged him down early in his career.
2011 was a big season for the 24-year-old, right-handed reliever in that he pitched well enough at Lakewood to make the jump to Clearwater, but the Phillies didn't think he was ready.
Shreve will spend at least the first half of the 2012 season as a reliever for the Lakewood BlueClaws, but he has the potential and repertoire to make some noise as a reliever.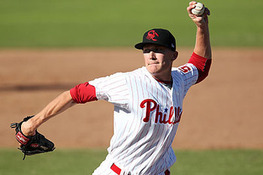 The Line: 0-0, 0.00 ERA, 1.200 WHIP
Jake Diekman was a big name at the end of Spring Training because there was a good chance he could make the MLB club. He had the backing of pitching coach Rich Dubee and pitched well enough to make the squad, but everyone knew he could use some more seasoning in Triple-A.
As long as pitched well, he would be pitching with the Phillies eventually.
Well don't look now, but Diekman is pitching very well. He hasn't allowed a walk or an earned run in 6.2 innings with the Lehigh Valley IronPigs, though he did strike out 10 and allow eight hits.
For a long time, guys like Justin De Fratus and Phillippe Aumont received the most publicity as the future of the Phillies' bullpen, but here comes Diekman.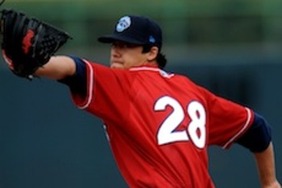 The Line: 0-1, 5.40 ERA, 1.200 WHIP
His line may not suggest it, but Garett Claypool has pitched very well for the Clearwater Threshers this season.
Drafted in the 11th round of the 2010 draft, Claypool is already pitching in his third level of the organization in just his third professional season. You don't progress like that unless you're pitching well, and he is.
Claypool is a big, right-handed reliever that has already appeared in five games for the Threshers. Though he has allowed six runs and four walks, he has also struck out 12 batters. He is a big, power pitcher with the ability to become a very good reliever, should the Phillies keep him in the bullpen.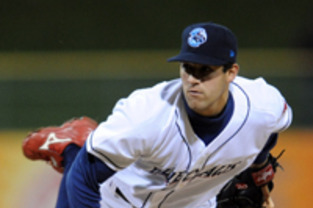 The Line: 0-1, 2.81 ERA, 1.188 WHIP
Most of the pitchers tabbed as the "Baby Aces" have moved up to Double-A this season. Brody Colvin has not. The reason for that is simple: Colvin still has something to prove in High-A Clearwater.
The right-handed starter will rejoin the Threshers this season in hopes of moving up to Double-A at some point in the year, if not next season. The Phillies are not convinced that he has the mental make-up to make that jump right now.
That's the least of their worries, however.
Colvin also dealt with a couple of injuries last season and numerous aches and pains throughout his career. When he returned to the mound, he was inconsistent.
He's off to a great start in 2012 and could catapult himself back towards the top of the Phillies' prospects lists with a great campaign, because his ceiling is a lot higher than some other pitchers in the system.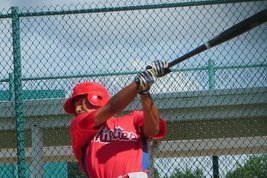 The Line: .316 / .365 / .456, 1 HR, 6 SB
The Phillies have been very patient in waiting for Aaron Altherr to start turning some of those lofty "tools" into results, and he may be on to something early in the season.
Altherr's professional career to date has been somewhat of a struggle in the lower levels of the Phillies' system. Signed out of high school at just 18-years-old, Altherr didn't adapt to playing pro-ball easily.
With that being said, he has always had the tools to develop into a top prospect, and the Phillies will hope that his hot start is more of a step in the right direction than a flash in the pan.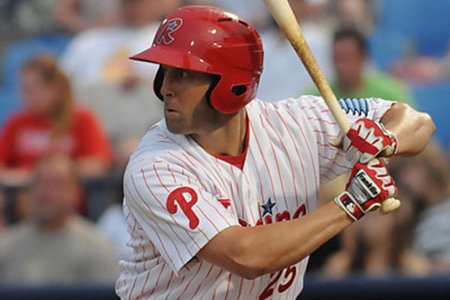 The Line: .308 / .391 / .487, 1 HR
At 26-years-old, Steve Susdorf isn't your prototypical prospect. However, former assistant general manger Chuck Lamar once called him the most underrated prospect in the system, and early on in 2012, Susdorf is proving Lamar right yet again.
The left-handed hitting outfielder is a line drive hitter that can hit with a little bit of power, but he has done it all for Reading this season.
His potential may cap out as a valuable bat off of the bench at the MLB level, but with the way Susdorf has been hitting in '12, you have to keep an eye on him moving forward.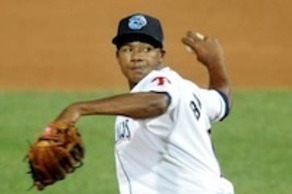 The Line: 0-1, 1.23 ERA, 1.091 WHIP
A lot of people like to talk about the Phillies—fairly dubbed or not—"Baby Aces," but often neglect another guy who certainly has the potential to join that group, Lisalverto Bonilla.
Bonilla started the 2012 season with the Clearwater Threshers and has come out of the game on fire, striking out nine while walking just two.
He doesn't have overpowering "stuff," so the better Bonilla's control, the better the results, and his control has been excellent early in the season.
With the rest of the Phillies' top pitching prospects in Double-A, Bonilla may not be all that far behind.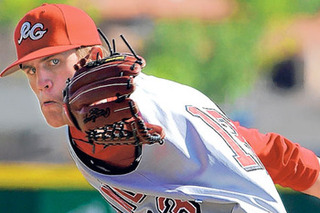 The Line: 0-0, 2.61 ERA, 1.065 WHIP
Kenneth Giles pitched in just three games for the Phillies' rookie club in 2011 after they selected him in the June draft, but apparently, all the right people liked what they saw.
Giles kicked off the 2012 season as a member of the Lakewood BlueClaws' bullpen and has been lights out through 10.1 innings pitched.
With a powerful repertoire, it certainly looks as though Giles' future is at the back end of a bullpen, and the Phillies may be looking to capitalize on that early on by grooming him as a reliever.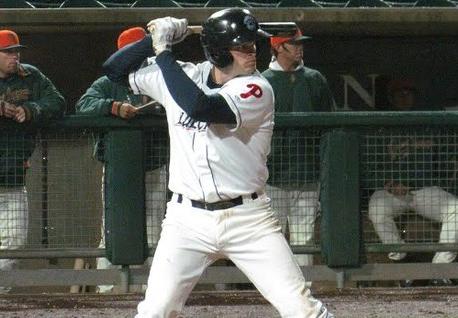 The Line: .267 / .393 / .511, 2 HR
Jim Murphy threw up some impressive power numbers last season with the Lakewood BlueClaws and he has picked up right where he left off with the Clearwater Threshers this season, but what does it all mean?
Murphy isn't a top prospect. He was a 17th round selection back in 2008 and has developed slowly in the lower levels of the Phillies' system.
With that being said, he certainly has developed. Murphy has become a very patient, powerful hitter, and a guy that the Phillies will monitor moving forward.
At 26-years-old though, he seems to be more of the Matt Rizzotti-type of prospect than anything.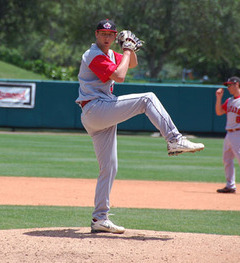 The Line: 0-1, 1.10 ERA, 1.041 WHIP
Drafted in the summer of 2010, Ethan Stewart has progressed through the lower levels of the Phillies' system relatively quickly, and at just 21-years-old. he is throwing up some impressive numbers at High-A Lakewood early in 2012.
The tall, 6-foot-5 left-handed starter has taken the mound three times this season and impressed in some regard in each one. He has struck out 11 batters and allowed just 10 hits in 16.1 innings.
Stewart doesn't seem to be on the radar of many scouts, but if his progression continues this way, he will be soon.
The Line: 3-0, 3.18 ERA, 1.000 WHIP
After making adjustments that led to him dominating the Florida State League last season, the Phillies moved top prospect Trevor May to Double-A Reading to kick off the 2012 season to see if he could hold his own against tougher competition.
Through three starts, it sure looks as though he can.
Already having compiled 19 strikeouts in 17 innings pitched, the swing and miss stuff is still there, but May's walk rate has improved dramatically—just six free passes so far this season. That was one of the biggest goals heading into the season, so he is certainly off to the right start.
At this pace, he may be in Philadelphia as soon as 2013. It is certainly a possibility.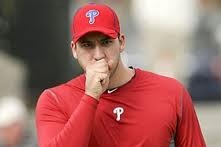 The Line: 0-0, 4.26 ERA, 0.947 WHIP, 4 SV
As has always been the issue for Phillippe Aumont, the Phillies sent him to Triple-A this season to continue to improve upon his control.
When he is throwing his all of his pitches for strikes, he can be nearly impossible to hit, but his tendency to lose the strike zone makes him vulnerable.
Aumont has logged 12 strikeouts early in the season, and as long as he can show that he has improved his command, he will be in the Phillies' bullpen at some point during the season.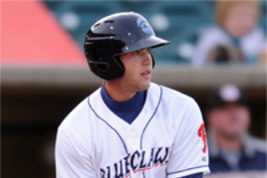 The Line: .393 / .413 / .554, 1 HR
The Phillies don't have a ton of pure hitters in their system, with most of their top positional prospects often classified as "toolsy projects" that are going to take some time to develop.
That's why Darin Ruf has been a breath of fresh air for the organization. Drafted in the 20th round of the 2009 draft, Ruf has made significant strides at the plate in each of his professional seasons.
After hitting 17 home runs with High-A Clearwater last season, the Phillies decided to promote the 25-year-old first baseman to Double-A Reading, where he has rewarded them with a .967 OPS.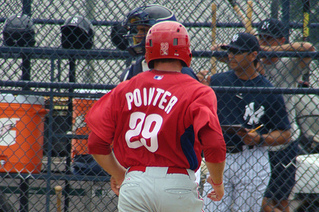 The Line: .296 / .365 / .630, 4 HR
If his torrid start with the Lakewood BlueClaws is any indication of future success, Brian Pointer won't be spending much time in the South Atlantic League this season.
The 20-year-old outfielder, drafted in the 28th round of the 2010 draft by the Phillies, has been one of the organization's top "sleeper" prospects over the last couple of seasons now, but it looks as though he is ready to wake up.
After breaking out with the Phillies' rookie team last season, posting an OPS of .856 with six home runs in 47 games, Pointer's power potential is ready to explode this season. Through 15 games, he has already hit four home runs.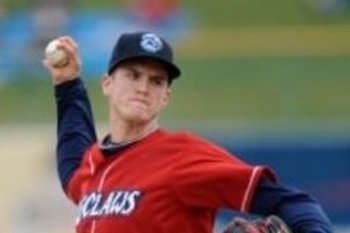 The Line: 1-1, 2.37 ERA, 0.895 WHIP
David Buchanan spent the 2011 season on the periphery of being a top pitching prospect for the Phillies and the next best tier, but he is trying his hardest to prove that he belongs with the former classification this season.
Buchanan has made three starts for the Reading Phillies and is throwing up some impressive numbers. He has already tossed 19 innings, striking out 15 while walking just two. He is not the most overpowering of pitchers, so that strikeout to walk ratio (7.50) is impressive.
At just 22-years-old. there is still plenty of room for Buchanan to improve, and he appears to have made a great adjustment for the jump to Double-A.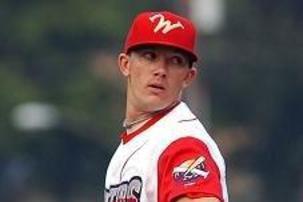 The Line: 3-0, 2.50 ERA, 0.889 WHIP
Tyler Cloyd is an interesting prospect.
The Phillies have committed to him as a starting pitcher, and early in the season, that decision is paying off. He is the only player on this list to play at two levels this season, making three starts in total between Triple-A and Double-A.
Though he has allowed 16 hits in in 18 innings, Cloyd has also struck out 16 batters and has yet to issue a free pass. He's not a power pitcher, so that impressive command is going to be important moving forward.
Cloyd doesn't have the same ceiling as some of the other pitchers in this system, so a hot start could be monumental for the 24-year-old right-handed starter, currently with Double-A Reading.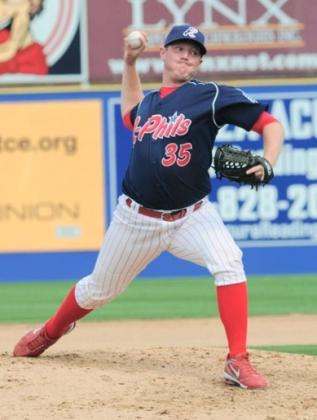 The Line: 1-0, 1.12 ERA, 0.875 WHIP, 3 SV
The three prospects at the top of this list may not be household names, but with the way they're pitching, it won't be long before they are.
Kicking off the top three is right-handed reliever B.J. Rosenberg. Drafted in 2008, Rosenberg has been in the system for a while, making it absolutely imperative that he got off to a good start with Double-A Reading in 2012 so that he wouldn't be lost in the Phillies' deep pool of relievers.
So far so good for Rosenberg, who is starting is second full season with Reading. He has pitched in five games, finishing four of them, striking out 10 batters while walking two.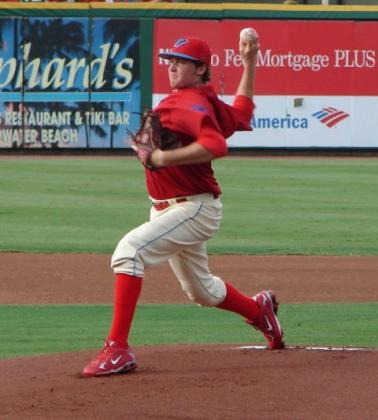 The Line: 0-0, 1.64 ERA, 0.455 WHIP
After the San Francisco Giants drafted him twice late in a pair of drafts, the Phillies decided to take Tyson Brummett in the seventh round of the draft in 2007, and for a long time, it looked like he was never going to pan out.
He had come into the organization as a starting pitcher and just never managed to put everything together and become a productive starter.
Now 27-years-old, it looks as though he may have found some success as a reliever. Brummett has been on fire to start the season, making six appearances, including one start, and pitching 11 innings in total. He has allowed just two hits and one free pass early in the year, striking out 11 batters in the process for Double-A Reading.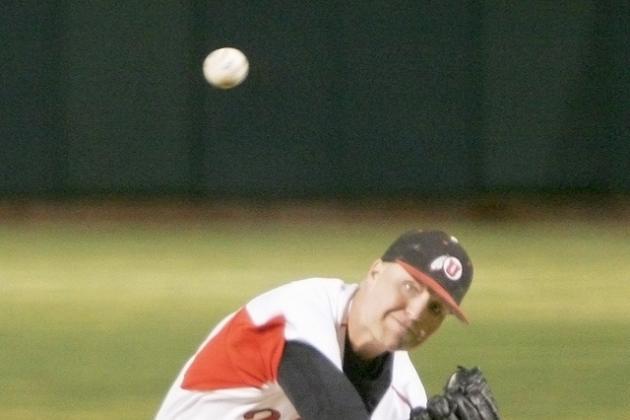 The Line: 1-0, 0.00 ERA, 0.222 WHIP
No player in the Phillies' system has gotten off to a better start in 2012 than right-handed reliever Jordan Whatcott.
The University of Utah product, now 26-years-old, is currently pitching in the Florida State League and has been the best reliever the Clearwater Threshers have to offer.
Having already made six appearances, Whatcott has been nearly untouchable in 12 innings of work. He has allowed just three hits and two walks in 12 innings, striking out 12 batters in the process.
The downside is obvious: He's a little old for the Florida State League. I'm sure the Phillies wouldn't mind seeing what he can do against some tougher competition at some point during the year, especially if he keeps this pace up.