Denny Hamlin Steals the Win at Kansas, but Truex and Toyota Steal the Show
April 23, 2012

Jerry Markland/Getty Images
The Kansas Speedway is set to be repaved in the coming weeks and months, but before that was set to happen, a race was to be run.
It would be the final race on the original surface of the 1.5 mile oval, and if past history had anything to say about it, fuel mileage would be a factor in the first of two races this year in the heartland state of Kansas.
Earlier in the weekend, A.J. Allmendinger (No. 22 AAA Dodge) surprised the field with the pole position, beating out 2nd-place starter Kevin Harvick (No. 29 Budweiser Chevy) and Joey Logano in third (No. 20 Home Depot Toyota).
Much of the race today was dominated by the drivers driving the only foreign nameplate in the field. Toyota, which just this weekend announced they will reveal their 2013 car on May 22nd, led the way much of the day in the hands of Michael Waltrip Racing driver Martin Truex Jr (No. 56 NAPA Toyota).
Truex, a native of New Jersey, got his maiden victory at Dover in 2007 but had not been back to victory lane since. Today looked to be one of Truex's strongest runs in years, as he lead more laps at Kansas than any other track he had been to this year.
Meanwhile, other drivers were looking for bounce-back performances at Kansas. Kasey Kahne (No. 5 Farmers Insurance Chevy), started the year with terrible luck at Hendrick Motorsports and was looking to bring his team back from the brink of failure. Jeff Gordon (No. 24 AARP Drive to End Hunger Chevy) had seen bad luck come every which way to his team and was looking to win again in Kansas. And finally, Dale Earnhardt Jr (No. 88 Diet Mountain Dew Chevy) was looking to break his winless streak of almost four years in the Sprint Cup Series.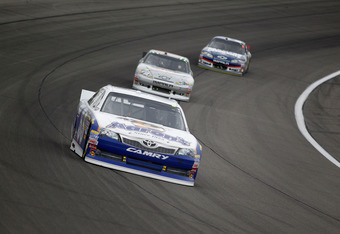 Geoff Burke/Getty Images
Needless to say, not all these drivers ended the day happy. Jeff Gordon suffered an engine issue late in the race, allowing him to only run on seven of his eight cylinders, relegating him out of contention. A similar fate hit Kurt Busch (No. 51 Chevy), whose car and team are still in search of much-needed sponsorship. And Mark Martin (No. 55 Aaron's Toyota) suffered mechanical issues late in the race and was unable to make it to the checkered flag.
In the end, fuel mileage was thrown by the wayside in favor of good old-fashioned slip-and-slide racing. Truex, who dominated the afternoon, had the lead late, with Denny Hamlin (No. 11 FedEx Toyota) closing fast on the loose leader. Hamlin eventually caught and passed Truex for the lead, setting up though a two-man duel to the finish.
At the end of the race, Truex tried not once, but twice to divebomb Hamlin for the lead and the win, but both attempts were unsuccessful, and Hamlin stole the victory in the STP 400 at Kansas.
Here is the finishing order for the STP 400 at Kansas:
1. 11 Denny Hamlin
2. 56 Martin Truex Jr.
3. 48 Jimmie Johnson
4. 17 Matt Kenseth
5. 16 Greg Biffle (Points Leader)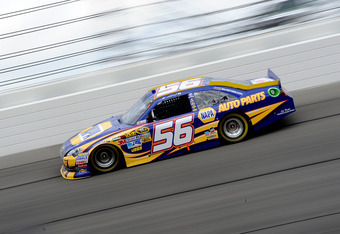 John Harrelson/Getty Images
6. 29 Kevin Harvick
7. 88 Dale Earnhardt Jr.
8. 5 Kasey Kahne
9. 99 Carl Edwards
10. 18 Kyle Busch
11. 2 Brad Keselowski
12. 42 Juan Pablo Montoya
13. 14 Tony Stewart
14. 1 Jamie McMurray -1 Lap
15. 20 Joey Logano -1 Lap
16. 9 Marcos Ambrose -1 Lap
17. 51 Kurt Busch -1 Lap
18. 27 Paul Menard -1 Lap
19. 12 Sam Hornish Jr. -1 Lap
20. 39 Ryan Newman -2 Laps
21. 24 Jeff Gordon -3 Laps
22. 31 Jeff Burton -3 Laps
23. 43 Aric Almirola -3 Laps
24. 78 Regan Smith -4 Laps
25. 93 Travis Kvapil -4 Laps
26. 13 Casey Mears -4 Laps
27. 38 David Gilliland -4 Laps
28. 32 Reed Sorenson -4 Laps
29. 10 David Reutimann -5 Laps
30. 34 David Ragan -5 Laps
31. 49 JJ Yeley -6 Laps
32. 22 AJ Allmendinger -10 Laps
33. 55 Mark Martin DNF
34. 83 Landon Cassill -53 Laps
35. 47 Bobby Labonte DNF
36. 15 Clint Bowyer DNF
37. 36 Dave Blaney DNF
38. 30 David Stremme DNF
39. 26 Josh Wise (Rookie) DNF
40. 98 Michael McDowell DNF
41. 87 Joe Nemechek DNF
42. 19 Mike Bliss DNF
43. 23 Scott Riggs DNF
Did Not Qualify:  79 Tim Andrews, 74 Tony Raines, 33 Jeff Green
From here, the NASCAR Sprint Cup Series returns to night racing, with the three-quarter mile oval of Richmond International Raceway. Coverage begins Saturday night, April 28th, on FOX.