NFL Free Agency: A Look at the Ravens' Exclusive Rights Free-Agent Signings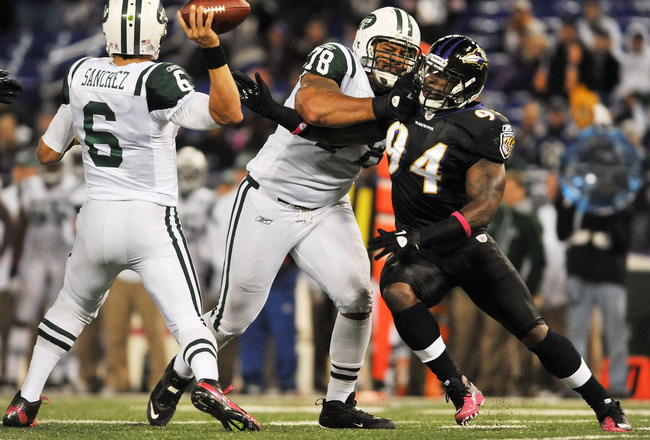 Sergio Kindle may be given a chance to make a major impact next season.
Larry French/Getty Images
On April 16th, the Baltimore Ravens signed five exclusive rights free agents as reported by Jeff Zrebiec on Twitter.
An exclusive rights free agent is a player who is not under contract but has two years of NFL experience. A player in this category is not really a free agent. He cannot sign with any other team, if he does not sign the contract, the player has to quit.
Many exclusive rights free agents are reserves or practice squad players. The players the Ravens signed were outside linebacker Sergio Kindle, guard/center Justin Boren, long snapper Morgan Cox, cornerback Danny Gorer and linebacker Josh Bynes.
All of these players could make an impact for the Ravens next season. Here is a closer look at each of these players.
Outside Linebacker Sergio Kindle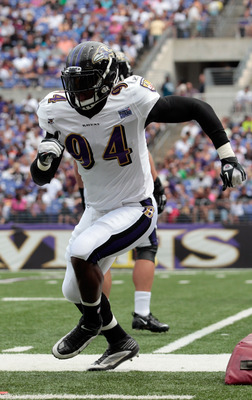 Will Ravens fans finally get to see Kindle live up to his reputation?
Rob Carr/Getty Images
As most Ravens fans know, Sergio Kindle was a second-round draft pick in the 2010. The Ravens traded down and it was thought that getting Kindle in the second round was a steal. So far it has not looked that way.
Kindle has had a hard time getting on the field, mostly due to a skull fracture suffered after falling down the stairs. Including the playoffs, Kindle was active for four games, and recorded no tackles or any other significant statistic.
With the departure of veteran Jarret Johnson, unless the Ravens draft an outside linebacker, Kindle could be given the opportunity to make an impact. Kindle's strength is rushing the passer, and the Ravens are desperate for a compliment to reigning NFL Defensive Player of the Year Terrell Suggs.
Coach John Harbaugh seemed to indicate that Kindle will get his chance:
"He's going to get every opportunity, and we're going to coach him like crazy, and we're going to make it our mission to get him on the field and get him playing, because he has talent and he wants to do well."
Guard/Center Justin Boren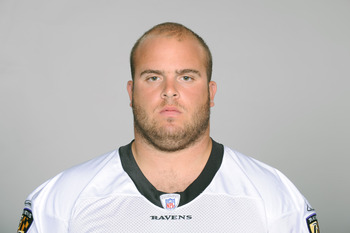 With the Ravens needing depth for their offensive line, Justin Boren may be in for promotion.
Handout/Getty Images
The Ohio State product signed as a rookie free agent with the Baltimore Ravens in 2011 and was assigned to the practice squad for all of the 2011 season.
Boren's impact depends largely on if the Ravens draft or sign any additional linemen. With Ben Grubbs leaving the Ravens in free agency and Matt Birk another year older, there is a big need for interior linemen.
After a successful college career at both Michigan and Ohio State, and a full season on the practice squad, Boren could have the tools to make an impact in 2012.
Long Snapper Morgan Cox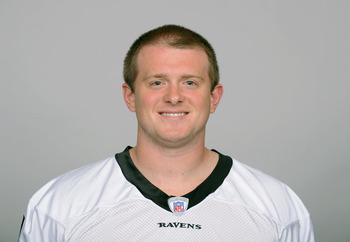 Morgan Cox has an important role with the Baltimore Ravens
Handout/Getty Images
Morgan Cox is probably the only player on this list who is almost guaranteed a spot on the regular-season roster. Cox was signed as a rookie free agent after the 2010 NFL draft. After the signing, Cox earned the long snapper job for the Ravens and there is no indication that he will not be the long snapper again in 2012.
Cornerback Danny Gorrer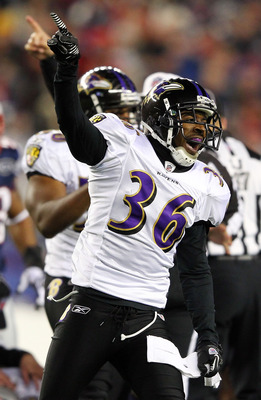 Danny Gorrer has already made an impact.
Al Bello/Getty Images
How many Ravens fans saw Danny Gorrer on the field last season and asked, "Who the heck is that?" Gorrer was signed by the New Orleans Saints out of Texas A&M as a rookie free agent. Gorrer eventually found his way on the field in Baltimore and was active in 13 games for the Ravens including the playoffs.
Gorrer made 10 tackles on the season while playing corner and contributing on special teams. Gorrer was impressive in his limited playing time and could get a chance to make more plays next season.
Linebacker Josh Bynes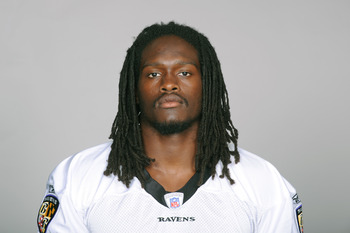 Bynes' best chance may be on special teams.
Handout/Getty Images
Josh Bynes was signed by the Ravens as an undrafted rookie free agent last season out of Auburn. Bynes was a solid middle linebacker for the Auburn Tigers, eventually being named to the Second-Team All-SEC.
Bynes had a solid preseason but it was not enough to make the regular-season roster. He was eventually assigned to the Ravens practice squad where he was activated for one game against the 49ers, but Bynes did not see the field.
It is unclear if Bynes will make the active roster next season. He is a talented player but his best chance to make the team may be as a special teams player, an area the Ravens are trying to get better in.
Keep Reading

Baltimore Ravens: Like this team?