Philadelphia Phillies: Lack of Offense Affects Everything Else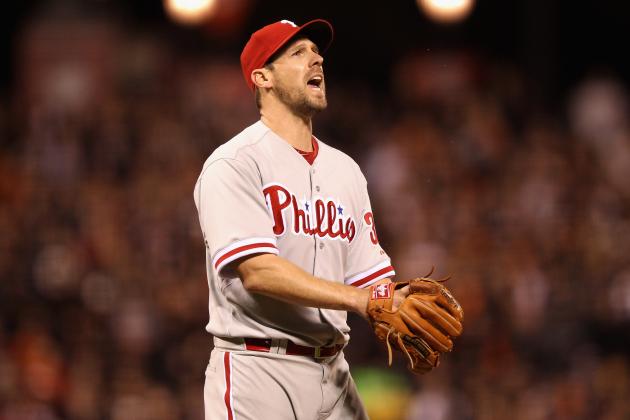 Ezra Shaw/Getty Images

A mediocre at best week for the Phills, considering the anemic offensive lineup with which they have been playing.
The bats are not just a problem because the Phillies are struggling to slug, it's actually leading to a few other issues.
In this slideshow, I will discuss:
How the team defense has been weakened because the better hitters are being forced to remain late in games when the defense would benefit from a more adept fielder.
How the lack of offense has made the Phillies feel more acutely the loss of Ryan Howard;
And how the decision-making of manager Charlie Manuel has come into question.
Begin Slideshow

»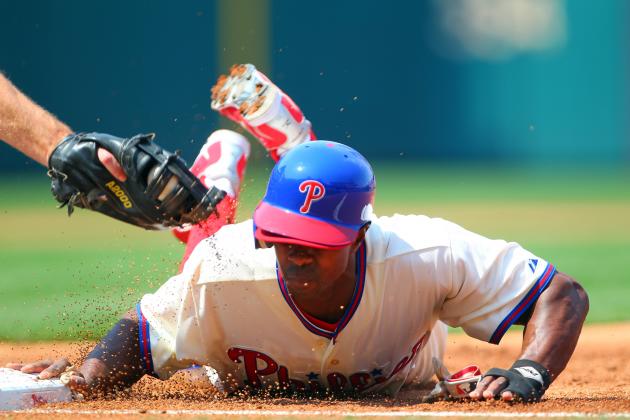 Rich Schultz/Getty Images

It's becoming clear that the struggling offense is leading the team to do a few things differently, and in some ways not be true to their game. One noticeable difference I'd like to see more is being aggressive on the bases.
One instance I've been asked a few times about this week was Juan Pierre's decision to try to steal third base Sunday. Charlie Manuel pretty much expressed disappointment with the choice to run by Pierre, and also mentioned he can take the green light off.
I actually did not have a problem with it and would embrace more aggressive plays like this. And just to revisit it: Yes, getting caught trying to steal third with two outs is a bad, bad play in baseball...if there is not trail runner.
In Pierre's case, Victorino was behind him going for second, so they essentially went for two men in scoring position, not one. This was with a red-hot Jimmy Rollins, then hitting .351, at the plate. It was worth the risk, since a hit would have driven in both baserunners and given the Phillies the lead.
It's not just plays like this. Rollins took another base on a hit to right-center on Friday. John Mayberry Jr. tried to stretch a single into a double and was caught.
They are not going to make it every time, but with this offense, I like the aggression and the attempts to get as much as they can.
Keep running.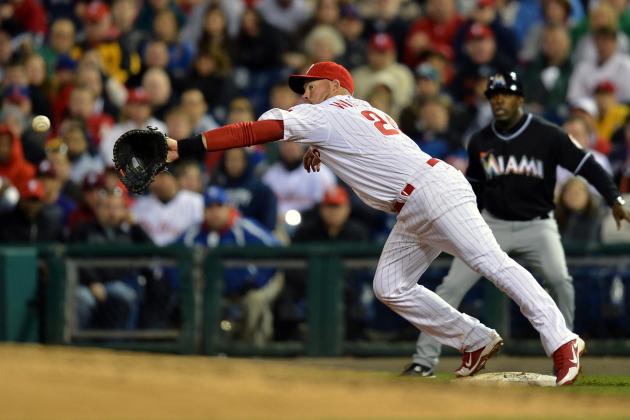 Drew Hallowell/Getty Images

Ty Wigginton's best season came in Baltimore in 2010. He probably should have stayed in the American League, given what he has to offer defensively.
I'm not sure he's much worse than Laynce Nix, but he's pretty bad. But the way the bats have been, Manuel has to leave him in the game late when the team would be better served with a more adept fielder.
Such was the case Wednesday night when Wigginton set up the eventual winning run by botching a double-play ball.
Juan Pierre has been the best offensive option in left field, and he doesn't offer much as far as range or with his arm.
Mayberry easily is the best player defensively at first or in left, but he's gotten off to a slow start and that has forced Manuel to look for other options.
The bats will continue to affect each area of the game until they come around and become at least adequate enough to avoid multiple shutouts in a week.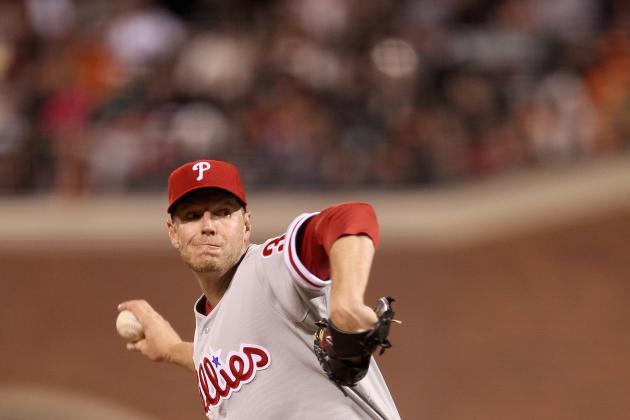 Ezra Shaw/Getty Images

Perhaps the most interesting action I've seen on the field all season came on Monday night in San Francisco.
Roy Halladay ran across the diamond to stop a rolling ball from going fair and take an easy out on a dribbler by Brandon Crawford. A run perhaps would have scored, but Halladay had an easy out. With the old offense with Howard and Utley in the lineup, maybe he takes the out and moves on.
But with this lineup, he did not. With such an anemic attack, you have to cut back on any runs you allow at all.
Ezra Shaw/Getty Images

It's a shame the lineup could not put one run on the board for Cliff Lee, who, as Scott Franzke said, "Pitched his heart out" on Wednesday night.
It reminded me of another historic pitching performance by a teammate of Lee's: Roy Halladay's perfect game.
If you recall, the only run the Phillies backed Halladay with that night was unearned.
That got me thinking, what if Halladay did not get one run that night? Or worse, what if he pitched that performance in 2012 with this lineup?
I guess we should appreciate any unearned run the Phillies can get.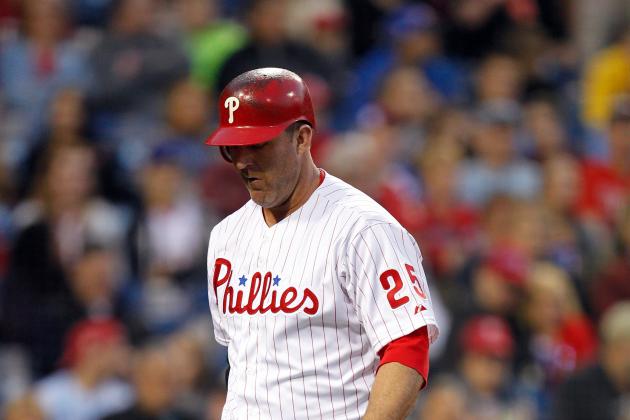 Brian Garfinkel/Getty Images

Jim Thome has been awfull, striking out in half of his at-bats. But the slump may be going on for while longer.
Thome is a notoriously slow starter. His April batting average is about 11 points lower than his career mark. That was back when he was full-time player, or at least a DH playing more than not.
So being a pinch hitter, getting less than two at-bats per appearance, there is reason to think the slow start goes into May.
That is, if he is still able to get around on a fast ball at that time.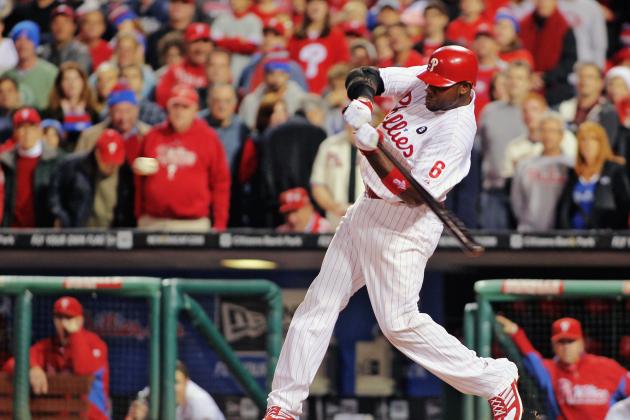 Len Redkoles/Getty Images

It's incredible how much Ryan Howard is criticized, considering how much of a contribution he has made to the lineup the past few years.
The best comparison to use is the early 2011 Phillies to this 2012 team. That 2011 team was just Howard without Chase Utley and before Hunter Pence arrived.
The 2012 team is scoring at a rate almost a full run fewer per game, slugging 80 points less and hitting about one-third fewer home runs than that 2011 team.
Howard clearly has been one of the most valuable players over the past half decade, and I think fans who took him for granted are getting the chance to appreciate him now that he is gone.