Virginia Tech Spring Game 2012 Preview: Will the Offense Continue to Improve?
April 17, 2012

Geoff Burke/Getty Images
The Virginia Tech spring game is just days away, and there are many questions facing the Hokies as they take the field for the Maroon and White game.
If we use the past two scrimmages as an indicator, the Hokies' offense has a lot of work to do.
When spring practice opened three weeks ago, it was expected the defense would be ahead of the offense. That has proven to be a fact. In last week's scrimmage, the defense recorded 10 sacks.
The offensive line, with four new starters, has struggled against a very good defensive line. Starting defensive ends James Gayle and J.R. Collins didn't even play in last week's scrimmage.
On one hand, that speaks of the staggering depth on the Virginia Tech defensive line. It also is an indication of an offensive line in flux.
Seniors Nick Becton and Vinston Painter are expected to start at left and right tackle, respectively. Becton should be fine. He often split time at left tackle with Andrew Lanier in 2011. Becton should be an improvement over Lanier.
Painter is an impressive physical specimen. A former top recruit, Painter has struggled to get on the field in his first three years on campus. Taking over for Blake DeChristopher is a tall task, but Painter has the ability to be just as good. Painter's improvement from one scrimmage to the next was encouraging.
Losing Jarrett Boykin and Danny Coale, statistically the two best wide receivers in school history, shouldn't be too crushing of a blow. Seniors Marcus Davis, Dyrell Roberts and D.J. Coles return.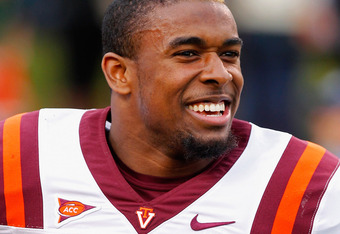 Geoff Burke/Getty Images
However, Coles hasn't participated in spring practice and Davis and Roberts have been slowed due to injuries. It has opened the door for senior Corey Fuller and freshman Demitri Knowles.
Fuller had three touchdowns in a scrimmage on Saturday, but his drops were maddening. Expected to be the fourth receiver this fall, Fuller needs a strong showing in the spring game before the promising Knowles passes him on the depth chart.
If you listen to head coach Frank Beamer speak about red-shirt freshman running back Michael Holmes, you get the impression he sees him as the starter. That being said, it will be important for the Holmes and the Hokies to get something good going against the stout Hokies' defense.
Martin Scales and true freshman J.C. Coleman will also be in the mix for carries. Coleman should see the field this fall with David Wilson's departure. Coleman is the only back on the roster with Wilson's explosiveness.
Defensively, with as many as nine starters returning, there are fewer issues as we approach the spring game.
The Hokies' defensive line is expected to be eight or nine deep this fall. And each of the players has experience. If Antoine Hopkins returns strong from injury, the Hokies will be in even better shape.
What is most impressive about the defensive dominance early in the spring is the team is without all three projected starters at linebacker. All are expected to be ready in time for the summer.
In the meantime, Chase Williams is getting an opportunity and he is making the most of it. In Saturday's scrimmage, Williams recorded 3.5 tackles for loss.
The only real concern facing the Hokies on defense is depth in the secondary. When Antone Exum moved to cornerback, the Hokies shifted Detrick Bonner to rover and Kyshoen Jarrett to free safety. Both played cornerback as freshmen in 2011.
Bonner has looked like a natural at rover thus far. But, if Exum, Bonner, Jarrett or top cornerback Kyle Fuller goes down, the Hokies could be in trouble.
Donaldven Manning, a true freshman, was a highly regarded recruit. However, he weighs only 155 lbs. Manning has looked good in coverage, but counting heavily on him as a freshman would be a mistake.
James Farrow's transfer before spring practice hurt the secondary depth as well.
Fortunately for the Hokies, Fuller and Exum can play any position in the secondary. And Bonner and Jarrett can move back to cornerback if needed.
So, the key to Virginia Tech's depth is the versatility in each of their starters.
Saturday's spring game will not be about who wins, but whether the offense can continue to show improvement.
Last week's scrimmage was terrible for the Hokies' offensive line. However, things did improve in Saturday's scrimmage, and that's a positive trend heading into this weekend.