Arizona Diamondbacks: Chris Young's Hot Start Helps Cover Justin Upton's Injury
April 18, 2012

Denis Poroy/Getty Images
On Monday, we listed five National League players who needed to have a big week. One player not included on the list, as pointed out by Matthew Peary in the comments, was the Arizona Diamondbacks' Justin Upton. 
The D-Backs' star right fielder has no home runs or RBI in the team's first 10 games while batting .212/.350/.273 with 10 strikeouts in 40 plate appearances. As Peary said in his comment, that's not what you prefer to see from an MVP candidate, which Upton most certainly is for Arizona.
But as it turns out, Upton might not just be slumping. He may be hurting. 
Fox Sports Arizona's Jack Magruder reported via Twitter that Upton will see a hand specialist and undergo an MRI exam to check out a nagging thumb injury that has him out of Tuesday's lineup. D-Backs manager Kirk Gibson said Upton going to the disabled list was "not out of the question." 
Fortunately for the D-Backs, they have the outfield depth to cover Upton's absence in the short-term. Signing Jason Kubel as a free agent was one of the more perplexing moves of the offseason. Now, bringing him to be the starting left fielder doesn't look so bad. 
Gerardo Parra, the outfielder squeezed out of the starting lineup with Kubel's signing, takes over in right field. The D-Backs' outfield won't miss a beat defensively. Though Parra has mostly played in left and won a Gold Glove for his defense there last season, he's played 60 games in right. 
Unfortunately, Parra isn't quite the hitter Upton is, especially from a power standpoint. So Arizona's offense will suffer there. Last season, Parra hit a respectable .292/.357/.427 with eight home runs, 46 RBI and 15 stolen bases. This year, with diminished playing time, he's batting .316/.350/.474 in 22 plate appearances.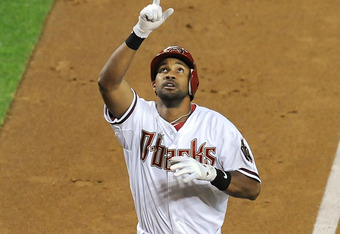 Norm Hall/Getty Images
However, Chris Young has been doing his best to make up for Upton's struggles. The centerfielder is off to a scorching start, batting .405/.500/.892 with five homers and 12 RBI. His 1.392 OPS is second only to Matt Kemp in the majors.
The key to his adjustment thus far, as Magruder and ESPN's Buster Olney both wrote about, is being more relaxed and swinging in a rhythm rather than abruptly jumping at the ball from a standstill. 
Obviously, the D-Backs are a far better team with Upton in the lineup. Gibson joked that he'd rather have his superstar than outfield depth. No team could sustain losing an MVP-caliber player for a long period. But for now, that depth will help Gibby's team stay at or near first place in the NL West until Upton's injured thumb heals up.