Barcelona at Chelsea FC: UEFA Champions League Semis Leg 1 Odds Preview
March 21, 2017
Barcelona at Chelsea
What: UEFA Champions League semifinals, Leg 1
When: Wednesday, April 18, 2012
Where: Stamford Bridge, London, England
Time: 2:45 p.m. EDT/11:45 a.m. PDT
Television: FX
Radio:  SiriusXM Satellite: Sirius Channel 92, 93 and XM Channel 207, 209
LVH SuperBook (3-way): Chelsea +380, Barcelona -145; Draw +280
LVH SuperBook (90 minutes): Chelsea +½, +120, Barcelona -½, -140
Total Goals: 2½ over -130, under +110
LVH SuperBook (To advance to final): Chelsea +450, Barcelona -600
Odds to Win  UEFA Champions League: Chelsea 9/1, Barcelona 5/6

Roman Abramovich has spent his money to bring the best international players to west London and Chelsea and although the Blues have had an average season in the English Premier League, they are still here in the final four remaining teams in the UEFA Champions League tournament.
Chelsea defeated Portugal's Benfica in glorious fashion to advance to this point and are the surprise team of the Fab Four remaining to date. But if the Blues are to advance to the championship game in Munich on May 19, they will have to play to their maximum potential against the top-ranked team in the world and defending UEFA champions Barcelona.
Always the big debate for interim manager Rafael Di Matteo, who's done a very respectable job since replacing André Villas-Boas, is whether to start Didier Drogba or Fernando Torres. And like Villas-Boas, Di Matteo has never started the two stars in a match together.
The Drogba-Torres debate aside, Chelsea will have to play speedy midfielders like Ramires and Florent Malouda to try and deal with the adept Barca passing attack, a tic-tac-toe game of sorts that few teams today in world soccer can duplicate.
On defense, the Blues may be hurting a bit with John Terry, Ashley Cole, Ryan Bertrand and Paulo Ferreira all nursing injuries. Branislav Ivanovic will be available for Chelsea although he will be in the the middle of a three-match ban from the FA for violent conduct and free to play, as the ban covers only domestic matches.
With all this in mind, the play of David Luiz and the Chelsea midfield becomes paramount against a team of talented jitterbugs like the Catalans.
Barcelona, a club which probably scores goals in its sleep, is led by Lionel Messi, Cesc Fábregas, Xavi, Andrés Iniesta and Carles Puyol and forces opponents to expend so much energy on defense that they seldom feel they are ever really on offense.
Victor Valdés is Barcelona's stellar goalkeeper and does a very respectable job on defense for such an offensive club, thanks in great part of help from defenders like Dani Alves, Puyol and Gerard Pique.
After playing London-rival Tottenham in the FA Cup semifinals on Sunday, I expect Chelsea to be a bit tired and, combined with the health of its defense, leads me to believe this match will be too much for the Blues to handle.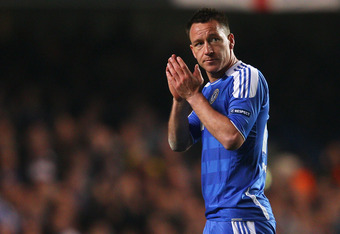 Warren Little/Getty Images
Barcelona will expect to score while Chelsea will be surprised to score so using that logic, I just can't recommend betting on the Blues in this game, no matter how important it is.
The Catalans are just that good and watching them and Messi is like watching a little slice of soccer history that we will all talk about decades from now.

PREDICTION:  Barcelona 3, Chelsea 1
BETS: Barcelona -½, -140 (90 minutes); Barcelona -140 (3-way); Over 2½ -130.
> Follow me on Twitter @KevinStot11 
For Real Madrid-Bayern Munich UEFA CL Semis Leg 1 Preview Click Link:  
 Real Madrid-Bayern Munich UEFA Champions League Leg 1 Semifinals Odds Preview