Real Madrid
Real Madrid at Bayern Munich: UEFA Champions League Semis Leg 1 Odds Preview

Cristiano Ronaldo and Real Madrid pay a visit to Bayern Munich Tuesday in Leg 1 of their UEFA CL semifinals.
Jasper Juinen/Getty Images
April 14, 2012
Real Madrid at Bayern Munich
What: UEFA Champions League semifinals, Leg 1
When: Tuesday, April 17, 2012
Where: Allianz Arena, Munich, Germany
Time: 2:45 pm EDT/11:45 am PDT
Television: Fox Soccer Channel
Radio: SiriusXM Satellite : Sirius Channel 92, 93 and XM Channel 207, 209
LVH SuperBook (3-way): Bayern Munich +165, Real Madrid +165; Draw +240
LVH SuperBook (90 minutes): Bayern Munich PK +115, Real Madrid PK, -105
Total Goals: 2½ over -130, under +110
LVH SuperBook (To advance to final): Bayern Munich +170, Real Madrid -190
Odds to Win  UEFA Champions League: Bayern Munich 4/1, Real Madrid 9/4

A battle between the two clubs I currently have ranked No. 2 and No. 3 in the world, this match will be very competitive and features two of the deepest rosters in Europe.
Real Madrid has been on autopilot all year long and with studs like Cristiano Ronaldo,  Kaká, Gonzalo Higuain, Sergio Ramos, Mesut Özil and Xabi Alonso, can beat any club, anywhere at any time.
In goal, Iker Casillas in an impressive netminder and will have to be at his best in this road match in Munich against an equally talented Bayern Munich squad if Los Blancos want to head home for Leg 2 in good shape to make the UEFA Champions League finals (also in Munich) on May 19.
Jose Mourinho and Real Madrid, still ahead of Barcelona in La Liga, never really sit back and focus on being defensive so I expect them to push the pace and try and get an early goal to take the German crowd out of it a bit.
Bayern Munich still sits in second place in Bundesliga behind red-hot Borussia Dortmund and has been stuck in second place in the league table for awhile due to its seven losses. But this is the UEFA Champions League and Bayern Munich seems to always play a little better in this prestigious tournament in which they will participate again next year due to another strong season in Bundesliga.
Mario Gomez (25 goals), Arjen Robben (11), Franck Ribéry (11, 11 assists), Toni Kroos (4) and Thomas Müller (4) can all put the ball in the back of the net and I highly doubt even a talented team like Real Madrid can shut out this cast, especially at home.
In goal, Manuel Neuer has been solid for Bayern Munich who is extremely solid defensively but when you're facing a juggernaut like Los Blancos, anything goes, and will.
With such a torrid pace and so many talented players on the pitch, I see a fairly high-scoring affair here in Leg 1 and expect the total to go over the two and a half goals.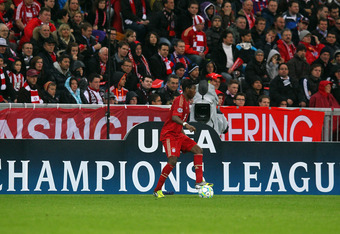 Bayern Munich could have a big hometown advantage should it advance to the UEFA CL championship game on May 19.
Martin Rose/Getty Images
As far as a winner, I am going to side with Real Madrid as Ronaldo (hat trick Wednesday at Atletico Madrid), to no one's surprise, has been a scoring machine this season and will be primed to put his side in a good position heading home for Leg 2 eight days later (April 25).
Likely to be one of the best games in Europe this year, this match is a must-watch and should be a thrilling one-goal affair if it doesn't somehow end in a 1-1 or 2-2 draw.

PREDICTION: Real Madrid 3, Bayern Munich 2
BETS: Real Madrid PK, -115 (90 minutes); Real Madrid +160 (3-way); Over 2½ -130.

Follow me on Twitter @KevinStott11
> For Barcelona-Chelsea UEFA Champions League Semis Leg 1 Preview Click On    Link: Barcelona-Chelsea UEFA Champions League Semfinals Odds Preview
Like the new article format? Send us feedback!