Virginia Tech Football: 10 Things to Expect for the Maroon vs. White Spring Game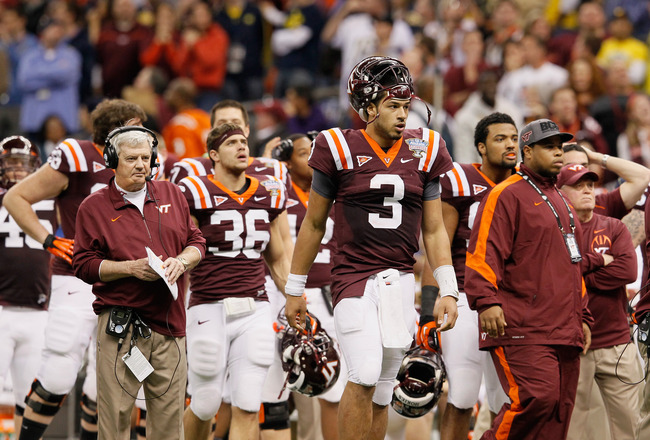 Kevin C. Cox/Getty Images
The Virginia Tech Hokies will hot their spring game this weekend.
The spring game will take place on April 21 and is a chance for every player to prove himself and what he's capable of in a game-like atmosphere.
The Hokies return nine starters on the defensive side of the ball, but only three on offense, which will remain a huge focus going into the game.
Here are 10 things to expect for the Virginia Tech Hokies spring game.
Dyrell Roberts to Make an Impact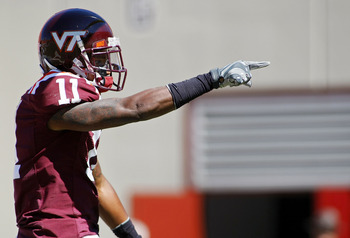 Geoff Burke/Getty Images
Virginia Tech lost a lot of its production at the receiver position, so players must step up. One of the players the Hokies are counting on is senior Dyrell Roberts.
The problem is that he's had a hard time staying healthy after suffering two season-ending injuries the last two years. The good news is that he's back on the field and feeling better than ever.
"The doctor said I could've come back last year but the coaches told me they had a way for me to get a whole year out of the deal so I can't turn down a whole other year," Roberts said via the Washington Post. "Everything feels good right now."
Roberts is a quick receiver who's been lining up in the slot to help spread the field for the Hokies. There's also talk of him returning punts and possibly kickoffs this season as well.
Regardless of exactly what his role is, expect to see a healthy player in the spring game, making an impact somehow.
Ronny Vandyke to Move Up That Depth Chart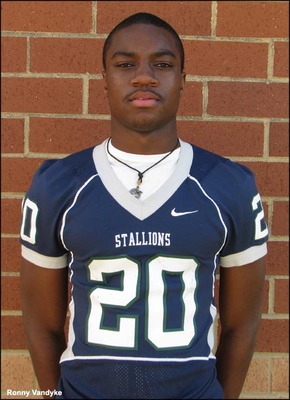 techsideline.com
Ronny Vandyke was recruited as a wide receiver but has found himself at the linebacker position.
In the first scrimmage, he got his first interception at his new position and early on has received some extremely high praise from coaches. Defensive coordinator Bud Foster said, via the Washington Post:

He's a kid, he can run number one, but he's got size. He can rush the passer, he's a physical kid in the run and he has coverage ability. I think he's a complete package for us, so now you're getting part of a nickel guy, plus he's physical enough and athletic enough to rush the passer and take on blockers. In a perfect world, that's the kind of guy I'd like to have.
Truly, the only reason Vandyke has received so much playing time early on is because of injuries suffered by Alonzo Tweedy and Jeron Gouveia-Winslow.
Can he do enough to create a linebacker battle heading into the fall?
According to Foster, he can.
Faster Tempo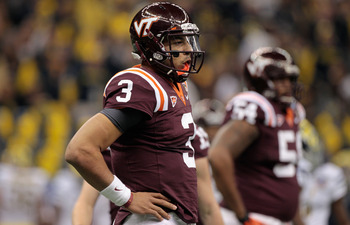 Chris Graythen/Getty Images
One of the ways to increase offensive production and keep the opposing defense on its toes is to speed up the tempo.
The Hokies averaged just less than 28 points per game but would like to do much better, as the offense was extremely streaky throughout the year.
The one thing offensive coordinator Bryan Stinespring is trying to get this team to do is play much faster. He said, via the Washington Post:
I don't think it's an experiment, but I do know this: We're trying to increase our tempo in everything that we do. We've worked a lot of spread sets in conjunction with our fullback and tight end based sets. But we've really explored a lot in the offseason, made some adaptions and some adjustments and just some spread and tempo.
Look for them to continue this throughout the spring game as this offense continues to try to find answers.
Antone Exum to Make an Easy Transition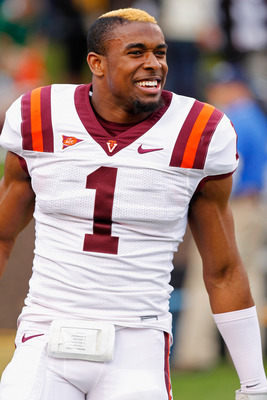 Geoff Burke/Getty Images
Redshirt junior Antone Exum has spent most of his career at the safety position and played it extremely well last season as he led the team in tackles with 89 and broke up 10 passes.
But with James Farrow planning to transfer schools, Exum has now been asked to take over at the cornerback position.
The only time Exum has ever played any type of corner was the brief period in which he played nickel corner in his redshirt freshman year.
"I just see it as a new challenge and I'm not gonna go into it thinking I'm not gonna excel at it. I'm gonna be confident out there, just like I was today," Exum said about his new position, via the Washington Post.
Exum has great size at 6'2" and runs a 4.4-range 40. Moving from safety to have to cover a receiver one-on-one is no easy transition, but he's a veteran player with a very gifted skill set.
I don't see this being much of a problem at all for him.
Michael Holmes to Make an Impression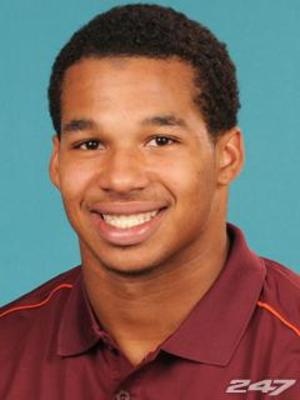 247sports.com
While running back David Wilson is getting ready for the NFL draft, redshirt freshman Michael Holmes is ready to make an impression on the fans in the spring game.
He's already won quarterback Logan Thomas over, and there's a reason he's listed No. 1 on the early depth chart.
"Mike's going to be a good player. He reminds me of Ryan Williams than he does anybody else that's been through here recently. He's got good lateral quickness. He can move forward as well and I think we're going to be just fine with him and J.C. in the backfield," Thomas said about Holmes via WSET.com
Holmes is a former 3-star recruit out of Harrisonburg, Va. and has a great combination of speed and power.
He's receiving a lot of love early on and has done a solid job of running the football, despite the several holes along the offensive line.
Defense Will Dominate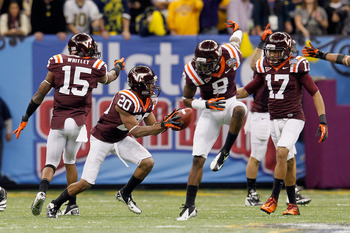 Kevin C. Cox/Getty Images
Virginia Tech has a defense that was ranked second in the ACC last season and return a total of nine starters from that unit.
With a year under its belt and all of that talent, it's no surprise that the defense is really the bright spot so far in the spring.
"We were playing a lot of different combinations out there, but we were playing fast, and I'm pleased with the way we're progressing," defensive coordinator Bud Foster said via Hokie Sports. "We're developing some depth up front."
Expect this unit to once again be great this season and have a solid spring game performance as a group.
Defensive Line Will Dominate, Especially
Geoff Burke/Getty Images
While Bud Foster may have given credit to the entire defensive group, it's the defensive line that is absolutely lighting it up early in spring practice.
In the last two recent scrimmages, in which the offense has run a combined 151 plays, the defense has racked up 21 sacks.
Virginia Tech was tied for sixth in the country last season with 41 sacks, and defensive line coach Charley Wiles expects this year to be even better.
"We need to be better," Wiles said via the Washington Post. "I'll be disappointed if we're not and I'll be disappointed if we don't have eight or nine guys and we can roll guys and keep guys fresh."
They're certainly off to a great start, I would say.
Offensive Line Will Remain a Mess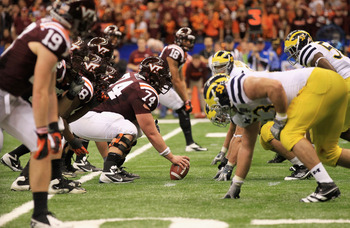 Matthew Stockman/Getty Images
The offense only returns three starters, and only one starter along the offensive line is part of that group.
In the first scrimmage of spring practice, the line obviously struggled to get the job done, and you should consider this to be a work in progress throughout the offseason.
"There's a lot going on," Head coach Frank Beamer said via The Washington Times. "You're trying to work everybody. When you do that, it gets ragged a little bit. Both ways it gets ragged."
Center Andrew Miller is the only starter that's returning. Every other spot is up for grabs and has many inexperienced players competing for them.
"We're a new group. We have to get on the same page," Miller said. "You could tell it's our first time really working together. We have a lot of things we have to work on. We have to build off this scrimmage."
A Slightly Better Logan Thomas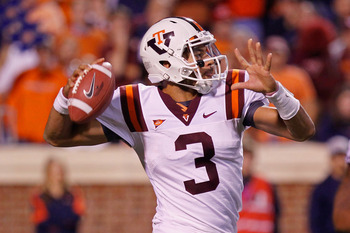 Geoff Burke/Getty Images
Logan Thomas threw for over 3,000 yards and 19 touchdowns last season but could still use some work, as he also completed fewer than 60 percent of his passes and threw 10 interceptions.
As he enters his junior season, he's been putting the work in, working on his footwork in the spring. He's worked with quarterback coach George Whitfield, who helped Ben Roethlisberger and Cam Newton before entering the draft.
As spring practice arrived, his footwork remains to be the thing he's most focused on.
"You get into the season and you focus on what to do instead of how to do it," Quarterback coach Mike O'Cain said via the Richmond Times Dispatch. "That's what the spring is. It gives you a little more about how to do things. We're going to spend time on his footwork. It's not far off. It's just a little tweaking."
Just that little bit of tweaking can do wonders for making him a better quarterback. Expect to see a slightly better Thomas when the spring game arrives.
Solid Spring Game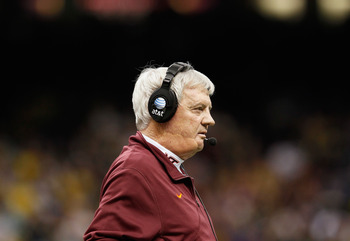 Kevin C. Cox/Getty Images
Virginia Tech has enough to win the ACC with its solid quarterback play and a great defense.
The main question remains along the offensive line, as that's going to be an issue that will carry over to the fall. Overall, I expect to see a few questions answered and to find out a little more about this team than we know right now.
The defense is looking lights out, but the many questions on the offensive side of the ball are what everybody will be focusing on.
This spring game will be very beneficial to the Hokies as they head into the fall.
Keep Reading

Virginia Tech Football: Like this team?