Barack Obama and 4 Other Politicians Who Would Make Great NFL Commissioners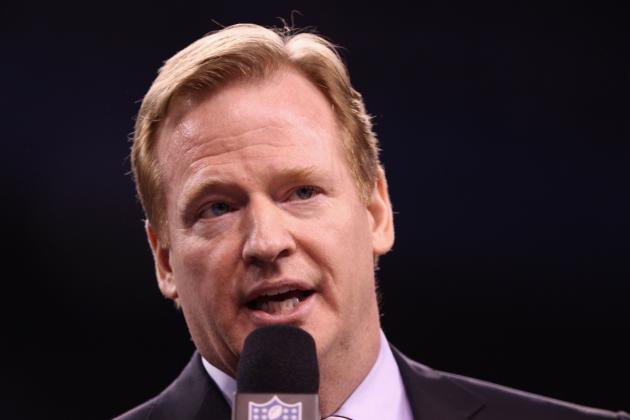 Elsa/Getty Images

Roger Goodell has a tough job. He has to cater to the needs of his employers (the owners), while policing the players and trying to appease the fans.
In other words, everybody hates him.
If ever there were a profession that would prepare somebody to take over the hallowed seat of commissioner of the NFL, it's politics. Major politicians are overpaid, cater to the wrong people and everybody hates them. A perfect fit.
Here are five political figures who would make great (or hilariously terrible) commissioners of the NFL.
Begin Slideshow

»
Okay, did you stop laughing yet?
Now?
Okay. Good.
Just imagine the shenanigans which could ensue with Dubya in the commissioner's office.
Players streaking, streakers playing, general lawlessness, and bizarre marketing campaigns would be the order of the day.
That, and competitive balance would be obliterated, since the Dallas Cowboys would mysteriously go 16-0 every single year. (Okay, that part sucks).
Hopefully, the Pro Bowl would be replaced by Eli Manning wrestling Bush for a football.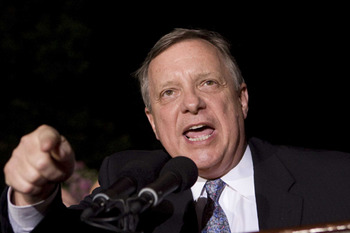 Dick Durban is a no-nonsense senator from Illinois, and he came out of nowhere with recent actions to earn his spot on this list.
Durban has set up a hearing during which he plans to grill the NFL about bounties, and he has invited the other major sports organizations to join the fun.
Maybe he'd be another Goodell-like tyrant, but at least he realizes that the New Orleans Saints probably aren't the only organization that instituted a bounty program.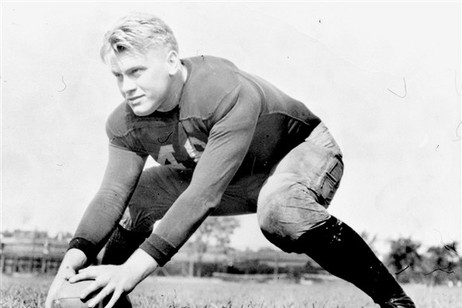 Late former president Gerald Ford surely would have made for a solid commissioner.
He had a playing background. Ford was the University of Michigan's Most Valuable Player in 1934, so he likely would have been a "player's commissioner," which would also make him a "fan's commissioner."
The look on his face here belies his leadership savvy.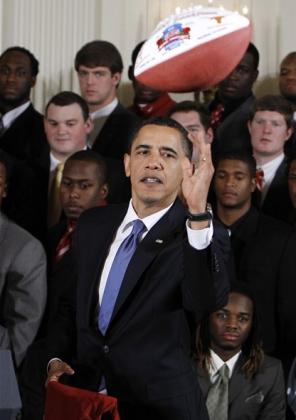 Our current President has a well-known affection for the NBA's Chicago Bulls, which clearly doesn't qualify him to run the NFL.
What we should concern ourselves with, is his hatred of the BCS system.
I don't know what Barack Obama could do for the NFL, but anybody who thinks the BCS should be illegal would do just fine running any sports league if you ask me.
Clearly, he's on the right track.