The 10 Greatest Main Event/Co-Main Event Combinations in UFC History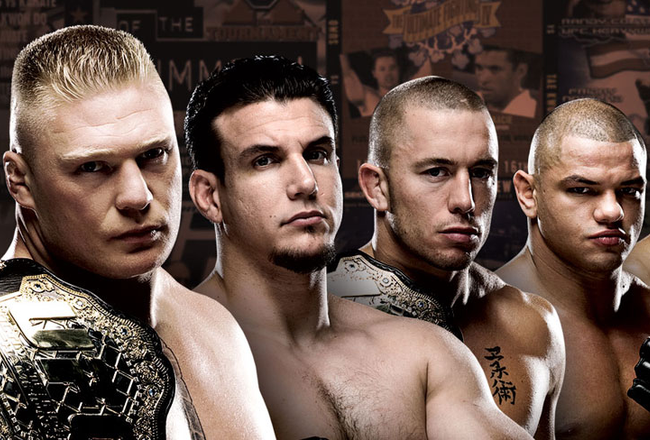 While many fans would have been content to shell out a handful of cash to watch then-UFC heavyweight champion Brock Lesnar's rematch against Frank Mir in July 2009, the addition of welterweight titleholder Georges St-Pierre made UFC 100 one of the most highly anticipated events in MMA history.
A great main event is key to a fight card's success, but an awesome co-main event to match can take an event to a whole other level. If St-Pierre were removed from UFC 100, the event would have still been a big one, but it wouldn't have been nearly the spectacle that it became with the Canadian on the docket.
Though UFC 100 had a greater impact than almost any other event, there have been plenty of other UFC main event/co-main event combinations that have been just as intriguing. Let's take a look at where UFC 100 stands among the 10 greatest main event/co-main event combinations in UFC history.
The following rankings are based on the star power of the four fighters included the main events and co-main events. Fight outcomes were not taken into consideration when ordering the events.
10. UFC 81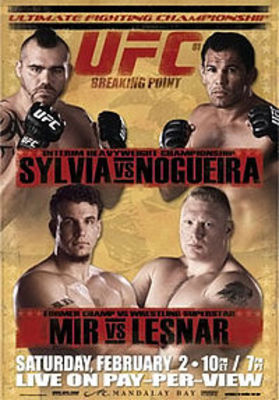 Main Event: Tim Sylvia vs. Antonio Rodrigo Nogueira
After winning his UFC debut against Heath Herring, Pride legend Nogueira earned a spot in an interim title fight against former UFC champion Sylvia, who had only recently been dethroned by Randy Couture. At the time, it was a battle of two of the best big men in the sport, and Nogueira would further his legacy by submitting Sylvia in the third round.
Co-Main Event: Brock Lesnar vs. Frank Mir
In the first UFC fight of his career, Lesnar met a former heavyweight champion in Mir. While Lesnar was caught in a leg lock 90 seconds into the fight, the then-former professional wrestler showed he belonged inside the Octagon by taking it to Mir in the early stages of the bout. With this fight, Lesnar enticed throngs of WWE fans to the MMA scene.
9. UFC 92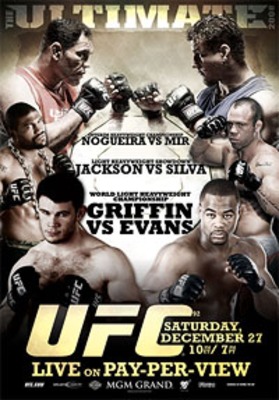 Main Event: Forrest Griffin vs. Rashad Evans
Coming off of his unexpected win over Quinton "Rampage" Jackson, who also appeared at UFC 92, Griffin was one of the most popular fighters in the sport. However, in the evening's main event, fellow The Ultimate Fighter winner Evans took the light heavyweight title with a third-round knockout of Griffin.
Co-Main Event: Antonio Rodrigo Nogueira vs. Frank Mir
With Randy Couture's continuing contract dispute, Nogueira was given the opportunity to defend his interim heavyweight title against former champion Mir. In the second round of the fight, Mir became the first fighter to ever stop the granite-chinned Nogueira and capped an incredible return to the top from a career-threatening motorcycle accident.
8. UFC 126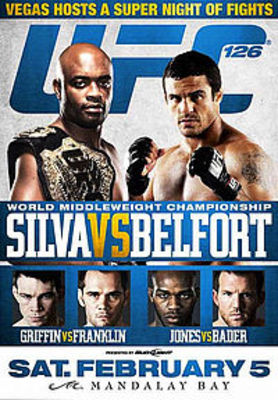 Main Event: Anderson Silva vs. Vitor Belfort
Following his sub-par performance against Chael Sonnen, many questioned whether middleweight champion Silva was beginning to decline. At UFC 126, against a former UFC champion in Belfort, Silva quieted his critics with a front-kick knockout.
Co-Main Event: Forrest Griffin vs. Rich Franklin
Though Griffin and Franklin had essentially fallen out of the race for the 205-pound title, both former champions were still considered elite light heavyweights heading into UFC 126. The fight followed another co-main event worthy fight in which Jon Jones earned a title shot by defeating Ryan Bader.
7. UFC 98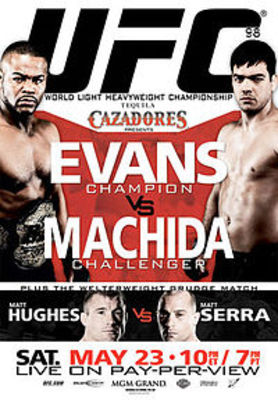 Main Event: Rashad Evans vs. Lyoto Machida
Following his win over Forrest Griffin, which earned him the 205-pound title, Evans met then-fellow undefeated fighter Machida in his first title defense. In the second round, Machida scored one of the more brutal knockouts in UFC history and left with the belt around his waist.
Co-Main Event: Matt Hughes vs. Matt Serra
In a grudge match resulting from their time as coaches on The Ultimate Fighter, former champions Hughes and Serra met at UFC 98 in one of the last truly important fights of both fighters' careers. After three rounds of fighting, Hughes earned a victory and the opponents settled their feud.
6. UFC 140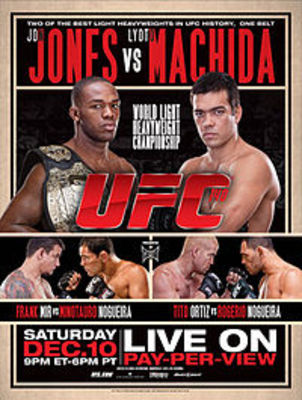 Main Event: Jon Jones vs. Lyoto Machida
After Jones ran through Mauricio "Shogun" Rua and Quinton "Rampage" Jackson, fans and pundits looked to Machida's unorthodox style as one of the biggest tests for the young light heavyweight champion. However, after overcoming some adversity in the opening round, Jones put Machida to sleep and defended his belt for a second time.
Co-Main Event: Frank Mir vs. Antonio Rodrigo Nogueira
In a rematch of an interim title fight already mentioned in this list, former champions Mir and Nogueira squared off in an important heavyweight tilt. Though Nogueira rocked Mir early in the fight, the American mounted an amazing comeback and broke his opponent's arm with a kimura.
5. UFC 61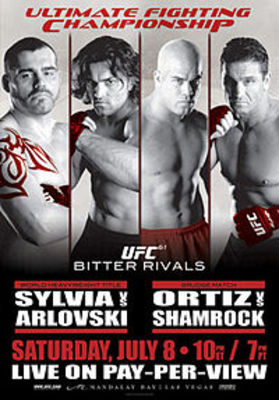 Main Event: Tim Sylvia vs. Andrei Arlovski
After winning a rematch against Arlovski to reclaim the heavyweight title, Sylvia was set up with a rubber match against the Belorussian. In the highly anticipated third fight between the fighters, Sylvia earned a decision victory to close the book on one of the few great heavyweight rivalries in UFC history.
Co-Main Event: Tito Ortiz vs. Ken Shamrock
In an event appropriately labeled "Bitter Rivals," a bout between Ortiz and Shamrock preceded the rubber match between Sylvia and Arlovski. Their meeting at UFC 61 was the second between Ortiz and Shamrock after the fighters appeared as coaches on The Ultimate Fighter, which helped take the rivalry between the MMA legends to a boiling point.
Despite the competitiveness between the pair of fighters in their trash talking, Ortiz was clearly the better fighter inside the cage, where he stopped Shamrock all three times they met.
4. UFC 100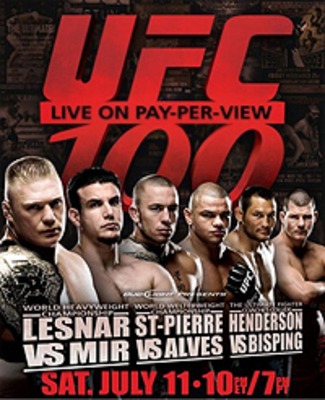 Main Event: Brock Lesnar vs. Frank Mir
While long-time MMA fans may not have been on board with Lesnar's quick rise to the top of the heavyweight division, it is undeniable that the professional wrestler positively influenced the growth of the sport. Lesnar's rematch with Mir was one of his brightest moments, as he avenged his loss in their first meeting with a second-round knockout.
Co-Main Event: Georges St-Pierre vs. Thiago Alves
St-Pierre's inclusion on the UFC 100 card meant the combination of MMA's two biggest draws. With a pay-per-view buyrate of 1.6 million, it was clear that the UFC's decision to add Lesnar and St-Pierre to the same event paid off. St-Pierre also defended his title in a dominant performance against Alves.
3. UFC 101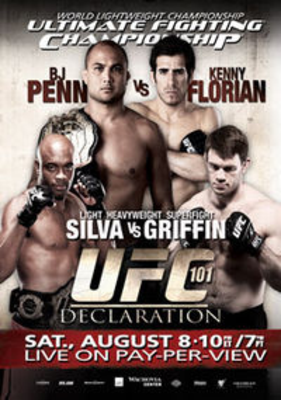 Main Event: B.J. Penn vs. Kenny Florian
After an unsuccessful attempt at becoming the simultaneous champion of the lightweight and welterweight divisions, Penn returned to 155 pounds to defend his belt against Florian, who had won six straight fights at the time. Nonetheless, Penn proved why he is considered one of the best lightweights of all time by submitting Florian in the fourth round.
Co-Main Event: Anderson Silva vs. Forrest Griffin
While dominating the middleweight division, Silva made a temporary jump to 205 pounds for a fight with former champion Griffin. While Griffin was expected to give Silva a rare test, it was the 185-pound titleholder who embarrassed the large light heavyweight by finishing the fight with a jab while stepping backward.
2. UFC 136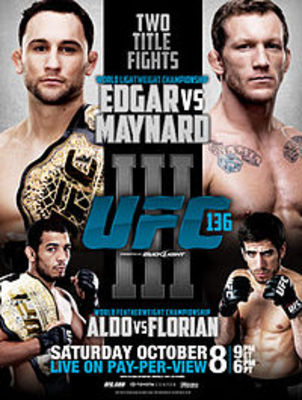 Main Event: Frankie Edgar vs. Gray Maynard
The final chapter of one of the best trilogies in MMA history, Edgar and Maynard met for a title fight in the main event of UFC 136. After Maynard repeated his first-round performance from the second bout between the two fighters, rocking Edgar badly, the champion stormed back and defended his belt with an improbable knockout.
Co-Main Event: Jose Aldo vs. Kenny Florian
Florian's drop from lightweight to featherweight helped set up one of the biggest featherweight fights the division has ever seen. With a strong showing, Aldo prevented Florian from earning UFC gold in the veteran's third title fight.
1. UFC 79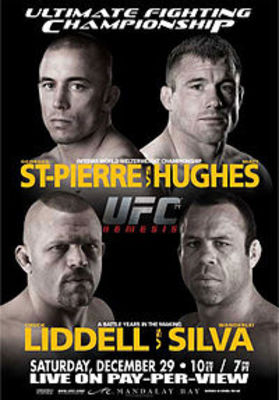 Main Event: Georges St-Pierre vs. Matt Hughes
After splitting their first two meetings, welterweight greats St-Pierre and Hughes met in a bout for the interim title. For St-Pierre, the fight was an important step to regaining his title after losing to Matt Serra. For Hughes, the matchup gave him a chance to prove he was still one of the best in the world. Ultimately, St-Pierre was victorious in a fight that helped jump-start the greatest 170-pound title run of all time.
Co-Main Event: Chuck Liddell vs. Wanderlei Silva
In addition to a bout between the two best welterweights in MMA history, UFC 79 also featured a fight between arguably the two best light heavyweights in MMA history. Though the fight came much later than many would have hoped, Liddell and Silva delivered an entertaining fight and Liddell's decision win may have given him the edge over Silva in terms of 205-pound greatness in some people's minds.
Keep Reading