Philadelphia Phillies: Assessing the Injury Risk of Every Phils Roster Player
Len Redkoles/Getty Images
If you're a fan of high-scoring games and the Philadelphia Phillies, the first series of the 2012 regular season was probably a depressing one for you.
It is no secret that the Phillies lineup will struggle without guys like Ryan Howard and Chase Utley, but if the series against the Pittsburgh Pirates was any indication of what is to come, things can get ugly for the Phillies, and fast.
In three games, the Phillies surrendered just seven runs. They lost two of them after scoring just six. You can hang the blame on whomever you like, but at the end of the day, we all know that the Phillies offense is hurting. They can't afford another injury.
So how healthy are they?
If last season taught this club anything, it should have been that it is necessary to rest older players more prone to injury. They'll need to rest other injury-prone players as well, though. This slideshow will attempt to determine which players are ready for the long haul and which players should proceed with caution.
In doing so, we'll use this simple key:
– High: Player is at high risk of an injury and should proceed with caution.
– Moderate: Though seemingly healthy, a player has some type of warning sign(s).
– Low: Player is not an injury risk.
For news, rumors, analysis and game recaps during spring training, check out Greg's blog: The Phillies Phactor!
Carlos Ruiz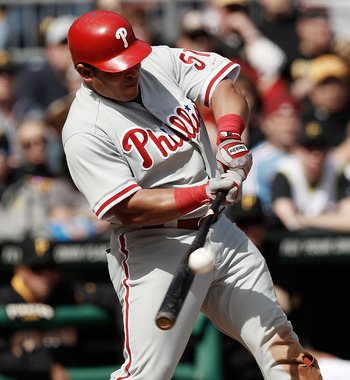 Jared Wickerham/Getty Images
Injury Risk: Moderate
Looking at the whole picture, Carlos Ruiz has been relatively healthy since becoming the Phillies' regular backstop, outside of a few freak injuries.
He gets a rating of "moderate" for the simple fact that he is 33 years old and playing what is probably the most demanding position on the diamond.
Though Charlie Manuel has emphatically declined that backup catcher Brian Schneider will serve as Vance Worley's "personal catcher," it certainly looks as though Ruiz will be getting a day off every five days or so, and that should keep him healthy through the season.
Ryan Howard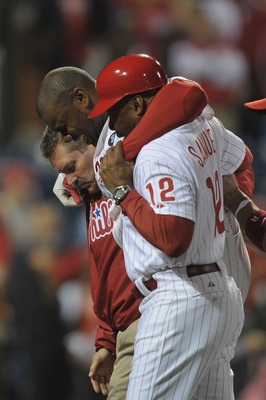 Drew Hallowell/Getty Images
Injury Risk: High
Big-bodied first basemen just don't age well, so I would have given Ryan Howard a "moderate" ranking had last season not ended the way it did.
Of course, Howard tore his left Achilles' tendon on the final play of the 2011 NLDS and has spent most of the offseason rehabbing. Though no timetable has been placed on his return, some time during the month of May is the popular guess.
Even after he returns, however, who knows how that Achilles is going to hold up? That's a well-used part of the body for a big, power-hitting first baseman.
Chase Utley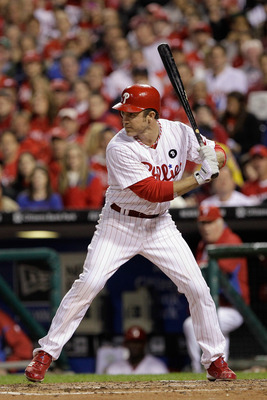 Rob Carr/Getty Images
Injury Risk: High
Chase Utley has a chronic knee condition, so he is going to be at this level of concern for the rest of his career, but that statement is not nearly as dramatic as it sounds.
Though Utley's chondromalacia has worn his knees down, it is a manageable condition. Granted, neither Utley nor the Phillies have found the perfect way to manage the condition yet, but you certainly get the feeling that spending the first month of the season with a specialist in Arizona is a good start.
Once he returns, the Phillies will need to get Utley plenty of rest, but he should be effective once he is reinserted into the lineup.
Jimmy Rollins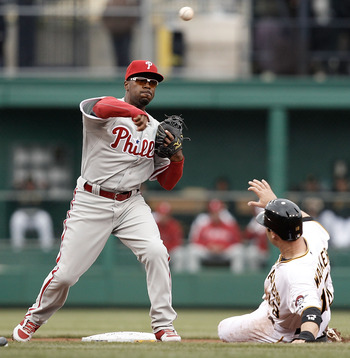 Jared Wickerham/Getty Images
Injury Risk: Moderate
After missing time during a couple of seasons with leg injuries in the past, 2011 was certainly a step in the right direction for Jimmy Rollins.
The Phillies shortstop implemented a yoga routine prior to last season and that seemed to help keep him limber throughout the season. Managing his legs should help keep him healthy throughout the year.
With that being said, injury histories aren't rewritten because of one healthy season. Rollins' legs are still something to keep an eye on.
Placido Polanco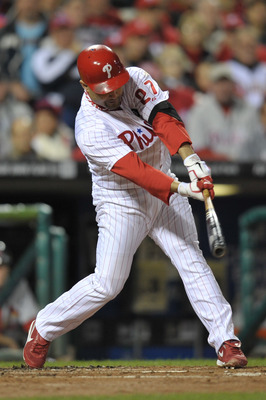 Drew Hallowell/Getty Images
Injury Risk: High
Placido Polanco was looking like that poor sap from the board game Operation! by the time last season ended.
He had back spasms. There were loose bodies in his elbow. He had not one, but two sports hernias. By the time the 2011 NLDS ended, Polanco probably had to breathe a sigh of relief. He was practically glued together with cortisone shots.
That probably isn't going to change much moving forward. Polanco will be 36 years old this season and plays a brash style of third base. The Phillies improved their bench over the offseason, but it looks like other injuries will force players like Ty Wigginton into other positions, causing Polanco to play more.
He'll need to rest to stay healthy, and that just isn't viable right now.
John Mayberry Jr.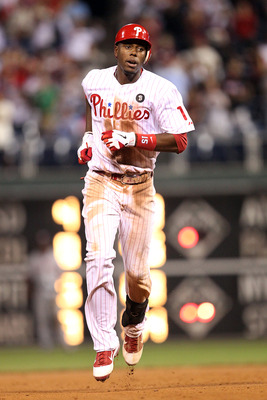 Hunter Martin/Getty Images
Injury Risk: Low
The Phillies need John Mayberry Jr. to step up in so many ways this season that I've lost count, but one of the biggest reasons is the simple fact that he has been healthy over the last couple of seasons.
Mayberry is one of the few position players on the roster that hasn't dealt with some kind of nagging injury over the last couple of years. The Phillies hope that more playing time will help mold him into an everyday player, and the club could certainly use his right-handed pop with guys like Ryan Howard and Chase Utley out.
Shane Victorino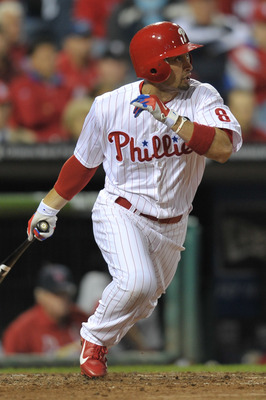 Drew Hallowell/Getty Images
Injury Risk: Moderate
Shane Victorino was an interesting player to assess for this list.
He certainly isn't a risk for a big injury. If the way he plays the game is any indication, Victorino is one of the club's most limber, flexible players. At 31 years old, he is just entering his prime.
But Victorino plays the game hard. He runs into walls, accelerates at full speed and isn't afraid to lay out for a catch. His brash playing style has caused numerous minor injuries to pile up over the years, from thumb injuries to hamstring strains.
He is a moderate, but closer to low, risk.
Hunter Pence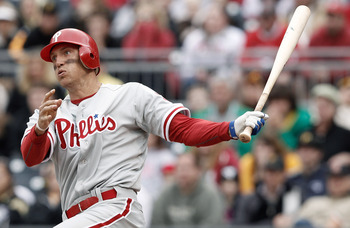 Jared Wickerham/Getty Images
Injury Risk: Low
Hunter Pence had surgery to repair a sports hernia following the 2011 season, but that was an anomaly.
The Phillies right fielder has been extremely durable throughout his MLB career. Prior to last season, Pence had played in at least 155 games in each of his big league seasons, except for his rookie campaign.
A well-conditioned athlete that came into the regular season looking stronger than ever, there is little reason to worry about Pence moving forward.
Jim Thome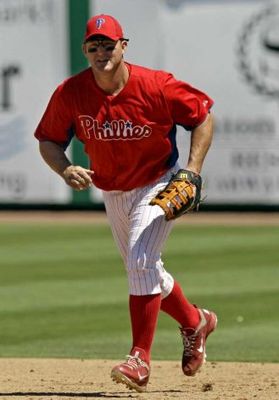 Injury Risk: Moderate to High
I'm just not convinced that a Pilates regiment is capable of saving Jim Thome from Father Time.
Over the last couple of seasons, the 40-year-old "first baseman" has dealt with a couple of minor, but nagging, injuries, particularly to the lower half of his body.
Now, the Phillies are asking him to step outside of his comfort zone and play first base a couple of times a week while serving as the club's best bat off of the bench.
So far so good, but it's a tall order.
Laynce Nix
Al Messerschmidt/Getty Images
Injury Risk: Low to Moderate
Laynce Nix's career seems to be defined by nagging injuries.
Several times over the course of his 10-year career, Nix has earned a bit of playing time and then lost it just as quickly after dealing with some kind of injury. This unsettling trend has kept him on the bench for most of his career.
Of course, Nix started his Phillies career with a rib injury.
The guy is in great shape and not playing everyday, so he didn't pose a big risk, but his injury history is certainly something to keep an eye on. That stuff has a tendency to repeat itself, after all.
Brian Schneider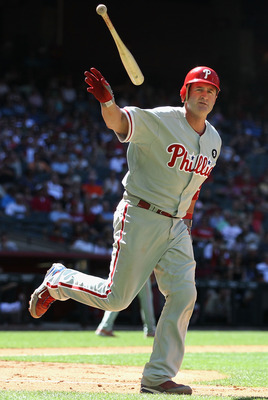 Christian Petersen/Getty Images
Injury Risk: Moderate
Brian Schneider gets the same explanation as Carlos Ruiz.
Playing catcher at the MLB level is a tough job. Schneider has the luxury of playing just a couple of games a week, if that, but it is still a taxing position for a 35-year-old veteran playing in his 13th big league season.
Schneider dealt with a couple of issues in 2011, and I'm not convinced he can stay healthy for a full season.
Ty Wigginton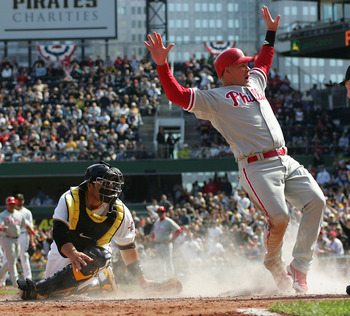 Jared Wickerham/Getty Images
Injury Risk: Low
Ty Wigginton has been a durable player over the last couple of seasons and becoming a utility player is only going to help keep him healthy throughout the season.
Wigginton will spend the first month or so of the season playing a lot, with Ryan Howard and Chase Utley on the disabled list, but once those two return, he'll find himself spending most of the team's first innings on the bench, giving Placido Polanco the occasional breather.
With the way the offense is going, Charlie Manuel may decide that he needs Wigginton's bat in the lineup, but he can handle the strain of playing everyday.
Freddy Galvis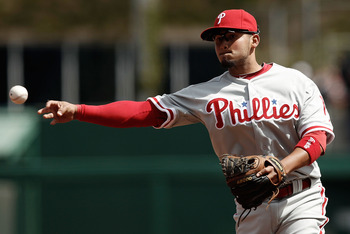 Jared Wickerham/Getty Images
Injury Risk: Low
Freddy Galvis had a wrist injury over the winter, but it was minor and nothing to worry about moving forward.
The Phillies' interim second baseman has a healthy track record, and his durability will certainly be tested with Chase Utley on the disabled list.
However, the 22-year-old shortstop-by-trade has proven over the course of his minor league career that he can play everyday, and the Phillies may need him to do so for quite some time.
Roy Halladay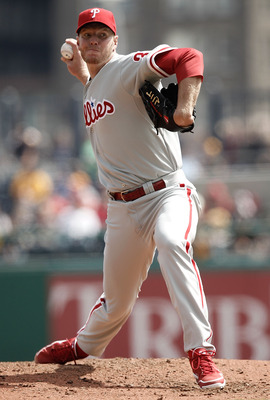 Jared Wickerham/Getty Images
Injury Risk: Low
The man is a machine.
Even at 34 years old, Roy Halladay is still one of the most well-conditioned players in the game, with an unbelievable work ethic and workout routine. Few pitchers in the game have a drive like Halladay's and an even smaller number produce the results he is capable of.
Halladay laughed off speculation of whether or not he was dealing with an injury over the spring and proved that there was no basis for it in his first start of the season.
Cliff Lee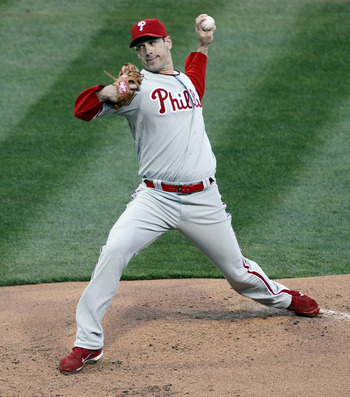 Justin K. Aller/Getty Images
Injury Risk: Low
Cliff Lee's biggest injury concern seems to be a stubborn abdominal muscle, but even that has been a non-factor in recent seasons. He dealt with that injury in 2010 and missed the month of April, and he's dealt with some soreness in that region during spring training.
However, Lee is a very minimal injury risk. He isn't a power pitcher and his smooth, effortless delivery that he repeats with ease is one of the reasons that he isn't considered much of a risk at all.
Cole Hamels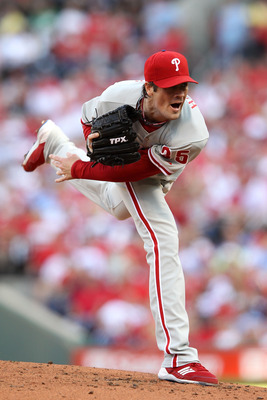 Jamie Squire/Getty Images
Injury Risk: Low
I considered putting a "moderate" tag on Cole Hamels, but ultimately decided against it.
The Phillies' left-handed starter dealt with a couple of injuries in 2011, the most concerning of which was elbow soreness ultimately identified as "loose bodies." Hamels has gone on the record stating that the pain was severe at times, but he was able to pitch through it. He did, however, miss a couple of starts because of it.
He also had surgery to repair a sports hernia over the offseason.
Heading into spring training, those injuries seemed to be completely behind him. He is 28 years old and heading into the prime of his career, and neither of these injuries are recurring ones.
If Hamels is healthy, there is good reason to believe that he is going to stay healthy—and he is healthy.
Vance Worley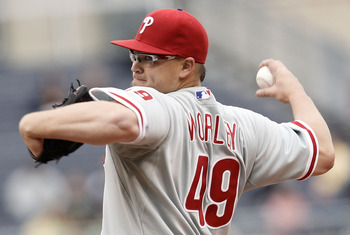 Jared Wickerham/Getty Images
Injury Risk: Low
At this time last season, Vance Worley's biggest health concern would have been conditioning, as he's never dealt with a major injury.
Heading into spring training in 2012, though, Worley was guaranteed a spot in the Phillies rotation and came into camp with a little fire. His conditioning has improved vastly from this time last season and that has allowed him to go deeper into ballgames.
However, improved conditioning will also help to keep him healthy over the long haul.
Joe Blanton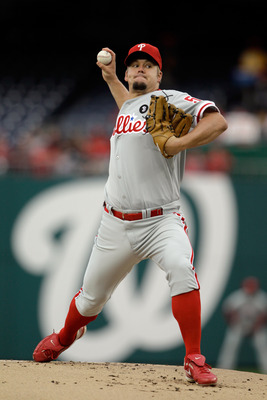 Rob Carr/Getty Images
Injury Risk: Moderate
Anytime a player misses nearly an entire season, there will obviously be concerns about his health moving forward.
That is certainly the case for Phillies' right-handed starter Joe Blanton, who spent most of the 2011 campaign on the disabled list with arm issues.
I considered giving him a "high" rank, but the more you think about it, there isn't much reason to do so. Blanton returned at the end of last season and pitched effectively out of the bullpen. He came into spring training and proved he was healthy.
Blanton is a guy to keep an eye on, but he seems healthy early in the season and has never dealt with a serious injury in the past before last season.
Kyle Kendrick
Drew Hallowell/Getty Images
Injury Risk: Low
Kyle Kendrick has been frustrating on the mound at times during his MLB career, but one of his greatest strengths has been the ability to take the ball every time he is asked to.
He has made many transitions for the Phillies. After coming up as a starting pitcher, he moved into the bullpen. He has pitched as a long reliever, a spot-starter and even as a setup man.
Surprisingly enough, he has been as durable as they come. He has a simple delivery and doesn't have overpowering stuff, so Kendrick is a minimal injury concern.
David Herndon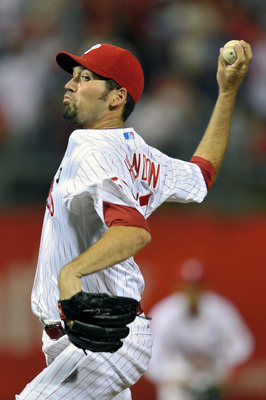 Drew Hallowell/Getty Images
Injury Risk: Low
David Herndon is another guy whose durability has kept him hanging around in the MLB.
After sticking around as a Rule 5 Draft pick, Herndon became "property" of the Phillies organization. That doesn't mean that it was a popular decision to keep him around. Herndon is an average pitcher—at best—and he has certainly struggled at times during his MLB career.
With that being said, there is value in a guy who can take the ball every single time he is asked to, and Herndon has done just that. He is another guy with a simple delivery and a simple repertoire, making himself an extremely small injury risk.
Mike Stutes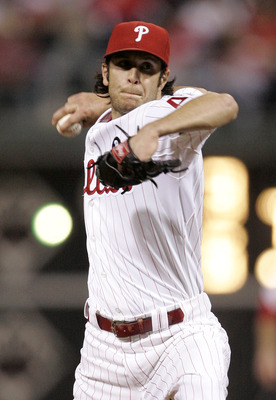 Rich Schultz/Getty Images
Injury Risk: Low
With the way spring training ended, Mike Stutes' injury risk is probably somewhere between "low" and "moderate," but after avoiding a stint on the disabled list and pitching on back-to-back days in the first series of the season, I get the feeling that he is healthy.
Stutes has dealt with a couple of minor injuries in the past, specifically a back issue in 2011. His delivery has a lot of moving parts and he relies on a big fastball to get outs.
He isn't a big injury risk by any means, but more so than guys like Kyle Kendrick and David Herndon.
Chad Qualls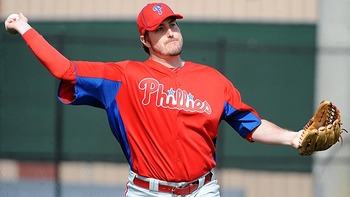 Injury Risk: Low
The Phillies waited out the free-agent market for a long time to land Chad Qualls. With Jose Contreras on the disabled list to start the year, they needed a veteran presence with a bit more durability, and Qualls certainly fits that bill.
The right-handed reliever appealed to the Phillies because of his versatility and track record. He's pitched in a number of roles and pitched in them often.
After his rookie year in 2004, Qualls has made at least 70 appearances in six of his seven big league seasons. The one year he didn't was the result of a freak knee injury in 2009.
There could be some mileage on that arm, which could be a concern, but Qualls has shown over the years he has one of those "rubber arms" that relievers strive for.
Jose Contreras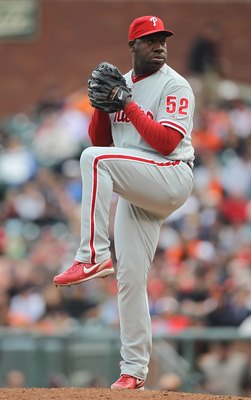 Jed Jacobsohn/Getty Images
Injury Risk: High
Jose Contreras is the biggest injury risk on this pitching staff, by a mile.
First and foremost, you have to look at his track record. Contreras is a 40-year-old starter-turned-reliever with a lot of miles on his arm, displaying the difference between a guy like him and Chad Qualls nicely.
Then you factor in that Contreras missed nearly the entire 2011 season with an arm injury that required "exploratory surgery" over the winter and a bunch of red flags should go up.
He is rehabbing with the Phillies' minor league teams right now, and should return soon. However, are we sure that Contreras can be a weapon throughout the season?
I'm not.
Antonio Bastardo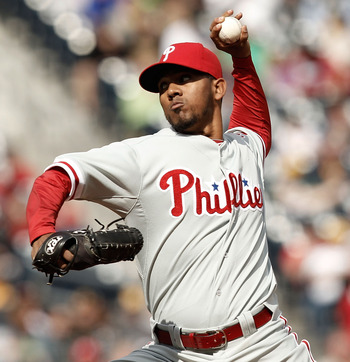 Jared Wickerham/Getty Images
Injury Risk: Low
Antonio Bastardo is a player hovering in the negative space between "low" and "moderate" right now.
He spent most of spring training being a concern for pitching coach Rich Dubee and his ensemble of trainers and medical personnel when he was diagnosed with a sore forearm resulting from dehydration.
Bastardo pitched through that in the spring, however, and logged appearances regularly as the Phillies prepared to head north, pitching multiple days in the first series of the season. That led me to believe that he is all systems go moving forward.
His velocity has been down, but Dubee and Charlie Manuel have insisted that he just hasn't built his arm strength up yet—a normal sight early in the season.
Jonathan Papelbon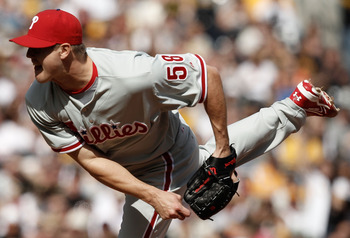 Jared Wickerham/Getty Images
Injury Risk: Low
After having to look at Brad Lidge's injury history over the last couple of seasons, the Phillies wanted to go out and get a guy whose medical file didn't look like an encyclopedia.
Enter, Jonathan Papelbon.
Papelbon, of course, spent the first seven years of his MLB career as a member of the Boston Red Sox, and the Phillies really wanted someone who has pitched in high-leverage situations like those experienced in Philadelphia as their closer.
They agreed to a record-breaking deal with Papelbon and were able to do so because of a relatively clean medical history. He is another guy with very minimal injury risk moving forward.
Keep Reading

Philadelphia Phillies: Like this team?