Portland Trail Blazers Basketball: Is the Training Staff the Worst in the NBA?
April 17, 2012

Jonathan Ferrey/Getty Images
With just under two weeks left in his best season as a professional, LaMarcus Aldridge was shut down for the rest of the year because of an injury to his right hip—an injury he has been playing with since March—an injury that went unnoticed by the Portland Trail Blazers training staff in a previous MRI.
Another Blazer.  Another injury. Another season lost.
How does a team with one of the richest owners in sports, a loyal fanbase that packs the arena every night and the world's most advanced athletic training facility in its backyard have this sort of injury epidemic?
Either some Blazer hater has a deal with the devil, or Paul Allen has employed a training staff that is incapable of taking care of his multimillion dollar men.
In an April 5th blog post, a sports kinesiologist named Zig Ziegler discusses how in 2008, then-assistant general manager Tom Penn asked him to perform a series of biomechanical examinations on the entire Portland Trail Blazers team.  
From those tests he states he found startling results that suggested Brandon Roy, Greg Oden and Joel Pryzbilla were at risk for major knee injuries and possibly career-threatening injuries.
As we all know, each ended up having multiple serious knee injuries and two of those careers may be over.
It's tough to credit or discredit Ziegler because he is not a doctor but he does come from an athletic training background.  
He could be just another passionate fan claiming to know all the right answers with the benefit of hindsight.  Or he could be a brilliant kinesiologist who knew the risks the Blazers were taking by not acknowledging his data. 
Whatever the story is with Ziegler, it is quite noteworthy that less than one week after his blog post was published, LaMarcus' second opinion revealed an injury the training staff did not originally find.
It may not be fair to blame all the Blazers' injuries on the strength and conditioning staff, but there are a few alarming trends that have seemed to take place around the Blazers' locker room.  
First off, the Blazers have had an unusually large number of knee injuries and most of them have not been the result of contact.
In the past four years, Greg Oden and Brandon Roy have each had at least three knee surgeries.  Joel Pryzbilla had two knee surgeries.  Jeff Pendergraph had one while he was still a member of the Blazers.   And Elliot Williams had one last season.
If you are counting, that's 10 major knee injuries and no less than eight of them can be considered non-contact (or minimal-contact) injuries.
In comparison, the University of Oregon Football team, which has more than 100 players, playing in a vicious, tackling sport, has only had about 10 major knee injuries in the same amount of time.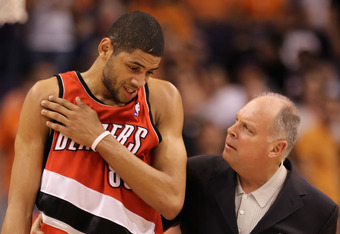 Christian Petersen/Getty Images
Another trend that should alarm Blazer fans is that many players have gotten the same injury more than once.  
How many times have we heard the name "Greg Oden" being followed by "microfracture surgery," or "Brandon Roy" being followed by "meniscus tear" or "pulled hamstring"?
Those are the extreme cases, but they are hardly the only cases.
Joel Pryzbilla has been a common sufferer of Patella tendinitis. Rudy Fernandez had repeated bouts with back spasms.  Wesley Matthews has battled multiple ankle injuries.  And several other Blazers have had to make second and third trips to the injured list because they reaggravated injuries after they had returned to the court.     
One final trend that should be brought to the attention of Blazer supporters is the trainers' inconsistent diagnoses.
Injury recovery times are by no means the same with every player.  Some players heal quickly, some players do not.  But two weeks is not enough of a recovery time for an injury that is supposed to require one to two months, no matter who you are.  
After tearing his meniscus in mid-April of 2010, Brandon Roy was expected to miss at minimum, the entire first round of the playoffs.  But eight days after his surgery, Roy was back on the court for Game 4 of the first round.
It was great to see him get the W that day against the Suns.  But you know what would have been better?  Seeing him play 50 games the next season.  Or watching him team up with LaMarcus in their All-Star primes.
It's quite possible that the Blazers' injury woes may be attributable to something else.  Maybe Oden's and Roy's bodies were doomed from the beginning.  Maybe Portland's weather is destructive on joints and ligaments.  Maybe the Blazers really are cursed. 
But in a season where 38-year-old Steve Nash is putting up All-Star numbers, 34-year old Kobe Bryant is challenging for the scoring title and 36-year-old Kevin Garnett is a candidate for an All-NBA selection, Blazer fans can't help but be curious about the team that is taking care of their team.