25 Philadelphia Phillies Prospects Who Never Lived Up to the Hype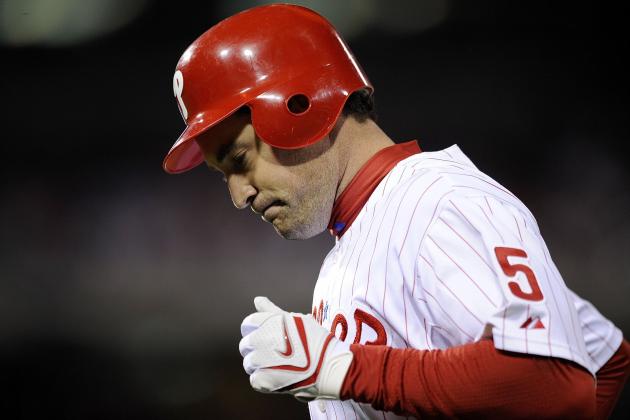 Jeff Zelevansky/Getty Images

Philadelphia is a city of high expectations and in recent seasons it has been impossible to have any higher expectations than this town has had for its Philadelphia Phillies. "World Series or bust" has become a common phrase, and that isn't a common occurrence for a baseball club.
It's a baseball loving town. The Phillies have had their dark seasons—there is no doubt about that—but expectations have remained.
Throughout the history of this organization, it seems as though there is always a certain level of hype over the club's prospects. When you're losing, you have hope that they'll help you win in the future. When you're winning, you hope that they'll help you continue your winning ways.
Like any club, the Phillies have had prospects unable to live up to the hype. They've had mega-prospects that couldn't quite live up to their lofty expectations, huge busts, and everything in between.
Though it's tough to quantify into a ranking, this slide show will take a look at 25 players in Phillies' history that have failed to live up to their hype by attempting to cross-check their success against their expected success.
Begin Slideshow

»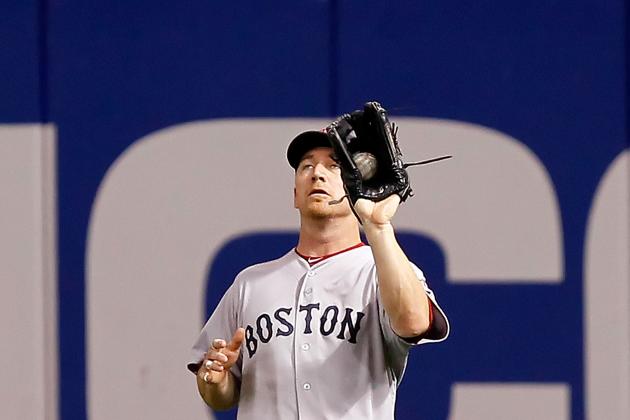 J. Meric/Getty Images

With a list of 26 potential names for this list, I felt the need to include everyone, even if JD Drew doesn't really count. You can consider this slide an "honorable mention," I suppose.
In the middle of one of the worst stretches of baseball in franchise history, fans were thrilled to hear that the Phillies had drafted college mega-prospect Drew with the second overall pick in the 1997 draft. He was going to have a Hall of Fame career and lead the Phillies out of darkness.
Yeah, right.
The Phillies and super-agent Scott Boras locked horns over Drew's willingness to play in Philadelphia, and for what price, and it became one of the ugliest contract negotiations of all time.
Boras wanted Drew to have the highest signing bonus of all time. The Phillies wanted him to be reasonable. When he refused to sign and was drafted again a year later, he became one of the most hated men in the history of Philly sports.
Tom Hauck/Getty Images

Scott Rolen was supposed to live up to impossible expectations, so it may be a little unfair to see him on this slideshow, and that would be a justified criticism. However, Rolen was introduced as the Phillies' next great third baseman, following Mike Schmidt, and left as one of the most hated men in Philadelphia.
Drafted in the first round of 1993 draft, Rolen had a a great career with the Phillies on the field, but he was a mess off of it.
Caught up in controversy with management and fans questioning his loyalty, he eventually got his wish—a trade to the St. Louis Cardinals.
He was supposed to be an all-time great. He left as one of the city's biggest villains.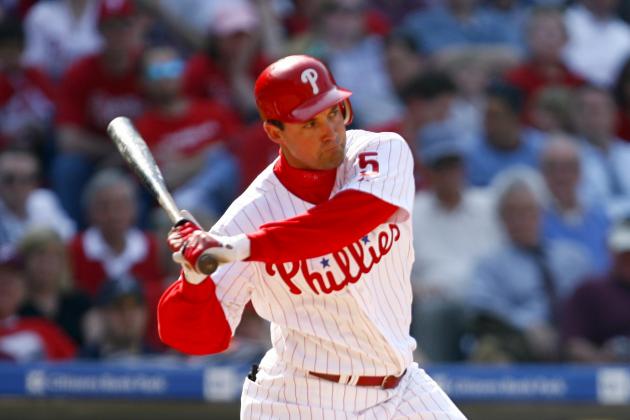 Rob Tringali/Getty Images

Pat Burrell had a great career with the Phillies, but it wasn't the phenomenal career that he was expected to have when the Phillies drafted him with the first overall pick of the 1998 draft.
He was an excellent prospect coming out of the University of Miami. He was a solid defender at third base, albeit a bit lacking in athleticism and below average at the MLB level. His bad made up for everything. He had tremendous power and was a good contact hitter.
Looking back, it isn't hard to see which areas of his game faded. Burrell became a clumsy left-fielder with the potential to kill you defensively. His contact skills faded.
He was a great power hitter, but not the stellar player that he was expected to become.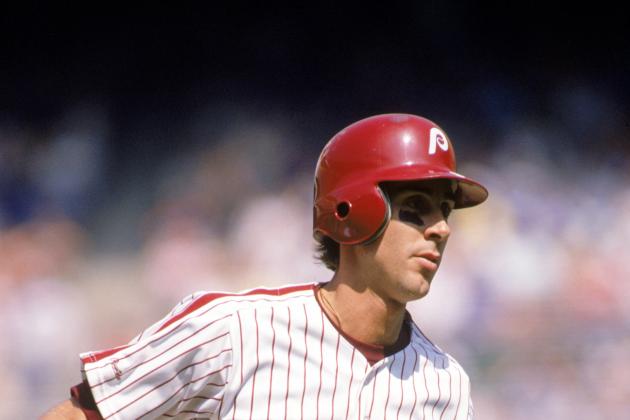 Rick Stewart/Getty Images

The Phillies acquired Von Hayes from the Cleveland Indians very early in his playing career because they were infatuated with his potential, but trading five players to the Tribe for him created huge expectations amongst the fans, and Hayes would never come close to living up to those.
That isn't to say that he didn't have an excellent career, because he certainly did.
However, Hayes was supposed to be something akin to the cornerstone of the Phillies' franchise. It was a time where if you were going to trade five players for a guy, he had better reap you some massive rewards, and Hayes never did.
Losing the 1983 World Series didn't help.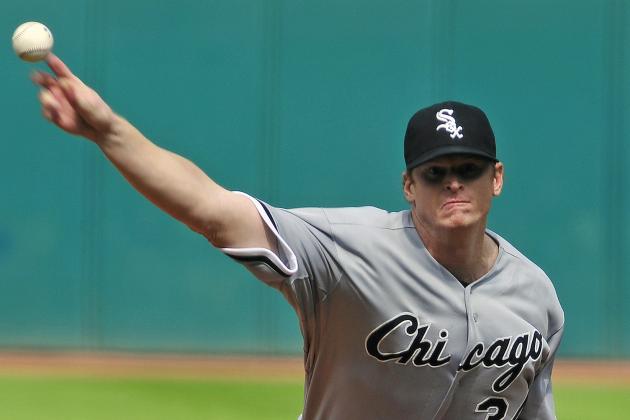 Jason Miller/Getty Images

Gavin Floyd and Cole Hamels were supposed to give the Phillies a fearsome top of the rotation for many years to come, developed in-house. While Hamels has helped to do just that, Floyd hasn't quite lived up to those lofty expectations, especially with the Phillies.
Floyd was a prospect that a lot of scouts loved, culminating in his ranking of ninth in the game by Baseball America prior to the 2003 season. He progressed through the farm system, with a few hiccups, but made his MLB debut nonetheless.
He was shelled in the Bigs.
The Phillies didn't give him many chances before trying to cash in on what value he had left in a trade, and karma decided to send them Freddy Garcia.
Floyd has had a solid career with the Chicago White Sox but still has not lived up to his "ace" potential during his days in the MiLB.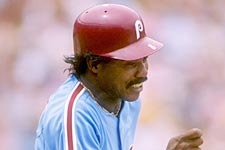 Juan Samuel was supposed to be the next big thing.
He progressed through the farm system quickly and certainly showed glimpses of his potential in a Phillies' uniform. His speed made him a top of the order hitter, but he showed flashes of power as well.
His biggest flaw was his uncanny ability to strike out, something he did frequently. From 1984-87, Samuel led the league in strikeouts. That's four seasons in a row from a guy that was consistently batted at the top of the lineup.
Not good.
The Phillies would eventually ship him to the New York Mets for a package that included Lenny Dykstra, and Samuel never lived up to those lofty expectations elsewhere.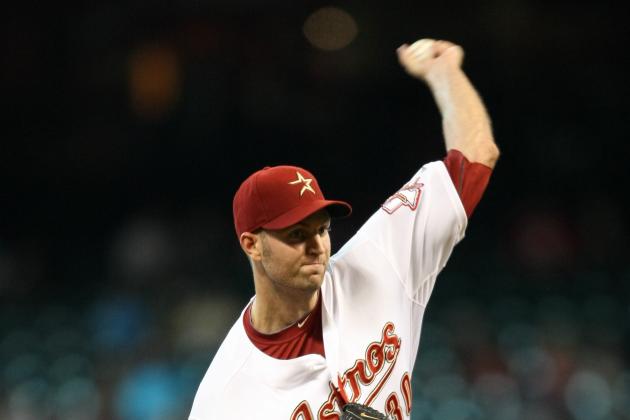 Eric Christian Smith/Getty Images

JA Happ—one of the greatest examples in the history of baseball of why it is a good idea to "sell high," but fans don't care.
Happ's tenure in Philadelphia was a solid one. One of the team's better prospects for a while, after a lot of the big guys had graduated to the MLB, Happ had a solid future as a middle to bottom of the rotation pitcher, but a great year in 2009, when he finished second in Rookie of the Year voting, had fans expecting more.
That was unreasonable.
The Phillies made Happ one of the main components of the deal that brought Roy Oswalt to the Phillies in 2010, and Happ quickly regressed to the mean in Houston.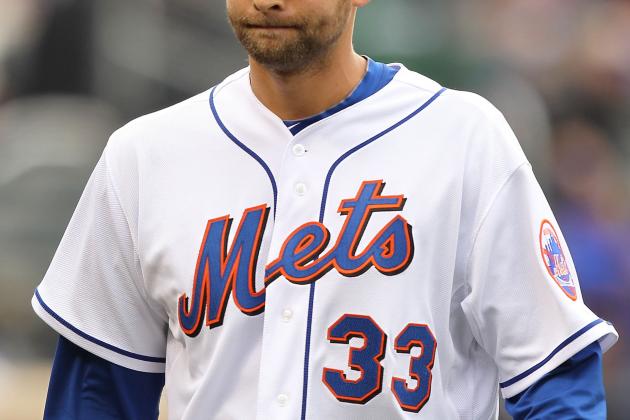 Al Bello/Getty Images

Drafted out of high school by the Phillies in the sixth round of the 2000 draft, the organization had high hopes for right-handed pitcher Taylor Buchholz. They took a risk on him. With a college commitment, there was no guarantee that the Phillies would be able to sign him, but they did.
He went right to rookie ball that year and was impressive. He progressed to Lakewood, then Clearwater. Phillies fans had begun to take note of his name. By the time spring training rolled around in 2003, he had cracked Baseball America's Top 100 prospects. The hype was building and strong.
Then, he was traded.
The Phillies thought, perhaps prematurely, that they could put a contender on the field at the MLB level. Buchholz became the centerpiece for the deal that brought Billy Wagner to Philadelphia, and believe it or not, fans were a little upset to see him go.
Things just fell apart for him after the deal. He struggled with the Houston Astros, and they sent him to the Colorado Rockies. He struggled with the Rockies, though showing a glimpse of his potential, and they lost him on waivers to the Toronto Blue Jays, who lost him on waivers to the Boston Red Sox.
As a free agent, he signed with the New York Mets, but after struggling and dealing with anxiety and depression issues, he has taken some time off from the game.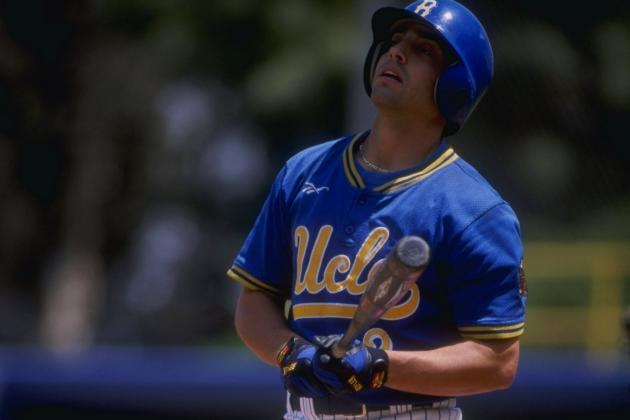 Harry How/Getty Images

There was a lot to like about Eric Valent the prospect and a lot to hate about Eric Valent the results.
Drafted out of UCLA, the Phillies thought they had a solid bat, at the very least. Valent had a little pop and good contact skills, and he wasn't going to kill you in the field. In short, he had all the makings of a very solid MLB player.
He just never panned out.
After a hot start early in his minor league career, Valent simply began to fade against tougher competition and was reduced to a bench player with the MLB club, and not just with the Phillies, but during the rest of his career as well.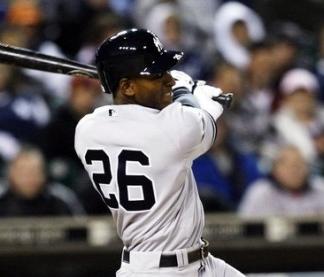 Greg Golson joined the Phillies' organization looking as though he was going to be a very nice player to have around at the MLB level.
He had a lot of tools, but the best one was his speed, by far. One of the fastest guys in the system, the real question behind Golson was whether or not he was going to be able to hit, and though he had virtually no power, his contact skills were improving.
That is, until he hit rock bottom.
He made his MLB debut with the Phillies playing the bench, being used for his bat-handling skills and speed, and he would remain in that role for the rest of his career, even after the Phillies had given up on him and swapped him out for John Mayberry Jr.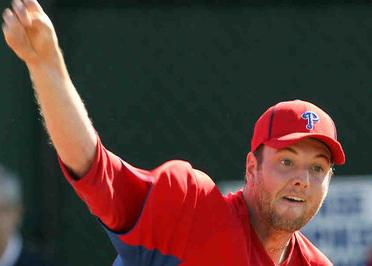 Once upon a time, Scott Mathieson was the type of pitcher that you could see pitching in the MLB with ease. He had a big frame, at 6'3", that helped make his explosive fastball all the more intimidating.
As he progressed through the minor leagues, he added a couple of off-speed pitches and attempted to work in a split-fingered fastball. He looked like he was going to settle into the back of the Phillies' rotation, at least.
Then, he was injured. Then, he was injured again.
That became the story of Mathieson, who dealt with a number of serious injuries in his minor league career, relegating him to the bullpen before long.
Even then, with an explosive repertoire, Mathieson looked to be a guy that could excel in the bullpen, but a numbers crunch would force him off the roster, and now, the right-handed pitcher is tossing in Japan.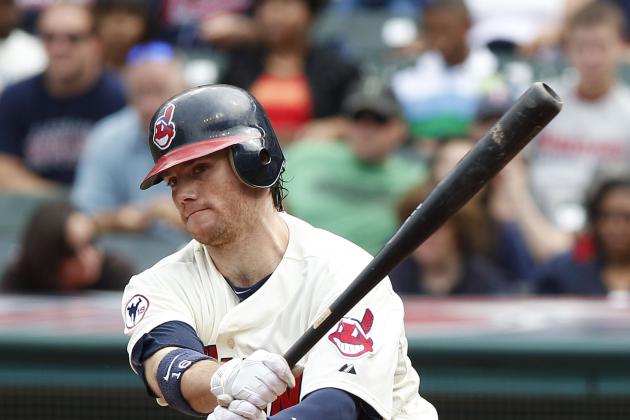 David Maxwell/Getty Images

With Cliff Lee on his way to Philadelphia, not many people were sad to see Jason Donald go, but I always got the sense that fans were more upset to see him traded than Carlos Carrasco, who in all reality, was the better prospect.
Donald never had much upside, but Phillies fans hyped him up to be the next regular infielder to make it to the MLB, and that was understandable. He was one of the club's few infield prospects, and he did have a fair amount of talent.
With the Cleveland Indians, he was reduced to a bench role, and we really never got to see much of Donald anyway.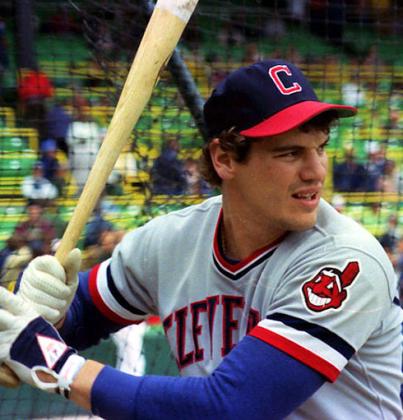 The name of Joe Charboneau probably doesn't ring many bells in Philadelphia, and though he may be a bit more popular in the history of the Cleveland Indians, he is little more than a blip on the radar there as well.
The Phillies drafted the powerful, right-handed outfielder out of West Valley College back in 1976, and after a rough adjustment period, Charboneau found himself mashing minor league pitching for a couple of seasons before the Phillies sent him to the Indians for pitcher Cardell Camper, who never pitched for the Phils.
Meanwhile, Charboneau won the American League Rookie of the Year Award in 1980, while the Phillies were busy winning the World Series. As a prospect and a young MLB player, he had built a name for himself, and Indians fans had some hope.
That didn't last long. Charboneau was hurt the next season and out of the MLB for good after 1982.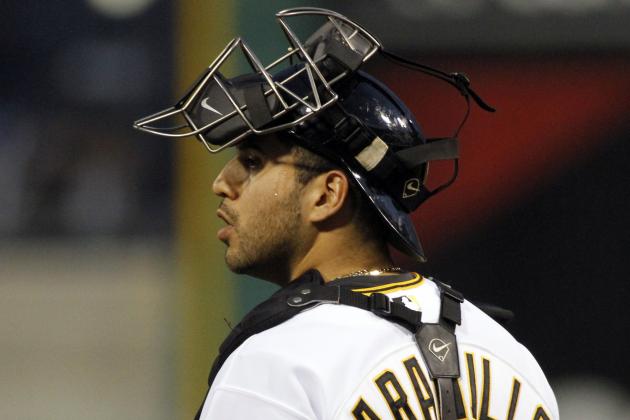 Justin K. Aller/Getty Images

With Carlos Ruiz struggling to make a name for himself at the MLB as a converted infielder now behind the plate, (my, how far he has come) fans looked forward to seeing highly touted catching prospect Jason Jaramillo to make his debut with the Phillies.
Problem is, he never did.
Jaramillo was hailed as the Phillies' next great catcher after Mike Lieberthal, as guys like Rod Barajas held down the fort (or at least, intended to) at the MLB level.
After stalling and failing to make any new noise in Triple-A, and with Ruiz having settled in as the Phillies' backstop, the club finally gave up on Jaramillo and dealt him to the Pittsburgh Pirates for the infamous Ronny Paulino.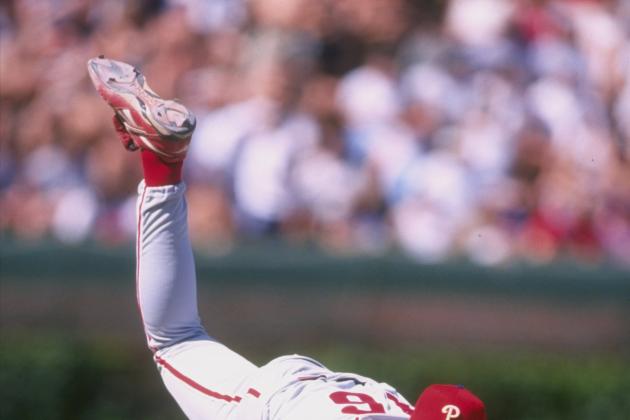 David Seelig/Getty Images

After a very successful career at Mississippi State University, the Phillies drafted Carlton Loewer in the first round of the 1994 draft, taking him with the 14th selection.
Loewer was a big presence, at 6'6", and had a nice repertoire of pitches. He found some success in the minor leagues, giving Phillies fans hope that reinforcements for a dreadful MLB product were on the way.
Well, Loewer was certainly on the way, but he was no help when he got there. His 41 appearances resulted in an ERA of 5.68, and he was out of the MLB by 2003.
Failed picks like Reggie Taylor in the 1990s helped to create one of the worst stretches of baseball in franchise history.
To be fair, Taylor looked like a solid prospect. Drafted 14th overall in 1995 out of Newberry High School in South Carolina, he was supposed to be a very good two-way player with the ability to play a strong defensive outfield and make good contact at the plate.
As it turned out, professionally, he would do neither.
Taylor struggled to put things together in the minors, and though he would spend a whopping 14 games dressed with the MLB club, he would be one of the Phillies' biggest busts of all time.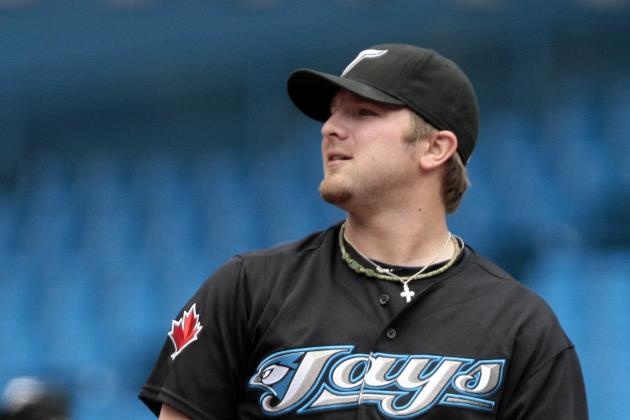 Abelimages/Getty Images

Putting Kyle Drabek on this list may be a little bit premature, but I'm going to do it anyway, because it certainly doesn't look as though he'll ever reach that lofty plateau that Phillies fans set for him when his name was involved in trade talks a few seasons ago.
Once the organization's top prospect, the Phillies refused to part with Drabek for a long time. It was only after it became obvious that they wouldn't be able to strike a deal with the Toronto Blue Jays for Roy Halladay without him that the Phillies moved him, and even then, with one of baseball's best pitchers as the return, fans didn't want to see him go.
So far, he hasn't quite worked out for the Jays, posting a 5.83 ERA over two seasons. There's still time for him to turn it around, but it doesn't look like he'll ever be the ace the Phillies expected.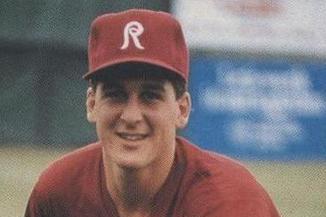 When you take a pitcher with the 11th overall selection of the draft, as the Phillies did with Pat Combs in 1988, you expect him to play a big role in the future of the franchise.
That was the expectation for Pat Combs, but he would do no such thing.
In fact, Combs would pitch just one full season in the Phillies' rotation, as well as parts of three other seasons, before being released.
Failed picks such as this one would keep the Phillies a mediocre team for the next decade or so.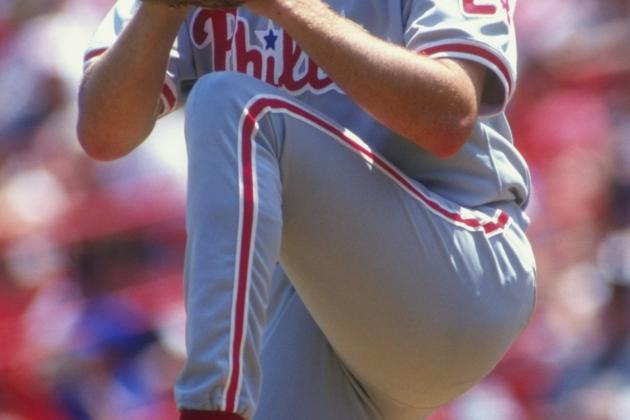 Ezra Shaw/Getty Images

After drafting a high school shortstop by the name of Tyler Greene in 2011, the Phillies are hoping to avoid a little deja vu.
Back in 1991, the Phillies drafted a big, right-handed pitcher out of Wichita State University by the name of Tyler Green. Standing at 6'5", he was quite the presence on the mound. A solid fastball and decent complementary pitches made him a good prospect. Baseball America ranked him within the top 40 prospects in the game for three consecutive seasons from 1992-94.
Of course, Phillies fans expect any player drafted in the first round, especially as early as the 10th pick, to make an impact, and that isn't always the case.
Green made his MLB debut in 1993 but didn't pitch consistently in the Bigs until 1995. He posted an ERA of 5.31 and missed the entire 1996 season with an injury. He couldn't put things together over the next two seasons and was out of the MLB by the end of 1998.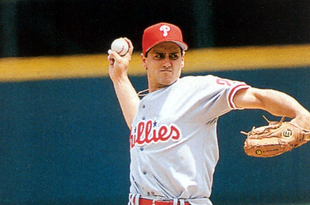 Here's a misleading factoid for you: Brad Brink helped the Phillies win the National League pennant in 1993.
Well, he did pitch in two games that season, but he wasn't much of a help. In total, the right-handed pitcher would pitch in just 10 games for the Phillies over two seasons.
He was drafted in the first round of the 1986 draft with the seventh overall selection out of University of Southern Carolina, and Phillies fans thought that he was going to be, at the very least, a solid MLB pitcher.
He wasn't.
The greatest moment of his Phillies' career was probably March 31, 1994—the day the San Francisco Giants selected him off the waiver wire.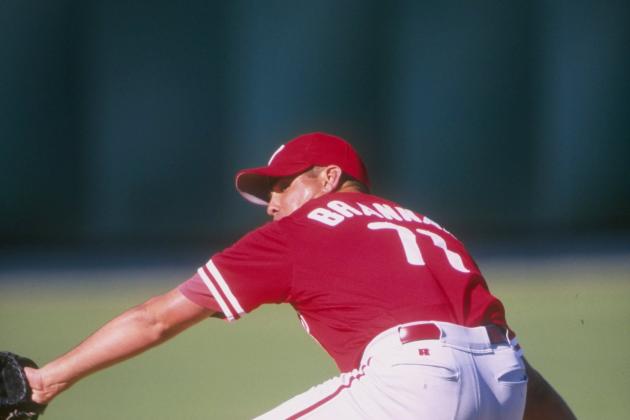 Craig Melvin/Getty Images

For a long time, the Phillies' farm system was nothing to get excited over, but Ryan Brannan was shaping up to be the exception.
Drafted by the Phillies in the fourth round of the 1996 draft, he shot right up to the top of the system's top prospects. His funky delivery and unique repertoire made him a favorite among scouts, and prior to the 1998 season, Baseball America rated him the 58th-best prospect in the game.
Of course, that made him the Phillies' best prospect in 1998 as well.
Brannan's star burned out quickly, however. He struggled to adjust to life in Triple-A and was out of baseball just a few seasons later.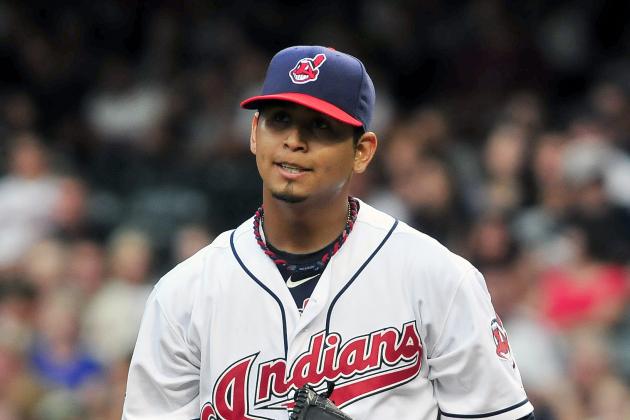 Jason Miller/Getty Images

After Cole Hamels made the transition into the Phillies' starting rotation, it was Carlos Carrasco who became the farm system's next big thing as far as pitchers were concerned and with good reason.
Carrasco had an excellent repertoire of pitches and looked like a front of the rotation starter in the making but started falling apart as quickly as he rose to the top of the Phillies' prospects.
Rated right around No. 50 in baseball's top prospect rankings by Baseball America in three different seasons, Carrasco would struggle in the upper levels of the minor leagues, and the Phillies quickly lost faith in him.
They would deal him to the Cleveland Indians as the centerpiece of the Cliff Lee deal, joining a couple of other prospects who never lived up to the hype.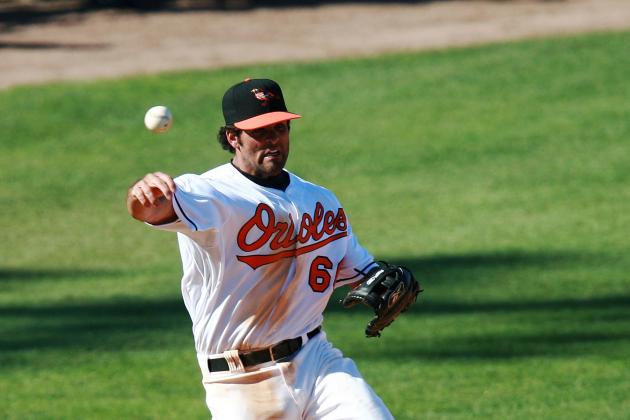 Doug Benc/Getty Images

The only thing that gets fans more excited about a prospect taken early in the draft is when he played his amateur ball locally. So when the Phillies drafted Mike Costanzo in the second round of the 2005 draft out of Coastal Carolina University in South Carolina, there was some hype about him returning to his local roots after playing high school ball for Archbishop Carroll.
After getting his professional career started off on the right foot in the New York Penn League, Costanzo became a well-documented prospect in the Phillies' system, climbing up the rankings in the Phillies' system.
When he became a part of the trade that landed the Phillies' Brad Lidge, he was still considered a pretty good prospect but never cracked the MLB. He has bounced around in a couple of systems, including the Baltimore Orioles, but his prospect status is long gone.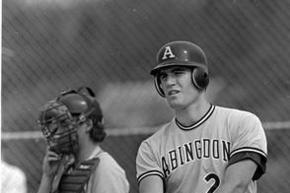 Heading into the 1985 draft, Trey McCall was one of the country's best high school athletes and a lock to be drafted in the first round. The Phillies got their hands on him with the 16th pick, and the catcher was added to the system that season.
He was that unique blend of catcher that's just so hard to find—a good, natural defender with the potential for an above-average bat.
Of course, neither of those scouting reports would come to fruition, as McCall would never make it out of Clearwater during his minor league career.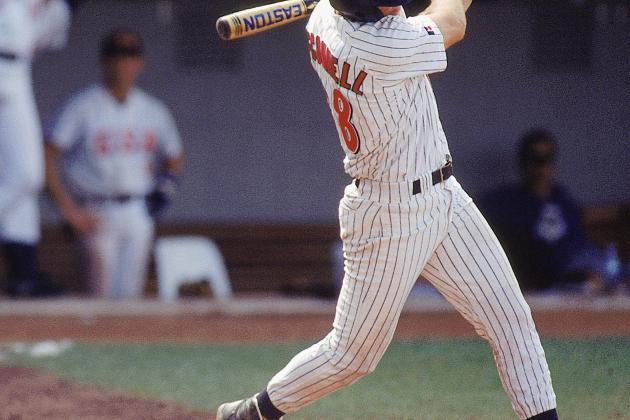 Bob Martin/Getty Images

Chad McConnell was the type of prospect that an organization loves to have in their system.
After playing his college ball at Creighton University, McConnell was chosen to represent the United States' baseball team in the Olympics. After that honor, he was selected by the Phillies in the first round of the 1992 draft.
Needless to say, he'd never live up to the hype that made him a great collegiate athlete and Olympian.
McConnell was supposed to be the player who led the next wave of great Phillies, and instead, was somewhat of a harbinger of many more darker days in the City of Brotherly Love.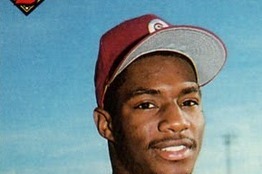 When the Phillies made Jeff Jackson the fourth overall selection of the 1989 draft, they believed that they truly had the type of player who could turn an organization around—the type of player who can be the cornerstone of a great franchise.
They couldn't have been more wrong.
Jackson had all the tools. He could hit for contact and power. He could run. He could play the outfield. The only real problem in his game was that he was never able to put them all together professionally.
He never made it to the MLB and was out of baseball altogether less than a decade later.
For news, rumors, analysis and game recaps during spring training, check out Greg's blog: The Phillies Phactor!