5 Things First Series vs. Marlins Will Teach Us About the Phillies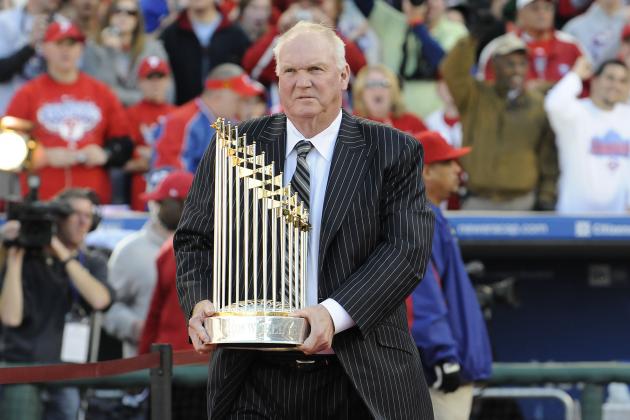 Jeff Fusco/Getty Images

The 2012 Philadelphia Phillies started off the season just as they had finished in 2011, as a team that is built around fabulous pitching with an at-times suspect offense. Roy Halladay was (as usual) brilliant as he gave up two first-inning hits, and then surrendered zero hits over the next seven innings.
The Phillies were able to squeak out one run and that is all that the combination of Halladay and Jonathan Papelbon would need. The Miami Marlins, their new ballpark, home run fountain (weird) and marquee free agents look to burst back into the NL East championship picture.
Here are five things the first series against the Miami Marlins will teach us about the Philadelphia Phillies.
Begin Slideshow

»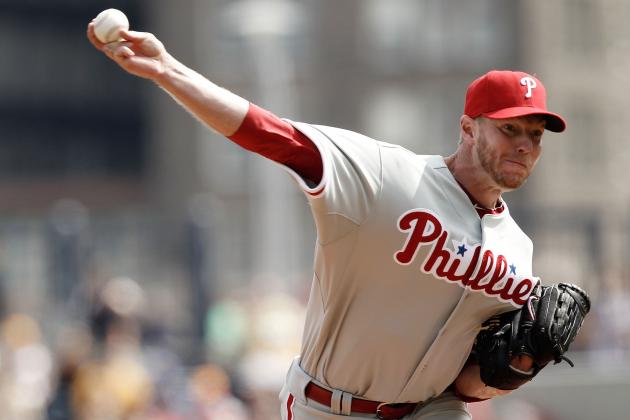 Jared Wickerham/Getty Images

The Miami Marlins may have a flashy new ballpark, Ozzie Guillen, Jose Reyes and Heath Bell, but they will never overtake the Philadelphia Phillies as long as Roy Halladay, Cliff Lee and Cole Hamels are around.
The trio has been dominant over their careers against the Marlins (see Halladay's perfect game) and if Halladay's first start was any idea of what to expect for 2012...
Another NL East championship for the team that has won five straight and a Miami Marlins team with some expensive bills to pay.
Hopefully, their shiny HR fountain keeps people in the seats. Highly unlikely.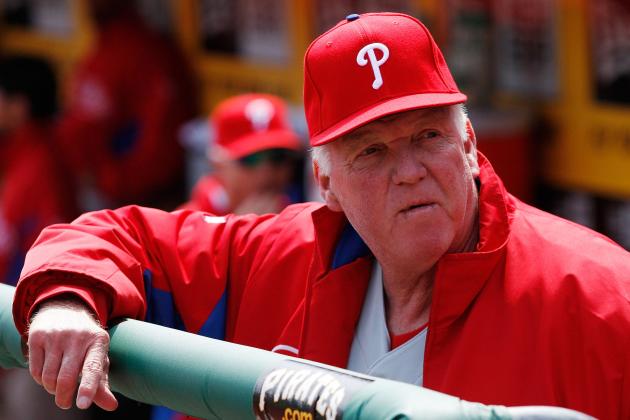 Jared Wickerham/Getty Images

Charlie Manuel actually has the ability to tinker with his lineup in 2012. The middle of the lineup is out for the foreseeable future as Chase Utley and Ryan Howard continue to rehab.
Juan Pierre, Ty Wigginton, Jim Thome, John Mayberry and Laynce Nix are all pieces that can be plugged into either first base and/or left field, and that will allow Manuel to get creative.
The Phillies will have the ability to plug in speedster Pierre when they wish to play a little small ball, and Nix and Thome can provide pop against a tough RH pitcher.
The Phillies may indeed continue to struggle to score runs this season, but at least Manuel has some more weapons at his disposal to turn things around.
Look for Mayberry and Wigginton to be in the lineup against LH pitching and Thome and Nix/Pierre against RH pitching.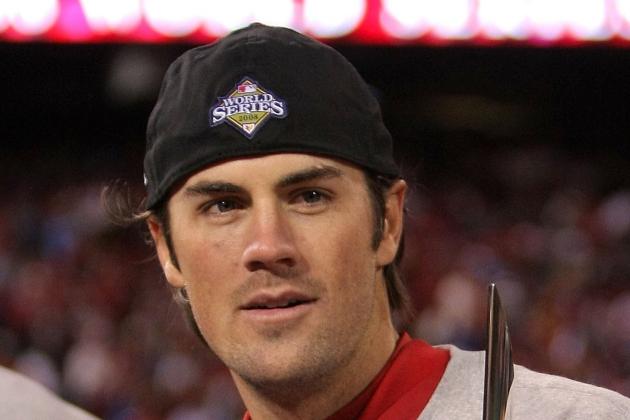 Doug Pensinger/Getty Images

Not only do the Miami Marlins have to enter raucous Citizens Bank Park for the Philadelphia Phillies' home opener, but they have to deal with a perennial Cy Young candidate in Cole Hamels as well.
Charlie Manuel made a wise decision to pitch Hamels fourth in the rotation, so that he's the guy that has to deal with all of the extra energy that goes along with Opening Day. The former World Series MVP is one of the top 10 best pitchers in the game and is admittedly in the best shape of his life.
It's no secret that Hamels is seeking a monster deal (especially after Matt Cain's) and Phillies Nation will make it crystal-clear to King Cole how badly they want him to finish his career in the City of Brotherly Love.
Good news for Philadelphia, bad news for the Marlins.
Jeff Fusco/Getty Images

The Philadelphia Phillies won 102 games in 2011 with a feeble offense, a myriad of unproven bullpen pieces, a historically terrible bench and a guy that had never been an everyday closer.
Well, they enter 2012 with arguably an even better starting rotation, more experience in the bullpen and one of the three best closers in the game and picking against the Phillies still seems like the sexy thing to do.
No matter the "talent" that the Washington Nationals or Miami Marlins have, or the "pieces" that the Atlanta Braves possess, the Phillies have a true team in every sense of the word. Twenty-five guys that work their tails off and understand that there is no "I" in team.
No matter how cliche that sounds.
The addition of a guy like Jim Thome to what is already a clubhouse of guys with legendary work ethics can only mean good things. Adding Jose Reyes and Ozzie Guillen to a group of prima donnas, good luck with all that.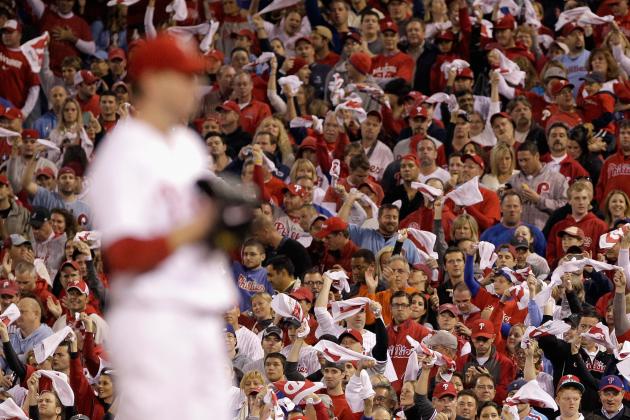 Rob Carr/Getty Images

Over 200 consecutive sell-outs, countless merchandise and memorabilia and even more adult beverages being purchased have played a huge part in the Philadelphia Phillies success. Cliff Lee took less guaranteed years and a whole lot less money to play in front of the best fans in baseball.
In a sense, he took brother(Lee) love over money. And the rest of the country wonders why we consider Lee to be a mystical creature of some sort.
Phillies Nation, you really do make a difference, and the Miami Marlins will once again see it firsthand in 2012. Take if from Lee when he told ESPN the following:
"I can hear the noise, hear the volume. And these fans have a knack for getting a little louder than everyone else. I don't know what it is. I don't know if it's alcohol-induced or what."
Not only will the Marlins have to deal with the Las Vegas-favorite Philadelphia Phillies, but they will have to deal with the most passionate (rowdy?) group of fans in the sport. You have to think that Hanley Ramirez and Co. will be wondering if Phillies Nation will be taking over their new stadium like they did before.
There's a good chance of that happening, Hanley.