UNC: 5 Players Who Must Step Up with Barnes, Henson and Marshall Going Pro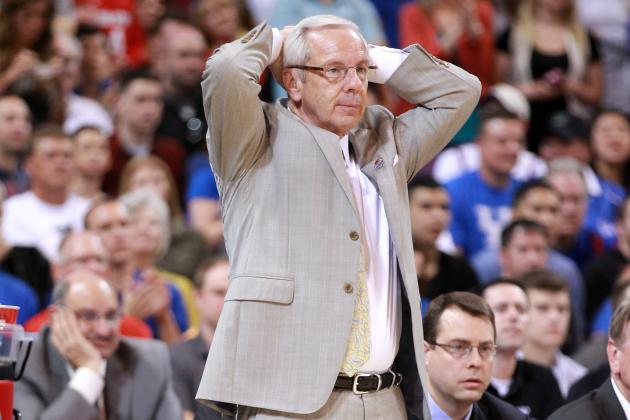 Andy Lyons/Getty Images

Tyler Zeller was a senior and it was his time to go. Kendall Marshall, Harrison Barnes and John Henson chose to leave UNC early for the NBA. It looks like the North Carolina Tar Heels basketball program just did a nose dive, right?
Not so fast.
The beauty of college—and one as prestigious as UNC—is players are always coming in to fill a spot. There will likely be growing pains with the incoming freshmen, but that doesn't put the program in the dumps.
Consider that North Carolina lost two players they were counting on in 2011-12. They lost Leslie McDonald and Dexter Strickland to knee injuries. We all thought those were crushing blows on a team that wasn't very deep.
UNC still made it to the Elite Eight and only lost to Kansas in the final minutes of the game—playing with a third-string point guard.
I've listed five returning players that will have to step up their game and make an impact on this young Tar Heels team of 2012-13. I will also glance over some of the incoming freshman and returning bench players.
I feel a lot better about the situation in Chapel Hill after writing this—and I hope my fellow UNC fans will feel the same after reading.
Begin Slideshow

»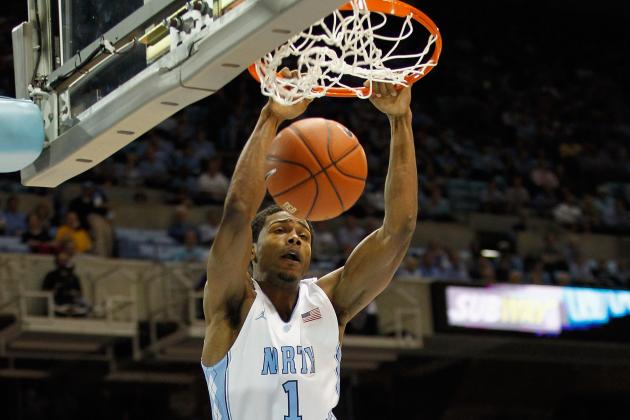 Streeter Lecka/Getty Images

The 2011-12 season could have been much different had Dexter Strickland not torn his ACL. Losing one of their best perimeter defenders—not to mention Kendall Marshall's backup—put a serious hole in the Tar Heels' roster.
Welcome back, Dexter Strickland.
Strickland is a guard that not only plays great defense, but he can also get up and down the floor in a hurry. He also doesn't hesitate to take it to the hole, which I always like to see.
One thing about Strickland is that he doesn't shoot the three-ball very often. In the 19 games he played this season, Strickland only attempted one three-pointer. That could be a soft spot, considering the loss of size in the middle.
Over those 19 games, Strickland was the most accurate shooter on the team at 57 percent—consistently finishing layups and knocking down short jumpers.
The only real question here is Dexter Strickland's role. Will he be a point guard with incoming freshman Marcus Paige and sophomore transfer Luke Davis? Or will Strickland be fighting for time at shooting guard with Leslie McDonald and P.J. Hairston?
No matter where Coach Williams decides to fit him in, Strickland will not disappoint.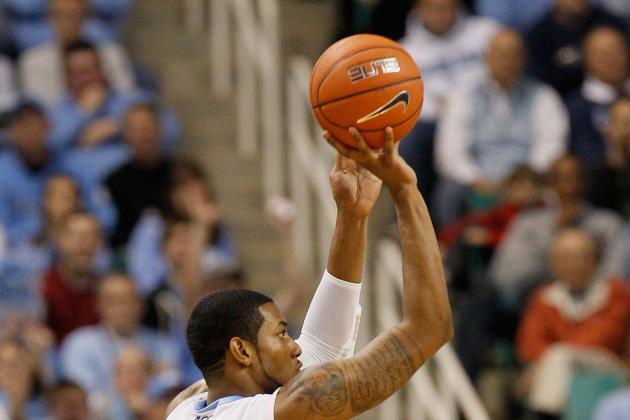 Kevin C. Cox/Getty Images

Another missing link in this season's shortcomings, the Tar Heels were counting on Leslie McDonald to bring the perimeter game back to Chapel Hill.
The last we saw of Leslie McDonald was in his sophomore year of 2010-11. He finished that season making 51 three-pointers and knocking them down at a 38 percent clip.
McDonald didn't do much to impress on the defensive side of the ball, however. That may be enough to keep him coming off the bench as a shooter, rather than seeing a full-time role.
At 6'5", expect McDonald to be used as a shooting guard and a small forward in spots—Hairston and Reggie Bullock will likely consume most of the minutes at the 3.
It's tough to say what the year off has done to McDonald. Will he be at the top of his game or did the year off hinder his development? Only time will tell.
The Tar Heels will need Leslie McDonald to come out shooting.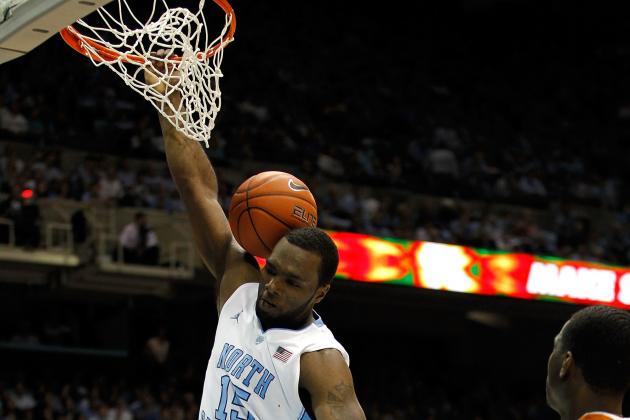 Streeter Lecka/Getty Images

I don't know that we have even seen a true glimpse of P.J. Hairston's full potential. He is a renowned sharpshooter, but he can also get to the rim, as he displayed at the 2011 McDonald's All-American Game.
The lack of a sure inside presence may force Roy Williams to have him play small forward more than guard, in which case we will see a full display of Hairston's ability.
There is a strong possibility we will see P.J. Hairston in a starting role next year, and if that is the case, he needs to shake off that freshman shooting slump he had.
Hairston gave us a little taste test of his shooting ability when he went 3-of-7 from the arc in the ACC Championship. One of those misses was a very tough final shot.
For the most part, his touch was just not there this season—to put it mildly. Hairston finished the season shooting 27 percent from downtown on 139 attempts. That's unacceptable and so was his 31 percent shooting from the field. He did at least sink 84 percent of his free throws.
If anyone has to truly step up his game next year, it's P.J. Hairston.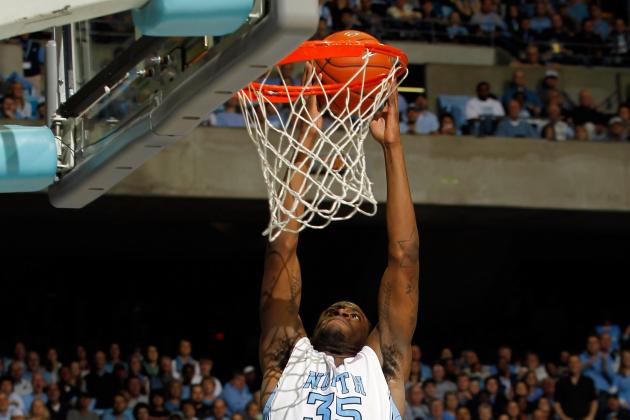 Streeter Lecka/Getty Images

I really enjoyed watching Reggie Bullock grow up this year. Sure, he had his share of poor shooting performances, but he really stepped up his game from his freshman year.
In the 2010-11 season, Bullock shot 30 percent beyond the arc. He managed to boost his percentage from that range to 38 percent in 2011-12. His overall field goal percentage also went up from 37 to 43 percent.
Bullock helped fill the void Strickland left on the defense when he went down. With Strickland out, Bullock became one of the peskiest defenders on the squad.
Not only did he shoot the ball and defend better, he also took it to the rim on occasion and was probably the most athletic player to hit up on fast breaks.
Bullock doesn't pack much of a punch at 205 pounds, but his 6'7" height and athleticism will probably have him sharing time at small forward with P.J. Hairston. With his skill set, he has the potential to have a Danny Green-type of season—minus the blocks.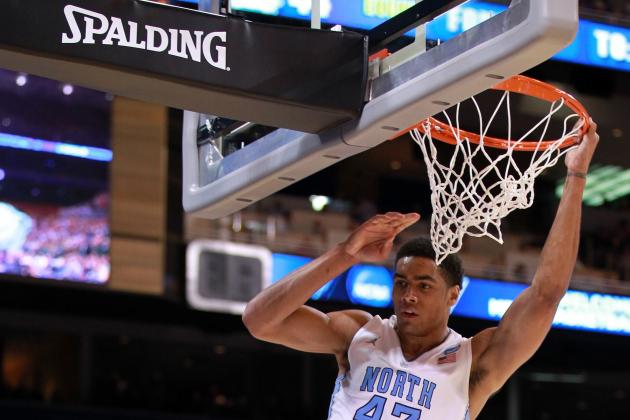 Andy Lyons/Getty Images

With James Michael McAdoo's announcement to return to North Carolina next season, there is no question left at the 4. That spot is all McAdoo.
I've been a pretty harsh judge of McAdoo throughout the season—and reasonably so. I don't think I've ever seen someone get blocked more frequently than him. It seemed every time he went up for something other than a dunk or a layup, his shot would get swatted.
James Michael McAdoo needs to do some major work in the offseason to improve his post game. A solid 14-18 foot jumper could also go a long way in improving his overall game.
Though his four rebounds over 16 minutes per game isn't horrible by any means, he did have a tendency to be weak blocking out. He still needs to develop his rebounding skills to become more effective at his position.
UNC is losing 20 rebounds per game with John Henson and Tyler Zeller heading to the NBA. McAdoo will have to step it up on the boards.
What we saw of McAdoo that was so intriguing was his knack for taking steals to the rack—capping it off with an emphatic jam. In his last seven games, McAdoo averaged 2.1 steals per game to go along with his 10.6 points and 4.9 rebounds over 23 minutes.
James Michael McAdoo is a pure athlete that is still developing his game. With a full offseason at Chapel Hill and a full-time role, I expect his play to improve dramatically by mid-season of 2012-13.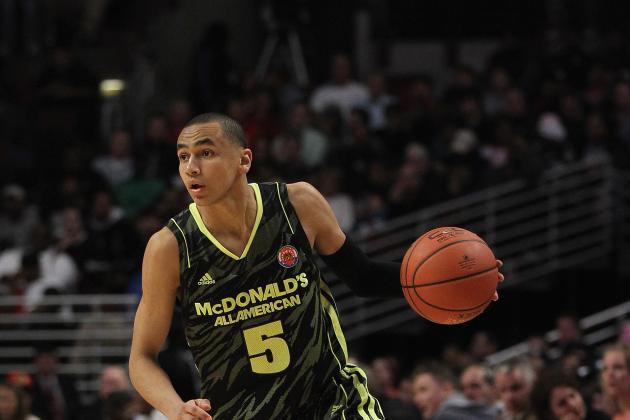 Jonathan Daniel/Getty Images

On top of the obvious returners that must step it up, the incoming freshmen will also be under a lot of pressure to perform from day one—probably none more than point guard Marcus Paige.
One of the best point guards Carolina has seen is headed to the NBA and someone needs to step up and fill in the most important role on a Roy Williams team. There is a chance Dexter Strickland or transfer Luke Davis could take the starting spot, but my bets are on Paige.
The Tar Heels will also be counting on the 6'10" 280-pound incoming freshman Joel James to take up the 5 spot. James shed over 50 pounds to run in Roy Williams' system.
There will be even more talent to back up the forward position in 2012-13. J.P. Tokoto will be backing up the 3 and Brice Johnson will likely come off the bench to spell McAdoo at the 4. Both are four-star recruits.
I will be spending more time breaking down the 2012 recruits in an article next week.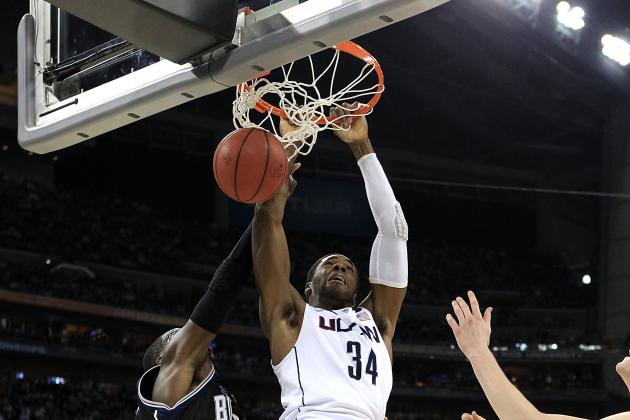 Streeter Lecka/Getty Images

Perhaps the Tar Heels wouldn't have been so bad off without McAdoo anyway. They will have a surprising amount of depth at the power forward position. However, UNC knows what they have in McAdoo, so there is some refreshing security there.
Desmond Hubert and Jackson Simmons will be sophomores next year and will be returning to come off the bench. I wasn't greatly impressed by either player this year, but we really didn't see much of the two freshman. Hubert at least looks like Henson—that should count for something.
On top of those two, we may also see UConn's Alex Oriakhi come to North Carolina. Since the Huskies are ineligible to participate in the postseason next year, the 6'9" 240-pound senior forward/center is looking for a new home. According to reports, Oriakhi is favoring Chapel Hill, North Carolina.
After the initial shock of losing four starters, things aren't looking quite as gloomy for the Tar Heels. Will North Carolina be eying a championship next year? Probably not, but don't expect them to be playing in the NIT either.