Is Mark Hunt a Bigger Threat to Junior Dos Santos Than Frank Mir?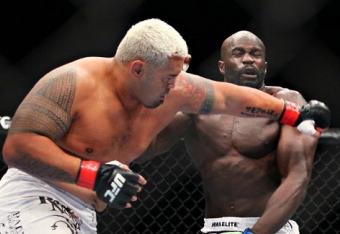 Frank Mir is a dangerous and vicious animal. Of the 16 victories in his career, only three times has he had to rely on the judges. He has knocked out world-class strikers and submitted world-class grapplers. At the end of the day, there isn't much more one can accomplish in the industry than Frank Mir.
Right now, Frank Mir is a heavy favorite to step in for the suddenly unsuitable Alistair Overeem at UFC 146. While it would be hard giving an immediate rematch to Cain Velasquez after getting knocked out so quickly by the current champion, are we really expected to believe that Frank Mir, a 4:1 underdog in his scheduled fight versus Velasquez, is somehow going to be able to dethrone the current champ?
I have nothing but the utmost respect for Frank Mir, and while MMA fans tend to remember the most recent performances of their favorite stars, it's hard to forget some of Mir's less-than-stellar Octagon appearances against high-level competition.
UFC 119: Frank Mir vs. Mirko Cro Cop—Mir is put against an elite striker and attempts only two takedowns in the nearly 15-minute encounter. Fans were lulled to sleep by a terrible pace and an inability of either man to pull the trigger. The main event was so boring that Dana White refused to give Mir the "Knockout of the Night" bonus, despite being the only knockout on the entire card.
UFC 111: Frank Mir vs Shane Carwin—Mir is put against a heavy-handed opponent with a size and strength advantage. Frank is outlanded 49-3 in the striking department and knocked unconscious in the very first round for the second time in three fights.
UFC 100: Frank Mir vs Brock Lesnar—Mir is put against an inexperienced mixed martial artist with very limited standup skills. Mir was widely expected to have an advantage if the fight hit the ground. Instead, when takedowns occurred, Mir was held down and beaten into near unconsciousness. Mir was outstruck 47-4 this time around.
The most relevant bout in Mir's history would have be the contest with Cro Cop, due to the similar game plans between Mirko and Junior. Both fighters would attempts to defend the takedown when necessary, and use their striking advantage to secure a victory. It seems unlikely that Mir would be able get this fight to the ground. Still, with such a distinct striking disadvantage for Dos Santos, the former champ cannot win this fight without a takedown.
Who poses the biggest threat to Junior dos Santos?
For Dos Santos, a fight with Frank Mir would require a completely different strategy and set of expectations than against Alistair Overeem. Would it be fair for the champion to have to completely rework his game plan with less than eight weeks remaining in training camp?
Junior dos Santos has been preparing for a K-1 kickboxing champion, so why not give him one? Mark Hunt won the elite striking competition back in 2001, and has recently been leaving a trail of unconscious victims behind him. With a three-fight win streak of his own, alongside a new-found popularity with hardcore fans, Hunt has enough momentum and fan support to sell a PPV in the headliner.
Hunt's striking is on an elite level for MMA, with a notably calm demeanor and counter attacks that make any man regret throwing the first punch. In February, Hunt knocked out heavyweight Cheick Kongo, a fighter who has faced high-level strikers like Mirko Cro Cop, Cain Velasquez, Antoni Hardonk and Pat Barry without suffering the same fate.
What's notable about Hunt's current streak is his progression in the grappling department. Undoubtedly his Achilles heel, Hunt knows that keeping his fights standing is a necessary element to success. Against wrestlers Chris Tuchscherer and Ben Rothwell, Hunt displayed his much improved takedown defense, stuffing 15 of the 18 attempts.
The Standup: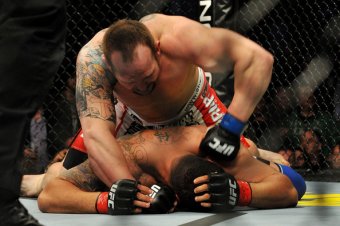 Hunt has equal credentials to that of Overeem. This is the kind of fight fans were already looking forward to due to the tremendous striking abilities of the champion and his challenger. Each man has scary power in their hands, and both men are blessed with chins that could stand up to a battering ram.
The Grappling:
Mark has been stuffing the takedowns of better wrestlers than Dos Santos lately. It's not impossible for JDS to get Hunt down, but considering that he didn't attempt takedowns against Mirko Cro Cop or Gilbert Yvel, it would be out of character for Dos Santos to depart from his bread and butter.
Ultimately, the biggest reason that Mark Hunt is a better option for this fight is because he is more dangerous to the champion than any other heavyweight.
This article is
What is the duplicate article?
Why is this article offensive?
Where is this article plagiarized from?
Why is this article poorly edited?