And Ode to Michael Kidd-Gilchrist: Why Kentucky Will Miss Him Most
April 6, 2012

Andy Lyons/Getty Images
Michael Kidd-Gilchrist is leaving for the NBA.
We all knew it was coming, despite the small bit of hope he gave us in February. I'm happy for him. Proud, even. In 20-some odd years of being a Kentucky basketball fan, it took just one season for MKG to become my favorite Wildcat of all time.
Actually, to fully understand what Michael Kidd-Gilchrist meant to the 2012 NCAA champions, and to UK fans, you have to start at the very beginning—before a single regular season game had been played.
Despite all the hype, this young Kentucky team—a phrase which seems a bit repetitive these days—had no identity at the beginning of the season. Terrence Jones was being lauded by John Calipari as the best player in the country, only he didn't have the consistent play to be able to lead a team this talented night after night.
To further complicate that, here came Anthony Davis—a freakishly long hype magnet—who stole Jones' thunder along with some of his points and rebounds. Davis was spectacular, but still the rawest talent on the team to start the season.
Marquis Teague was being crushed under the weight of expectations. It's enough to be compared to a brother in the NBA, but Teague also had to stand next to John Wall, Derrick Rose and Brandon Knight in the eyes of Kentucky fans. Doron Lamb and Darius Miller both were trying to figure out their place on this team so filled to the brim with talent.
People credit Calipari with the masterful job of getting this group to play so well together. It's one thing to amass so many weapons, but it's an entirely different thing getting them to coexist. But the one move he made that cannot be understated was recognizing so quickly what he had in Michael Kidd-Gilchrist.
In their first preseason game, Kentucky got off to a sluggish start against a lowly Transylvania team, trailing 4-11 when Kidd-Gilchrist got into the game. You could see an immediate change in the team once he hit the floor.
And hit the floor he did.
MKG raced around the court like a 10-year-old with ADHD who was just given a Snickers. He played defense, he rebounded, he slashed, he shot and he did everything other than coach the team when he went to the bench.
Michael Kidd-Gilchrist started the second half en route to a 19-point, seven-rebound, five assist performance. He would start every game the rest of the season except for one. But it wasn't about the stat line in a meaningless preseason game. Stats could never fully sum up what he brought to the team or what he meant to the team.
Kentucky fed off his energy from the tip to the buzzer.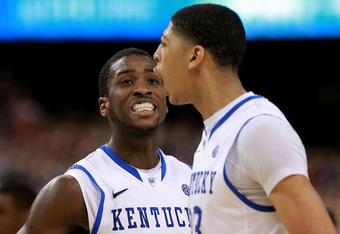 Ronald Martinez/Getty Images
Anthony Davis got all the press. He won every award under the sun. His unibrow captures the hearts and minds of a country. And it was a true pleasure to watch him progress as the season went along. He developed a pretty hook shot that was as close to automatic as shots came, learned to be more discerning on his jump shots and continued to be such a disruptive force down low defensively that his mere presence was enough to cause a missed shot.
But all season long, MKG was my guy. How often is a freshman your most polished and confident player from the very start? Whenever Kentucky needed a basket, Kidd-Gilchrist was the one who dared to take it, and he would take it to the hole, splitting defenders and drawing the foul even if he couldn't put it in the bucket. Kidd Gilchrist was the one who would shut down the other team's best player, even if that player was a point guard.
Watching him grab an offensive rebound through sheer force of will was poetic. 
I (half) jokingly tweeted after one particular Kidd-Gilchrist hustle play on defense that I was worried I might not love my soon-to-be-born daughter as much as him. Another time I was watching a game and saw hours later that my brother had sent me a text that just said "MKG" and I knew immediately the play where he sent it.
More than stats, it was the moments that defined his time at Kentucky.
My wife would wonder why I would get so animated, even in blowouts. It was because a win wasn't enough for this team. I needed to see proof that they were progressing enough so that they could win in March. Jones worried me. Teague really worried me. Lamb amused me. Miller delighted me. Davis amazed me.
But most importantly, Kidd-Gilchrist comforted me. There was something about him being on the floor that made this young team seem wise beyond their years.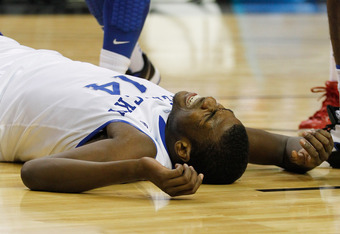 Streeter Lecka/Getty Images
My favorite part of the MKG era? How worried I would get early in the season when he would take a fall. He looked like he was in so much pain. He would writhe around on the ground for a minute, then pop back up and continue as  usual. Eventually it became hilarious. Watching the game with anyone unfamiliar with the team when he went down, they would look at me like I was crazy when I would laugh. But he always got up. He was always fine. He was the most dramatic player I've ever seen, and I couldn't get enough of it.
Rip the one-and-done recruiting by Calipari all you want. I'll take one season with Michael Kidd-Gilchrist over four with any other player, believe me. Before Cal got to Lexington, I sat through player after player stay all four years of college without making an impact like Kidd-Gilchrist did. The only one to really come close for me was Chuck Hayes.
Maybe I'm just preparing myself for a future of only getting to know players for one year, sometimes two in cases like Terrence Jones. Maybe the increased sense of urgency each year adds to the intensity of each game, each possession. Or maybe Michael Kidd-Gilchrist really was that special of a player. 
I don't know how he's going to fare in the NBA. I really hope he succeeds. I want to follow his career and watch him run breakneck around the pros for years. But he'll always be a Wildcat, no matter what jersey he wears for the rest of his career.
Good luck MKG. Thanks for the title, but more importantly, thanks for the ride.