Ohio State Football: 6 Buckeyes Who Will Surprise You in 2012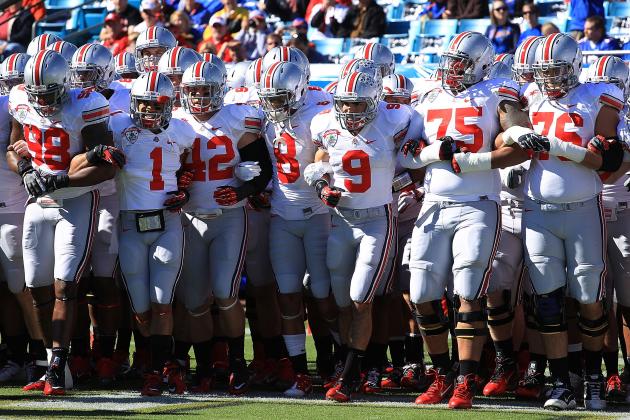 Scott Halleran/Getty Images

Every year, unexpected players bust out onto the scene as difference-makers.
Some of these players emerge from the bottom of the depth chart. Others finally live up to the expectations set before them, and some simply reap the benefits of a position change.
Whatever the case may be, Ohio State is in desperate need of a few pleasant surprises. Coming off a 6-7 season in 2011, the Buckeyes are looking to return to their dominant ways under new head coach Urban Meyer, and unless a few players step up, things will only improve slightly.
In this team's current state, Urban Meyer is only capable of pulling off a decent season at best.
However, like every year, some players will rise to the challenge and produce at levels that seemed unimaginable a season before and will give the Buckeyes a chance at a very successful season in 2012.
Begin Slideshow

»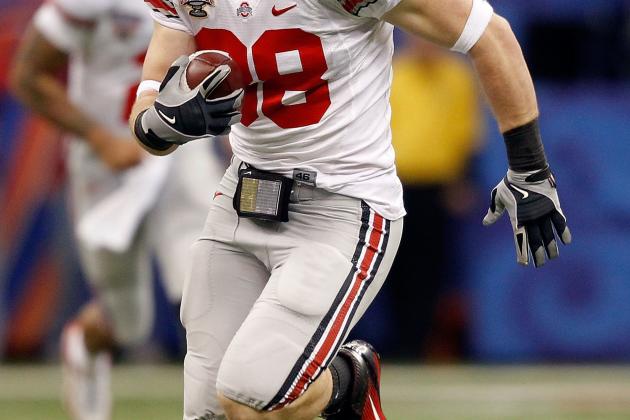 Matthew Stockman/Getty Images

Reid Fragel will most likely never run with the ball as he is in this picture, but his success is vital to the offense in 2012.
The former tight end is making the transition to offensive tackle this spring and has been adding pounds throughout the winter in order to reach a reasonable playing weight for his new position.
Although such a sudden position switch will be extremely difficult, Fragel has accepted the task with open arms and is reportedly hovering around 300 lbs for the beginning of spring practice.
With this added bulk, the 6'8" senior looks like an NFL tackle and has a great chance to succeed in 2012.
With the departure of Mike Adams and J.B. Shugarts, Meyer and his staff are burdened with the task of replacing two offensive tackles, and the pickings are slim. It is absolutely essential to the success of this team that Fragel manages to transition well in his new surroundings.
Fragel has always been an excellent blocker from the tight end position, and if he manages to grasp the offense and his new position in time, he could be a pleasant surprise for Buckeye Nation.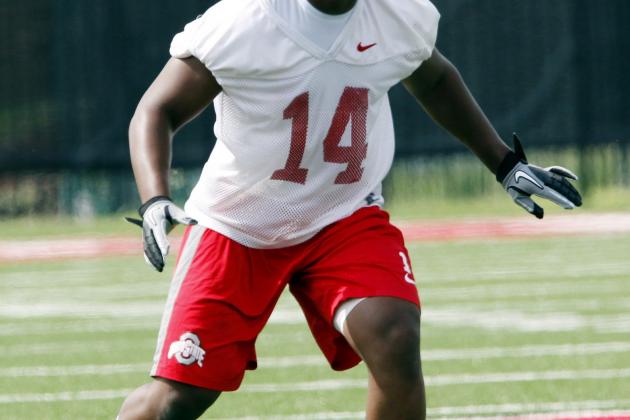 Curtis Grant was the flagship recruit of Ohio State's 2011 recruiting class.
According to Rivals, Grant was the top linebacker and the No. 2 overall player in the 2011 class, but he didn't make an impact in his freshman season at OSU.
Since his arrival in Columbus, Grant has struggled to grasp the more complex, collegiate defensive schemes.
Because of this, Grant contributed solely on special teams and was unable to display his impressive talents.
According to Urban Meyer, Grant "over-analyzed everything a year ago" and "didn't play fast."
If Grant can manage to process the defensive system this spring, he could live up to the lofty expectations set before him this year. As of right now, Grant's inability to grasp the defensive schemes has hindered his talents and slowed down his play, but if he can overcome this obstacle, he could be a major difference-maker in 2012.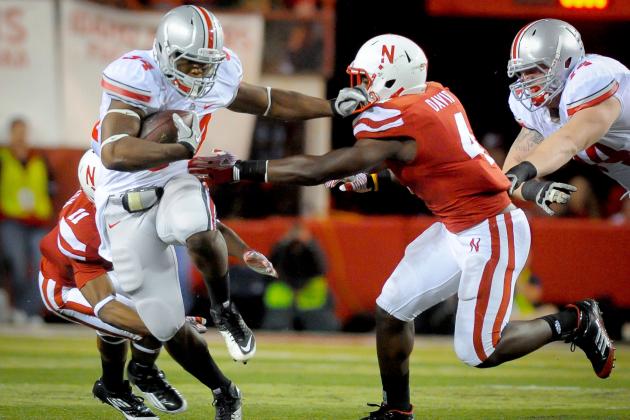 Eric Francis/Getty Images

I know many people are expecting Hyde to get considerable playing time, but the real surprise will be how productive he will be in 2012.
Hyde runs like he's trying to hurt someone, and it's hard not to love the way he approaches each carry.
At 5'11" and 235 lbs, Hyde has the fastest 40-time out of all the running backs and has all the tools to have a coming-out party in 2012.
The notion that bigger backs like Hyde can't succeed in Meyer's offense is complete nonsense.
Honestly, the new system should thoroughly benefit Hyde, and I fully expect him to prosper in the Buckeyes' new approach.
In the new offense, the trenches will be far more spread out, allowing Hyde to take on solo tacklers. Due to his power running style, at the very least, Hyde will fall forward for a considerable gain.
As he continues to grow as a runner, his vision will mightily improve as well, which will open up quick cutbacks that are very common on zone-blocking runs.
Before Herron's return last season, it was clear that Hyde was just getting comfortable with his decision-making and vision. With a beneficial offense and another offseason of experience, "El Guapo" will definitely raise some eyebrows in the upcoming season.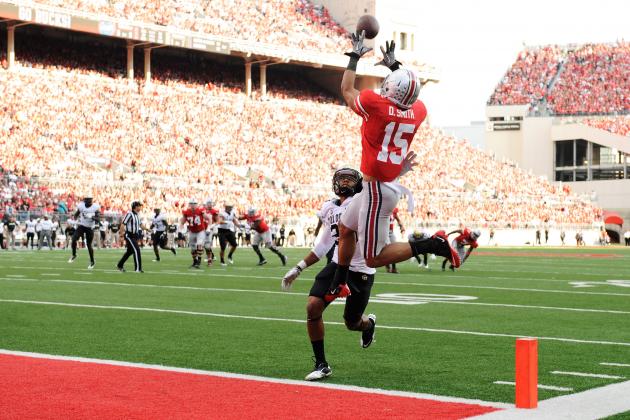 Jamie Sabau/Getty Images

Last year's contribution from the wide receivers was absolutely abominable.
The three leading receivers in 2011 totaled a pathetic 14 catches each, and one of them was a tight end.
The majority of the time, the receivers struggled to even get open and when they actually did separate, they had a tough time catching the ball.
Despite this dismal season, one freshman emerged as a bright spot in the receiving corps.
Although it wasn't a stellar year for Devin Smith, the young wideout showed considerable potential and a solid foundation to build on.
A Buckeyes wide receiver has to step up in 2012 if this offense is going to be successful, and it could very easily be Smith. Braxton Miller seems to have a solid connection with him, and Smith definitely has the athletic talent to be a difference-maker out wide.
Meyer says that Smith is "fast ... a separator ... a speed guy," but athleticism wasn't the thing holding Smith back in 2011.
In order to be "the guy" outside, Smith must improve his strength and route-running this offseason. But, if he is able to bulk up a bit and develop as a complete wide receiver, Smith could surprise some people and become a primary weapon in the new offense.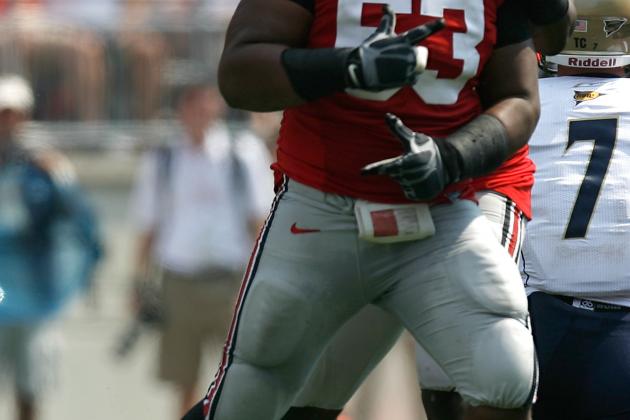 Kirk Irwin/Getty Images

Although Bennett didn't see a considerable amount of playing time in 2011, when he was given an opportunity, he definitely took advantage of it.
Even with this little action, it was clear that Bennett had some serious potential.
Originally, it seemed like Bennett would rotate into the defensive line behind redshirt junior Adam Bellamy, but according to TheOzone, Bennett has been working predominately with the ones this spring.
This is a great move by the defensive coaching staff.
The mammoth sophomore has a great combination of size and athleticism and is a perfect fit for the strong-side defensive end position.
With the domination of fellow defensive linemen John Simon and Jonathan Hankins, Bennett will hardly ever see double-teams and has shown the potential to take advantage of this.
While everyone (including me) is expecting monster years from Simon and Hankins, Michael Bennett could be the perfect icing on the cake. Except for opposing quarterbacks, of course.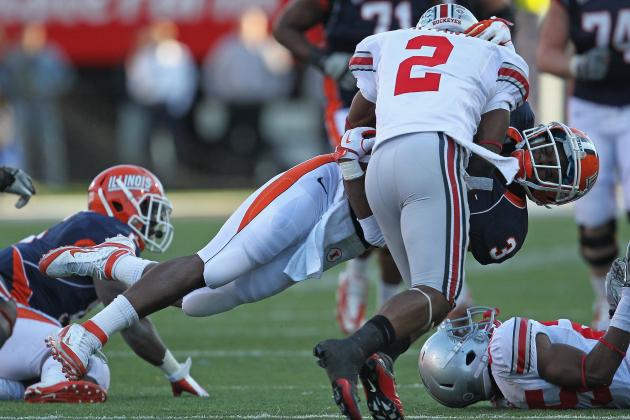 Jonathan Daniel/Getty Images

Christian Bryant has an electric style of play that includes gambles, big hits and intense speed.
Unfortunately, Bryant wasn't put in the greatest position to succeed last year and struggled at times at the safety position.
The upcoming junior took way too many risks last year at safety and wasn't given the opportunity to do what he does best, which is roam and make plays.
Hopefully, experience and coaching will make Bryant a more reliable last line of defense this year, but more importantly, in 2012, Bryant will finally line up in his rightful position.
The majority of the time, the OSU defense lines up in a nickel package that features a "star" position. Last season, Tyler Moeller filled this spot while Bryant lined up at safety.
However, Bryant's style of play and skill set are perfect for the star position. At this position, Bryant will be given more room to gamble and roam, which is what he excels at.
With this freedom, Bryant will become a major playmaker on defense, and his risky style of play won't bite the Buckeyes as it did in 2011. The junior will wreak havoc on opponents' offenses with his dynamic play style and could give the Silver Bullets a much-needed edge and swagger.