LA Galaxy vs. New England Revolution: 6 Things We Learned
April 1, 2012

Joe Scarnici/Getty Images
Bruce Arena's Los Angeles Galaxy have been making a very disturbing habit of inconsistency. Lose 3-1, win 3-1, and so on. Saturday at the Home Depot Center, the Galaxy raised the bar in terms of offensive and defensive futility, unraveling early and often in a 3-1 blowout defeat to Jay Heaps' New England Revolution.
Just what went wrong on Saturday for LA, and what went right for the Revs? Here are six things we learned from in Week 4 of the 2012 Major League Soccer season.

1. No Landon = No Victory
This should be a rule. In fact, starting on the first of April, let's make that a rule: If you don't have Landon Donovan to help you, you are guaranteed a defeat.
Sure, the Galaxy had David Beckham, Edson Buddle, Robbie Keane and Marcelo Sarvas, but in the end, the true captain of the Galaxy is what holds the team together.
Out nursing a quad injury, Donovan's absence had a profound impact on the match. There was no decision making, the defensive presence was absent, and New England was able to effectively utilize the counterattack in their victory.
Get well soon, Landon, or else April will be a very unforgiving month for the Galaxy.
2. A happy homecoming for Kelyn Rowe
Kelyn Rowe, as mentioned in the live blog, is a rookie with a huge upside. That's why Rowe was selected was the No. 3 overall selection in the 2012 MLS SuperDraft. In addition, he hails from UCLA.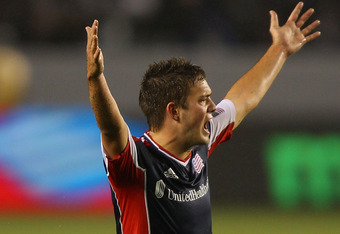 Joe Scarnici/Getty Images
So this was a wonderful homecoming for Rowe, who opened up the scoring just 10 minutes into the contest by creating space and persevering to get on the score sheet.

3. Hot streak for Saer Sene
Also highlighted on the live blog was the finishing ability of Saer Sene, who broke through in the previous match with the Portland Timbers.
Although the result was no longer in doubt, Sene took advantage of a scramble in the box to wrap up another three points for the visitors. Saer Sene and Kelyn Rowe. Watch for those names to pop up in bunches in the coming weeks.

4. The student bests the master...for once
Jay Heaps is only in his first few games in charge of the New England Revolution, and it's results like this that make him look like FC Barcelona's Pep Guardiola.
Bruce Arena must have some sort of gambling issue that is all but incurable. Hoping for a miracle by substituting Beckham and Sarvas for Mike Magee and Michael Stephens was akin to flying the white flag on national television.
Now the question is, can Heaps outlast his predecessor, one Steve Nicol?

5. For LA, defense is another word for blasphemy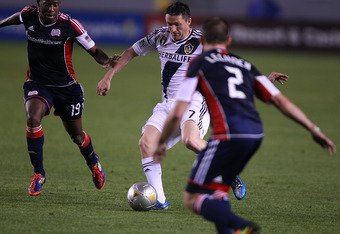 Joe Scarnici/Getty Images
The definition of the Los Angeles Galaxy's defense is simple: there is no such thing.
In fact, the defensive performance by the back line was superior to their efforts against Real Salt Lake and Toronto FC, in that it was far more inferior and appalling to watch.
Giving up two goals in the span of four minutes in the first 15 minutes of any match is a recipe for a rout. If the Galaxy front office does not consider searching for a new center-back to ease the burden off A.J. DeLaGarza, it will be 2007 and 2008 all over again.
I kid you not.

6. Robbie Keane salvages some sort of pride for LA
It was mere consolation, but Robbie Keane got on the score sheet in the 78th minute of play thanks to Edson Buddle.
But in spite of maintaining a goal-per-game average, Keane's strike came too little too late.
Silver lining: Los Angeles did not get shut out, and it was an admirable display from Keane, who took the captaincy during LA's losing effort on Saturday.