Philadelphia Phillies Players Fans Should Reserve Judgment on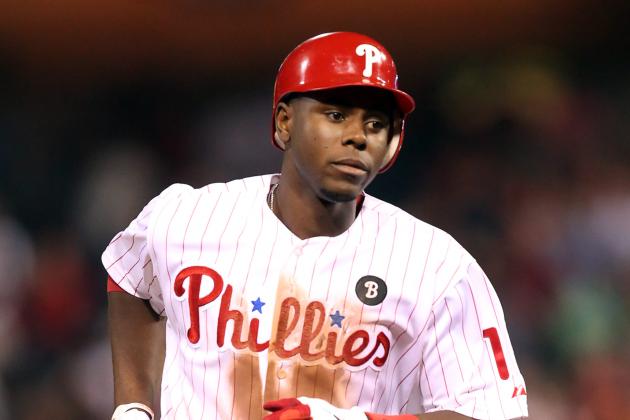 Hunter Martin/Getty Images

The Philadelphia Phillies have arrived in the City of Brotherly Love and are ready to embark on the 2012 season. The on-deck series games will give Phillies Nation just a glimpse of what to expect from this team in the early-going.
The three and four hitters are out for the foreseeable future, but the starting pitching staff is still brilliant. Don't be surprised to see many low-scoring games until Utley and Howard can come back and pack some punch in the center of the order.
While this team is relatively the same, there are new pieces that have been added to the championship puzzle.
Here's some Phillies we should reserve judgment on at this point.
Begin Slideshow

»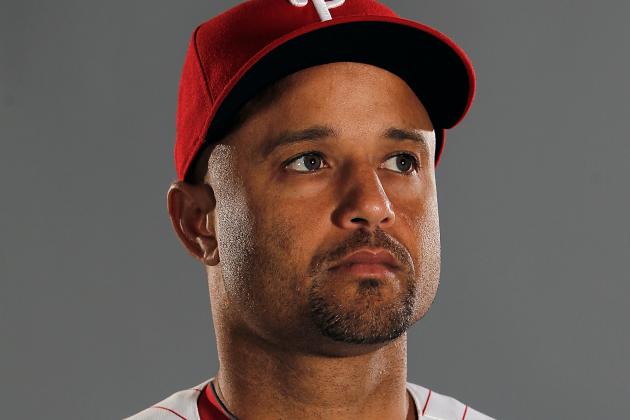 Jonathan Ferrey/Getty Images

Placido Polanco's name doesn't resonate to well with Philadelphia Phillies fans right now. We see him as the postseason player who was completely ineffective and who needed double hernia surgery in the offseason.
Talk radio and TV stations alike seem to think that Polanco will have virtually no effect on this offense, and I find that to be untrue. Polanco arrived in Clearwater, FL, in great shape and had a solid spring.
Polanco still is the Phillie with the best approach from the plate and best eye. He understands counts and knows (and is willing) to go the other way with a pitch, something that is lost with the majority of the order.
If Polanco can show anything that resembles the Polly of old, then this offense will be in a lot better shape until Utley and Howard return.
Let's not count the old man out yet.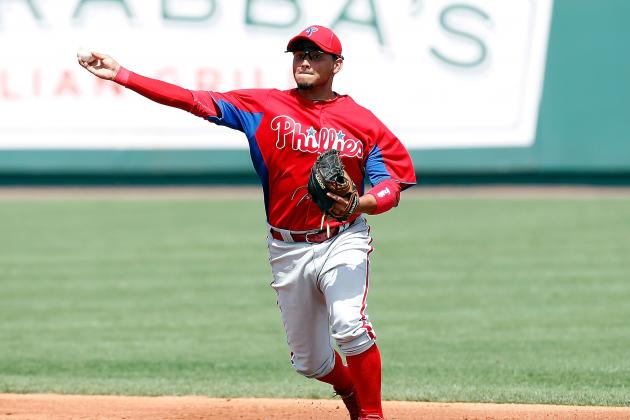 J. Meric/Getty Images

There's two schools of thought regarding Freddy Galvis at the moment: 1) "We're screwed without Utley in the lineup" 2) "Let's see what the kid can do."
I agree more with the second scenario as I'm in the belief that Galvis can more than hold his own until Chase returns. The organization's MiLB Player of the Year has had a terrific spring while playing a myriad of positions.
Every scout in the country knows that Galvis' glove is more than ready for the big leagues, his bat is what many agree needs more swings in the minors. Well, the Phillies are in "win-now" mode, and they need all hands on deck.
If Galvis is the best option at 2B until Chase Utley is healthy, then let's go with Freddy Galvis. Don't fret Philadelphia—the kid may surprise you.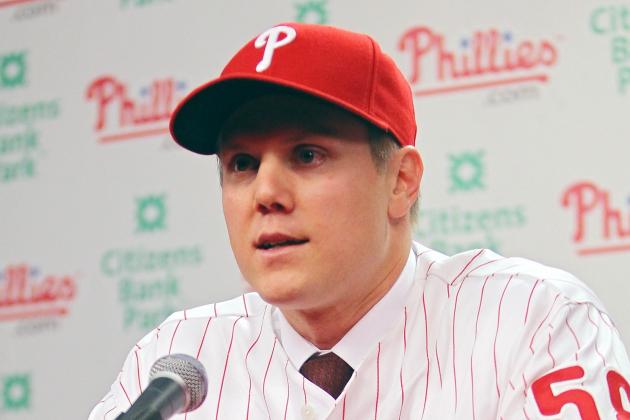 Len Redkoles/Getty Images

Either you're ecstatic that the Philadelphia Phillies spent more money on a closer than any other team in history, or you're confused any maybe enraged. The public persona of Philadelphia at the moment seems like it's leaning towards the latter.
Let's hold on for a minute.
Jonathan Papelbon is easily one of the top five closers in the game, and he has been lights out this spring, just like he's been his entire career in pressure-packed Boston.
This Phillies' team is a Vegas favorite to win it all because of their pitching and signing a proven/ battle-tested closer was the right move by Amaro.
It will be a lot easier for Roy Halladay and Cliff Lee to give old Charlie the ball in the ninth inning with "Pap's" warming up and ready to go. OK, probably not.
Before we flip our lids about how much money Amaro gave Papelbon, let's see how Cinco-Ocho does.
Rich Schultz/Getty Images

John Mayberry Jr. had a breakout 2011 season in which a guy who had by many accounts been a "bust" hit 15 HR and 49 RBI. Mayberry was a pleasant surprise as the Phillies really lacked a power RH bat until Hunter Pence arrived.
Will Mayberry go back to the same guy who couldn't crack a MLB roster until his mid-20s or will he become the next corner OF to become a superstar for the Phillies?
Mayberry has a sweet swing for a big man and is a genuinely nice guy. He's a guy that Philadelphia loves to cheer for and hopes is successful.
Mayberry Jr. just MAY BE the key for the Phillies winning a second World Series in five years.
Jamie Squire/Getty Images

There were a few Philadelphia Phillies who didn't make this list who were considered (Hamels and his contract, Worley a one-year wonder, Bastardo bouncing back, etc.), but I decided to go with Shane Victorino.
The Flyin Hawaiian is in the last year of his contract and has openly stated that he wants to remain in Philadelphia. That hasn't stopped the rest of the human race from agreeing that Victorino is as good as gone after 2012.
The Phillies' priority is (and should be) to return their youngest and brightest ace in Cole Hamels, and Victorino just doesn't fit in financially. Don't be shocked if Victorino takes a shorter contract to stay in the place he loves playing.
Let's wait and see before we say our final goodbyes to Shane.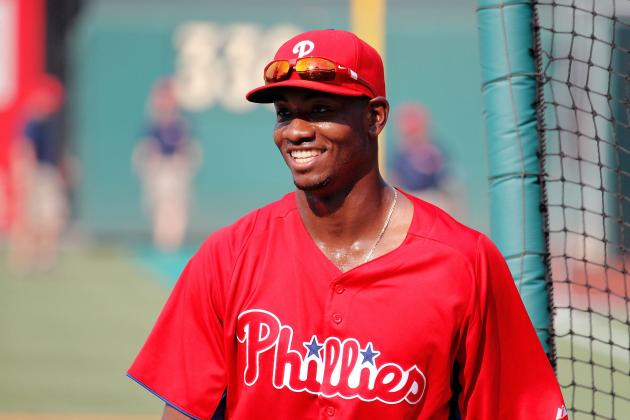 Len Redkoles/Getty Images

There's a reason why the Philadelphia Phillies were unwilling to include top prospect Domonic Brown in deals for the likes of Halladay, Lee and Oswalt. The kid is going to be a superstar one way or another.
He has all of the tools in the world, and he's in the best shape of his life entering 2012. He's built like a Mack truck and has been showing the power that has had scouts drooling for five years.
Brown has been shaky at best in the OF for the past 18 months, but the kid will get it straightened out in Lehigh Valley. Brown will be in Philadelphia at some point this season and be a difference maker for a team that struggles to score runs.
You heard it here first folks.