Cincinnati Bengals: 10 Bold Predictions for the 2012 Season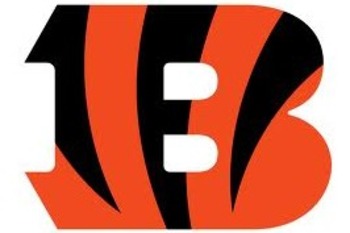 The Cincinnati Bengals had an unbelievably successful 2011 season. It was a disappointing playoff performance, but when you look back at the entirety of the season and remember the expectations (dead last), it was really quite miraculous.
The good news is that 2012 is going to be better. Much, much better. So please buckle your seatbelts and put your tray tables in their full, upright and locked position, because here are 10 Bold Predictions for the Cincinnati Bengals 2012 Season.
The Bengals Have Another Excellent Draft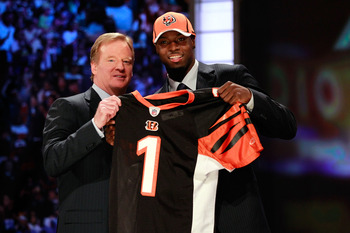 Chris Trotman/Getty Images
The Bengals are notorious for 'bungling' the draft, but these last two years have been arguably the best of any team in the NFL. The 2010 draft added Pro Bowl TE Jermaine Gresham, rising star DE Carlos Dunlap, and a Pro Bowl steal in the fourth round with Geno Atkins. The 2011 draft signaled a change in the franchise's direction following the departure of Carson Palmer and Chad Ochocinco, flawlessly filling their positions with rookie Pro Bowlers Andy Dalton and A.J. Green.
This year the Bengals have plenty of positional needs, most notably CB and OG, but also SS, RB, and WR. The front office could go a lot of different directions with this draft, and this is the way I think they should go. Whichever course Cincinnati takes, I'm confident it will be a third straight excellent draft.
QB Andy Dalton Avoids the "Sophomore Slump"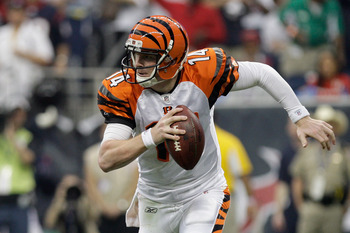 Thomas B. Shea/Getty Images
Early-round QB draft picks Matt Ryan, Sam Bradford and Josh Freeman have all experienced major sophomore slumps the last three years. Andy Dalton fits snugly into the criteria they've established as warning signs for the sophomore slump: Turning around a bad team, exceeding personal expectations and Rookie of the Year consideration.
Having said all that, Andy Dalton will avoid this unpleasant distinction. There are a few important differences with Dalton. First off, he was a rookie QB dealing with the constraints of the lockout and still managed to succeed. The benefits of a full offseason this year will be wondrous for the young signal caller. Secondly, Dalton is a born winner. In fact, he's only a few wins shy of the NCAA record for a starting QB and boasts a winning record as a starter in the NFL. But most importantly, he has the extraordinary A.J. Green. With apologies to Roddy White, these other QBs did not have a WR like Green, which necessarily leads me into my next prediction.
AJ Green Will Be a Starter in the Pro Bowl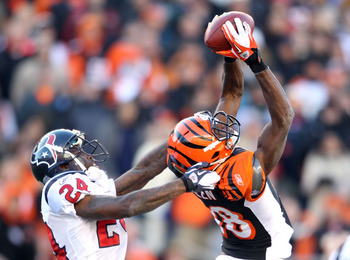 Andy Lyons/Getty Images
Can we get this man a nickname already? Please use the comment thread for ideas because this needs to happen. And no, The Green Lantern won't cut it. Anyway, whatever his nickname is, he will start in the Pro Bowl.
Green is a human highlight reel, and next year he will make the transition from promising rookie to full-fledged phenom.
He had a spectacular rookie season despite an injury and being the only significant offensive weapon. This year, a lot of the pressure will be taken off Green due to the inevitable drafting of a solid No. 2 receiver and the signing of the man known as 'The Law Firm.'
'The Law Firm' Will Be a Great Signing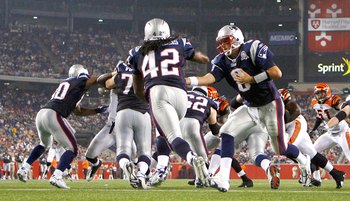 Jim Rogash/Getty Images
I'm not going to call him by his real name. In some sort of bizarre protest, I am going to keep referring to him as The Law Firm because that's the caliber of nickname I want for A.J. Green. Suggestions people, suggestions. I'm going to make the best one happen.
Anyway, The Law Firm will be a great signing for the Bengals because he's never fumbled, and according to Pro Football Focus, he's so unbelievable in pass protection that he didn't let up a sack in all of last season's 70 passing downs he was in on. These two un-sexy statistics sure turn me on. Remember the multiple games Cedric Benson fumbled late, putting the 'W' in question? I do. Remember when one of our backs missed a blocking assignment that led to a sack, or worse, a fumble? I do.
Welcome to The Law Firm, where our best client, Mr. Football, is taken care of high and tight, and our boss, Andy Dalton, is protected flawlessly.
Andy Dalton Will Outduel Carson Palmer to Beat the Raiders in an Important Game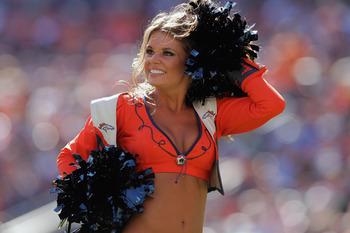 This prediction is as easy as this one: The Bengals cheerleaders will still be hot
Doug Pensinger/Getty Images
I can't wait because this is going to be sweet. The man that opted to retire rather than return to Cincinnati, who the Bengals then inexplicably traded for a first- and second-round pick, will be dealt an important loss at the hands of his replacement.
With both teams in the AFC playoff race, Dalton will outduel Palmer to secure a big win for the franchise. The home Cincinnati fans are sure to boo the hell out of Palmer, and this win will be a cathartic moment for the fan base as the new faces of the franchise step up.
Leon Hall Will Return From His Achilles Injury With Flying Colors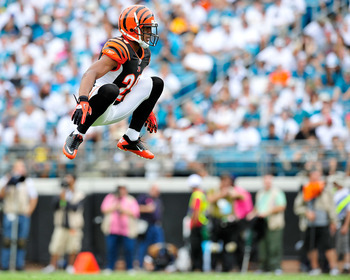 Grant Halverson/Getty Images
To say an Achilles injury is serious would be a serious understatement. Do you know what happens when you tear an achilles tendon? The tendon basically snaps up in your leg like a rubber band. It's about the most terrifying thing I can imagine.
Despite the horror of the injury, there are plenty of examples of NFL players returning with resounding force, most recently DeMeco Ryans.
Leon Hall will return to his old self and provide a great mentor for whatever CB the Bengals draft. In addition to this guru role, Hall will be a solid corner for a quickly improving secondary.
Offensive Coordinator Jay Gruden Will Flourish with Dalton, Green, New Weapons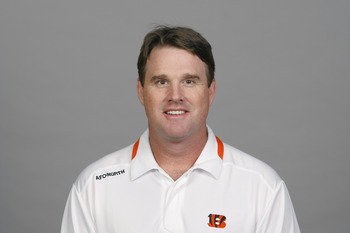 Handout/Getty Images
First year OC Jay Gruden made quite the impression on the NFL last year, having the opportunity to interview for head coaching jobs after just one season. Turning down those opportunities and staying with the Bengals may be the best career choice he'll ever make.
In Cincinnati he has an emerging Andy Dalton and A.J. Green and a franchise willing to draft around offense. This year he will take advantage of all three and create one of the most dangerous offenses in the NFL.
Defensive Coordinator Mike Zimmer Will Establish Himself As One of the Best DCs
Handout/Getty Images
Seasoned veteran DC Mike Zimmer is already considered one of the better DCs in the NFL. Although he interviewed for head coaching positions, he is better suited to be a DC. A no-nonsense man that doesn't play nice and is far from politically correct, he belongs in a DC position. In this role he will get a few new toys in the draft and he can craft another year of impeccable, balanced defense for the orange and black.
Marvin Lewis Is Up For Coach of the Year Again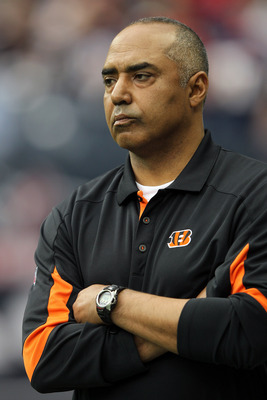 Jamie Squire/Getty Images
It's not an easy feat taking the team predicted to finish last to the playoffs, and had it not been for rookie coach Jim Harbaugh, there would have been a lot more talk about Lewis as coach of the year. This year, the Bengals are predicted by many to not make the playoffs, and Lewis simply won't allow this to happen. Although the Bengals, haven't had back-to-back winning seasons in over two decades, Lewis will change that stat and be up for Coach of the Year honors once again. In Marvin We Trust.
The Bengals Will Win the AFC North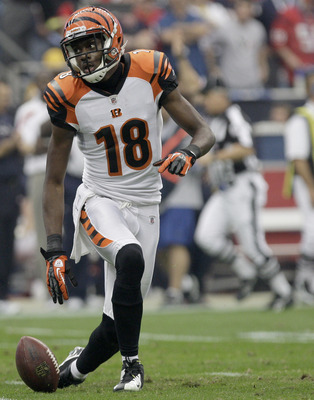 Thomas B. Shea/Getty Images
Whoa. What about the Steelers and the Ravens, Cameron? Last year they went 0-4 against the two stalwarts of the AFC North! I know, but this is a Bengals team that is ready to make the next big move, and that move is winning the division. After getting close but coming up short three times last year, we will hear more 'Who Dey' against division rivals this year.
As far as the playoffs go, the sky is the limit. Check back soon as I will be releasing my playoff prognostication!
Keep Reading

Cincinnati Bengals: Like this team?