2012 NFL Draft: What the Cincinnati Bengals Should Do with All Those Draft Picks
March 21, 2012

The NFL Draft is only a little more than a month away now, and the pontificating about what every team should do has been going on since the Super Bowl. That seemingly endless two-and-a-half month period from February 5 to Draft Day on April 26 is chock full of mock drafts but no real football. It's kind of like all foreplay but no – well you know.
And as much as I would like to give you something more, all I can promise you is another team-centric mock draft. But I can guarantee you this dear reader; this one will be more engaging. The Bengals haven't been broken down like this since the Ickey Shuffle.
In my opinion, the pitfall with all these mock drafts is that they only give one outcome for each pick. Do these writers have a time machine, to be so certain of the result of one pick to just proceed to the next as if that player is truly off the hypothetical board?
If they do, first off, they're doing it wrong (see Biff in Back To The Future II for the bulletproof plan), but realistically they haven't given the reader a satisfying glimpse into their beloved team's future. Today we will delve into exactly what the Bengals should do with all those draft picks, with not one, but many different scenarios.
So when you and a record number of viewers will tune in that fateful Thursday night in April to watch, what is undoubtedly the highest rated NFL program without physical contact (unless you count the Pro Bowl), you'll be ready for the new players in black and orange stripes.
The first scenario is the one that makes Bengals fan drool. What if, by some unbelievable stroke of luck, Trent Richardson falls to number 17?? Forget about it. The chances of that happening are about the same as the chances of you hearing my name called in the draft.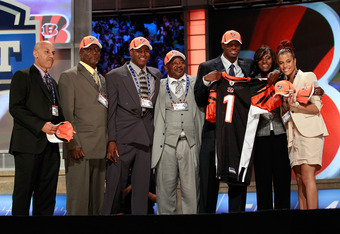 Chris Trotman/Getty Images
Having said that, do not abandon all hope ye who desire Richardson. He could fall. And if he does fall, the Bengals MUST be there to pick him up. Although it is unlike Cincinnati to make noise in the draft, the Queen City could destroy decibel meters with this move. If Richardson somehow gets past the Browns and the Bucs, the Bengals should take a cue from Young MC and "Bust A Move."
Past these two teams there really isn't a team in dire need of a RB. The Dolphins and Cowboys could both use depth here, and if a team is going best available he clearly fits the bill. Therefore, the Jaguars and Cardinals would be the two most obvious trading destinations at seven and 13, respectively, but as long as it gets done, I have one thing to say about the trade:
I don't care what it costs. The 17th pick is from the infamous Carson Palmer trade, and is basically house money. Let it ride. Let's say the price is about as high as I think it could be, and the team also wants a second and fourth rounder. Boom, pull the trigger. It's a no brainer. I'm not going to belabor the point with statistics or why he's a good fit because if you don't think Richardson is worth a second and fourth-round pick, then you're a moron. And as I was told as a kid, "arguing with idiots only makes you an idiot."
Okay, so I think I'm on the record that the Bengals should make a splash – no a cannonball, and trade up for Richardson. But let's say they aren't as sagacious as I, and would rather hold on to the draft picks and build. Let's see what could happen in that scenario.
The Bengals are poised to shore up positional needs with two first round picks. The most glaring need is cornerback, as Leon Hall's injury really exposed the Bengal secondary last year. The second clearest need is offensive guard. Despite the signing of Travelle Wharton, Bobbie Williams isn't getting any younger. While these are the two most pressing needs, there are plenty of other options.
The Bengals also could use an impact strong safety, a dependable number two receiver and depth on the defensive line. A running back couldn't hurt, although as I am writing this line it is being reported that the Bengals are preparing to sign free agent RB BenJarvus Green-Ellis (which, by the way, does not change my view on Richardson). So seeing as the Bengals are one of the most up in the air decisions in the draft, let's start the insanity.
There are only five players who the Bengals should consider drafting in the first round. At least two of them WILL be available, so let's hope the front office will make the right decision. Drumroll, please. In order of importance, those players are SS Mark Barron, CB Janoris Jenkins, OG David DeCastro, OG Cordy Glenn and CB Dre Kirkpatrick. There it is, that's it, I have made it stunningly simple for you Mike Brown.
Mark Barron is a game changer. A 6'1", 215 pound safety that one would have to classify as a "hard hitter," but is also fully capable of coverage and run stopping; he would be a monster in defensive coordinator Mike Zimmer's system. Remember what Bob Sanders of the Colts did before he ran into a myriad injury troubles? Mark Barron has the capability to impact the game the way Sanders did, except at almost a half foot taller, 15 pounds heavier and without the injury concerns. He did have a hernia surgery, but it shouldn't pose a problem in the future. Draft the man, let him loose on defense and watch him become a Pro Bowler.
The second player is Janoris Jenkins. Before I hear the cries of character concerns, let me tell you this kid was a class act at the combine. He was candid about his tumultuous past, he took responsibility for his actions and he said that he knows he must change and mature in the future. He would be a part of a great locker room that could shepherd him into the life of an NFL player without regressing to the man that was kicked off of Florida's team. When you just look at the tape, he shouldn't even make it to the 17th pick. The young man covered Julio Jones and AJ Green almost flawlessly in college and he dominated the Senior Bowl. I seem to remember a certain other player from Florida with character issues, ahem Carlos Dunlap, which the Bengals drafted with great results. Let's make another Gator a Bengal.
David DeCastro is the third most desirable player. Another starter from day one, DeCastro WILL be a Pro Bowler. He was the best guard in the country last year; he's big, smart and the quintessential "sure thing." His pure numbers were unimpressive at the combine, but he more than made up for that with his impressive work in the drills portion. I prefer DeCastro over Glenn because I think he's more versatile, but Glenn wouldn't be a bad option if the Bengals wanted to go big.
Very big. Glenn is almost 6'6", and a whopping 345 pounds. Despite his enormous weight, he recorded a 4.96 40 time at the combine and is impressive getting to the second level. He's tied for the most starts by a Georgia offensive lineman (ironically with Clint Boling), and has a remarkably high ceiling for someone the Bengals could easily get with the 21st pick.
The final player worthy of a first-round pick is Dre Kirkpatrick. While he's not as adept in coverage as Jenkins, Kirkpatrick more than makes up for that with his run support. He isn't much of a threat to intercept the ball, but his most outstanding traits are his physicality and height. Standing at 6'2", he would also be one of the taller cornerbacks in the NFL. This height will serve him well down the road and surely put him as the second-rated corner on some boards. Although I have him at third in his position, this would be a safe pick and one that won't garner many cheers, but shouldn't hear any boos either.
In the second round the Bengals ought to look to give Andy Dalton some help at WR. WR is an especially tricky position to guess where a player will be taken, but if Alshon Jeffery is still available, he's the man. Falling down draft boards after having a so-so season at South Carolina, he could be a beast.
Jeffery's lack of production, in my opinion, was due to an inconsistent passing game and the loss of star RB Marcus Lattimore. He was clearly the focus of defensive schemes, and didn't outperform his breakout sophomore season.
Despite all that, Jeffery has all the unteachable skills as he is 6'3", has naturally great hands and has the running skills reserved for running backs after the catch. He lacks noticeable skills in two teachable areas – route-running and blocking, but that's okay because he will improve. This Gamecock is an underrated asset that would be a dream come true for the Bengals.
If Jeffery is gone, the WR class is deep and Dalton will have to wait for his number two receiver until later in the draft. But luckily for him, the Bengals could definitively shore up their offensive line with this selection. If they don't take an OG in the first round, or even if they take one, a great pick in the second round would be Kelechi Osemele. Say it with me, kah-LETCH-ee oh-sem-AH-lee. While this pick could cause a few broadcasters some trouble, he will be worse for Bengal opponents.
Osemele is probably the best second round run-blocker you will ever see. His massive 6'5", 330 pound frame can seal defensive lineman and absolutely erase linebackers at the next level. His pass blocking leaves a little to be desired, but his ceiling is high and he could start right away.
Moving on to the third round, I am only going to give one choice: Isaiah Pead. The UC RB has the potential to be a star. Undervalued in college recruiting, he has always played with something to prove and he has proven it to me. An absolute steal in the third round, this hometown product could have an immediate impact. He has blazing top-end speed but also a commendable willingness to draw contact.
More importantly, Pead fits the system. He is an above average receiver that is dangerous on a screen but most notably, he loves to block. Coming out of a pass happy offense in college, Pead became a formidable pass blocker and has the ability to be great at the next level. Pead is sure to be a fan favorite, not just because he played at UC, but because he will make big plays at RB and on special teams in the return game.
The latter end of the draft is all about filling depth and finding gems. In the fourth round the Bengals could do both with Vontaze Burfict. The ASU LB plummeted down draft boards after a historically awful combine. He blamed ASU for his lack of production and ran the slowest 40 time of any ILB. So why do I want this guy? Well, there's a reason he used to be projected as a first-round pick. He shows flashes of brilliance and he can hit like nobody's business. If there is anyone that can get through to this kid, it's Marvin Lewis, and if he pans out, he could be an effective starter in the future.
Another fourth rounder could be another hometown hero. Derek Wolfe, a UC DT, was a three-year starter who was basically never hurt, and an absolutely relentless defender. Not especially great at anything in particular, but very solid in many respects. He is a solid depth provider.
With two picks in the fifth round courtesy of one Chad Ochocinco, the Bengals should look at Travis Lewis, an OLB from Oklahoma. He was a four year starter at a powerhouse, a team captain, and a true leader. Lewis would be a great locker room addition, and could very well pay dividends on the field in his rookie year.
The Bengals could also look for some depth at WR, targeting Iowa's Marvin McNutt or FIU's T.Y. Hilton. McNutt is a solid contributor that had a great career at Iowa. He is reminiscent of UK's Stevie Johnson in the vein of having a productive career but not possessing the skill set to be drafted early, but also able to break into the NFL as a very good receiver.
In contrast, there is Hilton, a smallish receiver that ran an unbelievable 4.36 40 at his Pro Day. He has quick feet (obviously) and could really make an impact as a slot receiver. If he is still on the board he would look great in orange and black.
In the sixth round, the Bengals could look at Arkansas WR Joe Adams for his great special teams play, but I would opt to go for a very un-sexy pick and go with Drew Butler, a punter from Georgia. His resume is outstanding, as he won the Ray Guy award in 2009, was named to Georgia's All-Decade Team, was a finalist for virtually all of the student-athlete awards and is the son of NFL great Kevin Butler. His excellence, intelligence, and pedigree should earn him a selection to compete, and probably beat out, Huber's atrocious punting.
Ah, the final round. With players sweating it out all across the country, the Bengals should call on UK OLB Danny Trevathan. It's rare that you can get a two-time first team All-American in the seventh round, but that's the opportunity with Trevathan. He is undervalued due to his size, but he has excellent speed and is a sure tackler. It would be a great pick to round out a great draft.
So there you have it, the blueprint for a Super Bowl. Kidding, just making sure you're still paying attention. But all jokes aside, the Bengals have a ton of draft picks and it will be interesting to see how they use them. They are a franchise notorious for busts that has started to buck that trend with arguably the best two drafts in the last two seasons. So let's hope we can continue this success and have a great draft in 2012. It's out there for the taking, and we'll know who's in orange and black in a month.