Chicago Cubs: Sending Anthony Rizzo Down to Minors the Right Move
March 24, 2012

Jamie Squire/Getty Images
The Chicago Cubs have decided to send first baseman Anthony Rizzo to Triple-A to start the 2012 season, and that is the right move by Theo Epstein and Co.
The Cubs acquired Rizzo from the San Diego Padres this offseason in exchange for pitcher Andrew Cashner, instead of pursuing the likes of Albert Pujols and Prince Fielder.
The move was a great play for the club's future, and that is exactly what it is.
Rizzo isn't ready to enter the big leagues, and no one should have been expecting him to be the starting first baseman on Opening Day, let alone on the roster.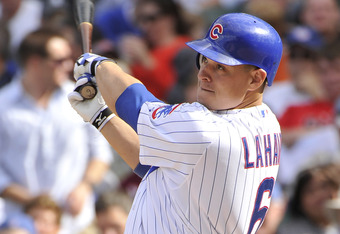 Brian Kersey/Getty Images
He still needs to develop, and that won't happen being thrown into the lineup at first or sitting on the bench.
This spring was promising for the lefty, as he batted .364 in 33 at-bats with just two homers. Those numbers are hopefully a sign of things to come, but the team will likely want to increase those power numbers while making him into a consistent big-league threat.
Last year, Rizzo batted just .141 in 128 at-bats. He had just one home run along with eight doubles, so who knows how he would perform consistently on the big league level despite having a strong spring.
Instead, he will be groomed and made ready for the Cubs future. Obviously, this team isn't set to compete for a World Series this year.
To say that is not the goal would be ridiculous, but given the rebuilding effort going on, it is clear that type of success isn't seen as realistic in 2012.
Bryan LeHair remains to be the likely Opening Day starter at first base, but don't be surprised to see Dale Sveum use a combination of different guys at the position throughout the season.
The team will continue to build and develop, hopefully putting themselves in position to once again contend for a title in the near future.
Jeff Chase is a Featured Columnist for the Chicago Cubs and Arizona State football.
Follow @Real_Jeff_Chase