WWE Rumors: Husky Harris to Main Roster with New Gimmick?
March 23, 2012

It's been a while since we last saw Windham Lawrence Rotunda on WWE television, but recent reports suggest the man formerly known as Husky Harris could be set for a call up to the main roster again very shortly.
Harris was last seen on an episode of Monday Night Raw in January 2011, before he was written off television during Randy Orton's punting phase (in which he single-handedly disbanded the New Nexus, Super Cena style).
The third generation superstar was then moved to WWE's developmental territory FCW, where he has remained ever since.
As of late however, there have been rumblings of a number of FCW patrons potentially debuting on the main roster—with Harris being one of these.
It has been reported that in order for talent to be called up to the main roster however, COO Triple H has demanded that each one has a clear storyline arc and gimmick that could carry across to primary WWE television.
It would appear that Rotunda's arc has now been mapped out.
According to Daniel Pena of lordsofpain.net:
WWE developmental wrestler Husky Harris appeared under the name Levi Wyatt at a non-televised Florida Championship Wrestling event on Thursday. His character was described by a person in attendance at the event as a religious zealot. Wearing a straw hat and Hawaiian shirt, he cut a heelish promo before defeating fellow developmental talent Jiro in a singles match."
Hmmm...first we get Drew McIntyre as an arrogant playboy with questionable sexuality, and now Husky Harris as a religious caricature. What is WWE Creative thinking? These are the kind of crazy shenanigans that cost Vince Russo a job.
The Wrestling Observer has reported that Harris is "on management's radar" for a promotion to the main roster and in turn would be debuting a new gimmick.
For my money, there are many more FCW superstars far more deserving of a spot on the main roster than Husky Harris—though this may just be me.
Dean Ambrose, Seth Rollins and Damian Sandow have now all proved their pedigree in the developmental territory and should get their chance, as Harris' last attempt under the main WWE spotlight was a spectacular flop.
On the other hand, The Wrestler Observer Newsletter reports (via Marc Middleton of lordsofpain.net) that:
"Talents in FCW that are considered as the guys who are most ready for a main roster spot include Husky Harris, Seth Rollins, Dean Ambrose and Damien Sandow. Triple H's idea is to not debut guys without a full storyline mapped out and weeks of build. Another idea coming from Triple H is to debut several new guys around the same time."
To me, this is a far better idea, provided that we don't see a typical WWE rehashing of storylines, for example by attempting to debut another Nexus/CORRE-like stable.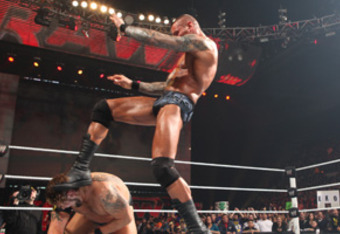 I would hate to see a scenario where potentially great future superstars were wasted in a stagnant tag team division or weak stable, but debuting a number of talent at once could be an extremely interesting concept in the form of a tournament (King of the Ring?) or championship scramble, where genuine feuds and storylines could be developed immediately.
As with anything in the WWE, if done right, this idea could be a great success.
If not, it could quite frankly be disastrous for the careers of some extremely promising young talent.
What do you think?
Is Husky Harris' new gimmick a good idea? If not, where should WWE go with his character?
Is debuting a number of FCW stars at once the right way to go about things?
Please feel free to leave any thoughts and/or suggestions in the comments section below.
Thanks for reading!