Denver Broncos: Did Peyton Manning Acquisition Kill Tim Tebow's Legacy?
March 23, 2012

Jim Rogash/Getty Images
Prepare yourselves for a bold statement. In some Broncos fans' minds, Tim Tebow will always be the greatest Broncos quarterback in the team's history.
Shocking, right? It is, but it's also true.
In truth, the people who feel that way may not have been Broncos fans before Tebow's arrival in Denver and likely will not be again after his departure, but the magic of Tebow is that all of these people are now NFL fans and will follow their man's career in New York.
Football purists will scoff at the notion of Tebow being mentioned in the same breath as John Elway, but remember that part of the NFL is entertainment, and Tebow delivered that in spades just like old No. 7 did.
There is absolutely no comparison between Elway and Tebow on the field, but as quarterbacks for the Broncos, each one made for great headlines in every section of the newspaper. Each one had an appeal that stepped off the football field and caused fans to want to know what John Elway was handing out for Halloween, as well as who Tim Tebow may or may may not be dating.
The signing of Peyton Manning caused every Tebow-jersey-wearing fan to drop their jaw and wonder how the Broncos could replace the player who had just led them to the playoffs?
Hadn't Tebow revived the fledgling Broncos and restored them to the top of the AFC West? Wasn't Tebow the toast of the NFL?
The new generation of fans, caught in the limbo between the Super Bowl years and McDaniels' destruction of the team, have been told by numerous national media outlets that Tebow is a star, and when he is on the field, the world is watching. Isn't that what the Denver Broncos want leading their team?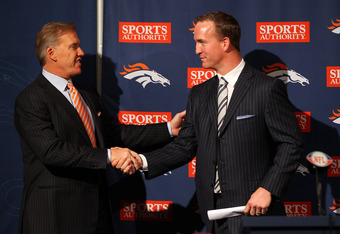 Justin Edmonds/Getty Images
It's hard to reconcile the fact that the best "purely football" decision for Denver was to cut loose the polarizing Tebow and sign the sure-fire HOF'er who has stared down the best in the game and won in Peyton Manning.
Denver's 2011 campaign was as exciting as any the Broncos have ever had. Fan of Tebow or not, everyone was watching on the edge of their seat in the final minutes waiting to see if the miracle ride would continue. It wasn't about football as much as it was an unscripted drama unfolding in front of Denver fans every Sunday.
Some fans got swept up in the drama and invested a heavy amount of emotional connection with the team and their perceived leader, Tim Tebow. Who can blame them?
So now, to think that Broncos games could go into the fourth quarter without the potential of "Tebow Time" is a hard pill for some Broncos fans to swallow.
Instead of trying to swallow that pill, Broncos fans who are sympathetic to the plight of Tim Tebow will romanticize the entire situation in their head and create their own alternate view of Tebow's lost career in Denver.
No matter what Tebow goes on to do in New York or anywhere else he may land, Broncos fans that were jilted by his ouster will wax poetic about the greatness Denver gave up for Peyton Manning.
They may get support for their claim in the distant future if Tebow goes on to fulfill their prophesy and win multiple Super Bowls in the NFL. To that, they will say "it could have been Denver dominating the NFL with Tebow at the helm if it weren't for Manning."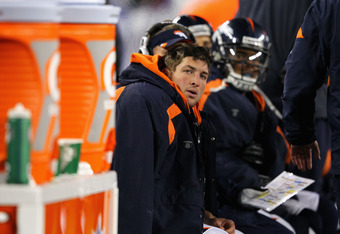 Al Bello/Getty Images
Or, Tebow may fizzle out in the NFL and never find any measure of success on the field that even comes close to the magic of the 2011 season in Denver. To that, they will say "if he just would have stayed in Denver, he would have kept his momentum going and been the best player in NFL history with multiple championships to show."
There is no middle ground here. To the fans of Tebow, this decision cannot work out for the Broncos at all. Manning could win a Super Bowl every year that he is in Denver, and the knock will always be that "Tebow could have done that and had more time to continue winning in his career!"
It's sad that fans feel the need to either be on "Team Manning" or "Team Tebow," but such is the competitive nature which makes the NFL as popular as it is.
There is no perfect world where fans can "have it all" if they choose to affiliate themselves with only a player.
Instead, if they choose to support a team, then the magic of 2011 can be fondly remembered and the hope for 2012 can co-exist in Broncos Nation despite the change of cast.
For fans of Tebow, it is hard to tell if last season will be the high point in his career or the beginning of a long and prosperous NFL journey.
Regardless, those still in Denver who believe in Tebow saw all they needed to see in order to keep the debate about "what could have been" alive for a long time to come.
Be prepared for their dreams of the future to include Tebow as the greatest Broncos QB of all-time. His legacy in the minds of some fans cannot be tarnished by the mere ending of his time in Denver.