Grading the Baltimore Ravens' Offseason Moves so Far
March 22, 2012

Jim Rogash/Getty Images
The Baltimore Ravens' biggest priority so far this offseason has been to hold on to as many of their own free agents as possible.
They've had mixed results in doing so—they've lost five free agents to other teams, but have given restricted free-agent tenders to some of their most-needed players and successfully offered the franchise tag to star running back Ray Rice.
Let's take a look at all of the offseason moves the Ravens have made thus far and see what kinds of grades they've earned for their personnel decision-making.
Additions: None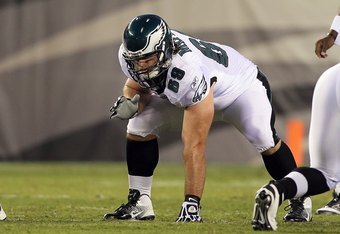 Jim McIsaac/Getty Images
The Baltimore Ravens didn't have much cap space to work with to open the offseason, and after extending restricted free-agent tenders, putting the franchise tag on running back Ray Rice and re-signing a few of their own players, they now have $4.664 million with which to work. 
That's just about (or just under) the amount of cash they'll need to sign their incoming rookie class after next month's draft, which means that the chances are low that the Ravens will make any free-agency additions.
They have dipped their toes in the market, however, bringing in offensive guard Evan Mathis for a meeting before he eventually re-signed with his former team, the Philadelphia Eagles, for a five-year $25 million deal.
Though it would have benefited the Ravens to at least take closer looks at some of the free-agent wide receivers on the market, no team wins a Super Bowl by being terribly active in free agency, and the Ravens are generally a quiet team this time of year.
As long as they can replace the players they've lost—and may still lose—to free agency in the draft, then their lack of moves over the past week-and-a-half won't matter much at all.
Final Grade: A-
They could have made a few more inquiries, but why change a formula that's worked for years? Losing out on Mathis hurts, though.
Re-Signings: C Matt Birk, RB Ray Rice (Franchise Tag), LT Bryant McKinnie (Paid Roster Bonus, Retained), LB Chavis Williams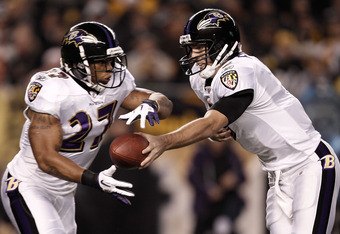 Jared Wickerham/Getty Images
In addition to re-signing center Matt Birk, handing the franchise tag to running back Ray Rice and giving left tackle Bryant McKinnie his roster bonus (signaling he's sticking around in 2012), the Ravens have also offered restricted free-agent tenders to cornerback Lardarius Webb (first round), cornerback Cary Williams (second round) and linebacker Dannell Ellerbe (second round).
Their next biggest priority is retaining linebacker Jameel McClain, who has already gotten attention (but not a deal) from the Denver Broncos. All of the players they've lost in free agency this year, save one, have come from the defensive side of the ball.
Losing McClain would easily be the biggest blow dealt to them this offseason and would drastically alter their draft strategy, but with the team so close to the cap, it's looking likely they'll need to do some contract restructuring in order to keep him around.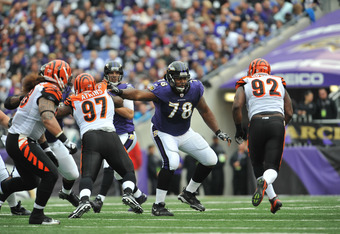 Larry French/Getty Images
Keeping Birk on board was a smart move; though he may only have one or two more seasons left in him, the Ravens certainly need his veteran leadership and his ability to mentor his eventual successor.
The retention of McKinnie is a plus and a minus. McKinnie has issues staying focused and in shape, but performed well at the difficult position of left tackle last year. Further, left tackle is a hard position to replace, and continuity is extremely important.
Though the Ravens may not have been 100 percent sold on McKinnie, they would do worse by letting him walk and replacing him than by keeping him around.
Final Grade: B-
They should do more to retain their own free agents, but the cap space does make things difficult.
Cuts and Free Agents Signed Elsewhere: CB Domonique Foxworth (Cut), S Haruki Nakamura (Panthers), S Tom Zbikowski (Colts), DE Jarret Johnson (Chargers), DT Cory Redding (Colts), OG Ben Grubbs (Saints)
Larry French/Getty Images
The Ravens were smart to part ways with cornerback Domonique Foxworth, considering he was coming off of a knee injury and couldn't pass a physical. With two starting corners given restricted free-agent tenders, the Ravens secondary is in good shape and can be boosted in the draft.
But losing so many other players on defense was certainly not part of the Ravens' plans, though they surely knew it was a possibility. It was a given that safeties Haruki Nakamura and Tom Zbikowski would move on.
The latter was one of two players who followed former defensive coordinator Chuck Pagano to the Indianapolis Colts, where he's now the head coach—the other is defensive tackle Cory Redding. They also lost defensive end/linebacker Jarret Johnson in what was the team's biggest loss on defense. They'll definitely need to upgrade via the draft to replace him.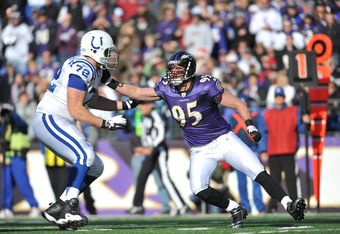 Larry French/Getty Images
But the biggest free agent to head elsewhere was offensive guard Ben Grubbs. The team and Grubbs had been working hard to give him the kind of high-paying, long-term deal he was looking for, but once the New Orleans Saints lost their own guard, Carl Nicks, it seemed inevitable Grubbs would be his replacement.
The Ravens tried to fill Grubbs' hole by offering a contract to Evan Mathis, which he rejected. The Ravens do have some offensive line depth, but no player who can perform to Grubbs' level. That means the Ravens will have to look to the draft for yet another high-end player.
That makes things difficult, considering the Ravens pick 29th overall in the first round. Does the team look to replace Johnson with that pick, or does it select an offensive guard? That's going to be a major question the Ravens will have to find an answer to in the coming weeks.
Final Grade: C-
It was inevitable the Ravens would lose free agents to other teams, but the ones they lost were major players who will be difficult to replace.
Remaining Free Agents on the Open Market: LB Jameel McClain, LB Brandon Ayanbadejo, RB Matt Lawrence, C Andre Gurode, LB Edgar Jones, TE Kris Wilson