Predicting the Patriots: Belichick Trying to Find Another Albert Haynesworth
March 20, 2012

Handout/Getty Images
It appears it's safe to come out now. The lightning storm of signings in New England over the last week has finally seemed to calm. 
The team welcomes Daniel Fells, Robert Gallery, Brandon Lloyd, Donte Stallworth, Anthony Gonzalez, Jonathan Fanene, Trevor Scott, Steve Gregory and a guy named Marquice Cole (pronounced MAR-KWEECE). 
Failed Signings
That's nine players in total, but if the Patriots had their way, the list could've looked much different. New England targeted multiple players at these very same positions to no avail. Those failed signings indicate an area of strong interest from the team. 
In predicting what the Patriots might do next with regards to free agency, it's important to first examine what they've tried to do, and follow that trail. 
Defensive Lineman Market
From the very get-go, New England was poised to play in the defensive lineman market. The team targeted Red Bryant, a 27-year-old who may be one of the better run stuffers in the league. The Seattle Seahawks ended that possibility, sweeping in to re-sign Bryant with a five-year, $35 million deal. 
Not to be outdone, the Patriots immediately got on the phone with the representatives of Kendall Langford and Paul Soliali. Langford, a promising, young, hybrid-type lineman hauled in a $24 million deal over four years with the St Louis Rams. Meanwhile, the Miami Dolphins were somehow able to retain a player, and the market's best nose tackle at that, for two years and $12 million. 
After all that, New England finally signed Jonathan Fanene to a three-year, $12 million deal. But that apparently hasn't quelled their interest at the position. 
Trevor Scott was pursued and successfully signed to a one-year contract just a couple days later. Even still the Patriots continue to show interest in free agents at the position.
Who's Next?
The latest to be identified is Luis Castillo, formerly of the San Diego Chargers. Castillo was released this month after only playing in one game this season. He's never been a particularly healthy guy either, only playing one 16-game season in his seven-year career.
The Patriots had him in on Saturday for a workout, but he obviously left without a contract. My guess is that the team offered him up a situational role for less money due to his injury history. Castillo is only 28 years old, however, and as a former first-round pick, he's probably way too proud to sign a New England designed contract right now. 
Maybe down the line, but he's going to search for more money in the meantime. 
Defensive Profile Emerging
Bill Belichick and Nick Caserio will also be on the lookout in the meantime, as it appears a profile has emerged. Let's take a look at the shape, size and position of the targeted athletes.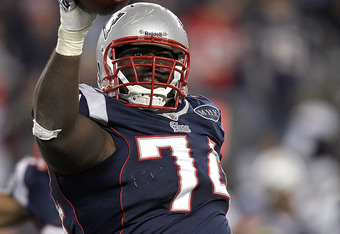 Jim Rogash/Getty Images
Fitting into the defensive end category could be Castillo, Scott, Langford and Fanene. These guys, with the exception of Scott, all weigh over 290 pounds and stand at 6''3' or taller. Scott comes in at 255 and may be stood up in New England. 
The nose tackles of the group, or players with defensive tackle experience, include Soliali, Bryant and Fanene. Soliali and Bryant both exceed 330 pounds and represent a whole different type of player than the ends that have been targeted. 
Free-Agent Philosophy 
It appears the team has used the same philosophy over the last two offseasons with regards to defensive linemen. Albert Haynesworth was supposed to fill the role of run-plugging defensive tackle, but Kyle Love and Brandon Deaderick had to do it.
Defensive ends Mark Anderson, Andre Carter and Shaun Ellis were all signed with hopes they could fill the hybrid linebacker and defensive end positions respectively. Those moves had mixed results. 
This year, the team appears to have lucked out in signing Fanene, who can be a type of hybrid on the line and play just about everywhere. It's looking all the more likely that the team will continue to target a defensive tackle, and it wouldn't surprise me if they added to their haul of defensive end characters either.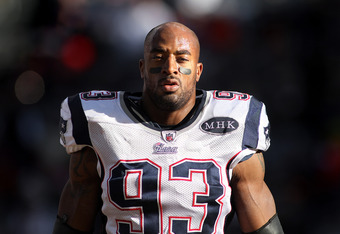 Marc Piscotty/Getty Images
Free Agents Still Available
Defensive End
Mark Anderson
Andre Carter
Wallace Gillberry 
Williams Hayes
Matt Roth
Defensive Tackle
Brodrick Bunkley 
Desmond Bryant 
Sammie Lee Hill
Derek Landri
Amobi Okoye
Interested in reading more by this B/R Featured Columnist? Check out more of Aaron Dodge's work. 
Why Tim Tebow Belongs with the Pats 
Pats Sign Three Wideouts, Competition Now Guaranteed 
Pats Splurge, Sign Five in Two Days

Feel free to "Like" me on The Facebook. Your support is much appreciated.