NFL Rumors: Complete Breakdown of the Tim Tebow-to-Buffalo Bills Possibility
March 20, 2012

Jim Rogash/Getty Images
Tim Tebow to the Buffalo Bills. The rumor is out there, floating around the Internet, running rampant on Twitter.
It stems from Monday's news report that Peyton Manning, barring an unforeseen snag in contract negotiations, will become the newest member of the Denver Broncos. 
It's now official. Manning and the Broncos reached an agreement on a five-year, $96 million deal.
In that same report, sources told ESPN that the team will try to trade Tebow.
NFL.com's newest writer, Gregg Rosenthal, even slated the Bills as the best fit for the polarizing southpaw.
I've fielded a good amount of questions since the rumor was born, so it's time for a complete breakdown of the Tebow-to-Buffalo possibility. 
From a football standpoint 
It would be logical due to the sub-package creativity Tebow would provide Chan Gailey. The former Florida Gators quarterback could return to his freshman-year roots as a fantastic 3rd-and-short and goal-line option.
An occasional "Wildcat" play would be ideal for Tebow, especially if it allowed him a read-option to throw a quick pass or run the football.
We saw that last season in Buffalo with Brad Smith.
Ah yes, Brad Smith.
That's the snag in this facet of Tebow coming to Buffalo.
The team already has its "Wildcat/gadget-type" player. While I wasn't the biggest fan of the four-year, $15 million deal Smith signed last year, and the guy was about as big of a free agent dud as you can be, (20 carries, 87 yards, 1 TD and 0-for-1 passing, 1 INT) you can't ignore his spot on the roster. 
It's highly unlikely the team would initially place Tebow ahead of Smith on the depth chart. (If the team's willing to cut Smith and replace him with Tebow, that's a different story.) 
If Tebow did get onto the field, he'd make the Bills a more run-heavy team—something I'm a big proponent of—but there simply wouldn't be enough carries to go around with Fred Jackson and C.J. Spiller already No. 1 and No. 2 in the backfield.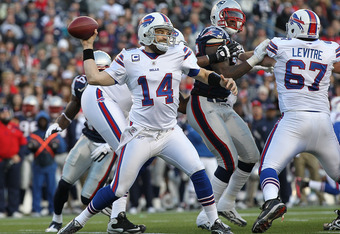 Jim Rogash/Getty Images
The secondary thought of many is that Ryan Fitzpatrick could act as a heady mentor this 24-year-old kid. (Remember, whatever he possesses in leadership and will to win, he lacks in accuracy and most specifically, the ability to decipher and react to a defense.) 
I can buy that scenario. 
To say Tebow is completely and forever done as a NFL starter is a flat out wrong. He's got upside; his transition is just much slower than others. 
Fitzpatrick, like Tebow, isn't the most physically gifted quarterback in the league. But he does seem to have a decent grasp on pre-snap reads and analyzing downfield coverages. 
A Fitzpatrick and Tebow mentor-mentee relationship could work. 
From an off-the-field standpoint 
The Bills already made their huge "we-are-here", return-to-relevance move when they inked Mario Williams to a $100 million deal. 
For the first time in a while, they aren't in need of a jolt to get the media's attention. 
With Tebow comes "the circus." 
We all know that. 
At this point, I'm not even sure Buffalo's front office wants more attention. They'll gladly take more if and when the team succeeds in the near future, but in the form of a gimmick? I'm not so sure.  
Tebow isn't needed to increase notoriety or sell tickets.
As explained above, Tebow would be nothing short of a novelty player with a minimal role in the offense. When looking at a potential Tebow move from this perspective, he'd be much better suited for the Jacksonville Jaguars.  
I'm not against having a guy with his leadership qualities on my team. We witnessed what he was capable of last season with the Broncos.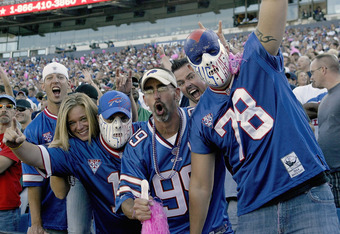 Rick Stewart/Getty Images
However, what would Tebow really mean to Bills fans? 
Something tells me if Fitzpatrick tossed a few wobbly interceptions and Buffalo got off to a rough start, ill-informed/somewhat delusional Bills fans would begin a campaign for Tebow to take over as the starter. 
Shouldn't happen. Not going to happen.
At this juncture of Tebow's career, you need to create an entirely different and watered-down version of your offense for him.
No way Chan Gailey does that. 
For the first time in a long time, the Bills seem confident in their players, as evidenced by the free-agency retention and long-term extensions of Fitzpatrick, Kyle Williams, Chris Kelsay, Stevie Johnson and Scott Chandler.
The last thing they'd want is a quarterback controversy. 
They've bought into Fitzpatrick and they're going to ride him as the starter to see how far he can take them. 
Conclusion 
If somehow, in a wildly different realm, Tebow could come to Buffalo, gladly take on his role as "QB No. 3" with a handful of plays a game and the team could prevent fans from creating a quarterback stir following a down game from their starter, I'm sending my extra fifth- or lone six-round pick to the Broncos for him in a heartbeat. 
Unfortunately, that's not the case. 
Tebow to the "B-Lo?" 
As hard as it is to root against him, I say "No."