Food City 500: Kevin Harvick, Denny Hamlin Headline 5 Good, 5 Bad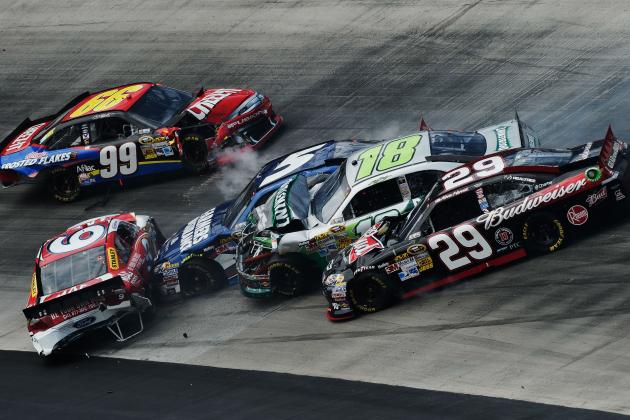 Jared C. Tilton/Getty Images
43 drivers started Sunday's Food City 500 at Bristol, but far fewer took the checkered flag
The boys of NASCAR were on Thunder Valley this weekend for the Food City 500 at Bristol Motor Speedway.
Brad Keselowski won Sunday's race in dominating fashion, leading a career-high number of laps. But B.K. wasn't the only winner as a few drivers left the half-mile bullring with their heads held high.
Yet for every good Sunday at Bristol, there was a bad. For every Brad Keselowski, there was a Kasey Kahne. For every Kevin Harvick, there was a Denny Hamlin.
There was even something so horrifying Sunday at Bristol I can only warn you ahead of time to watch out for this week's dreaded 11th slide.
Several drivers had a chance to win when the race began. But after 500 laps in the world's largest washing machine, a few drivers lost a sock or two.
Who was good and who was bad at Bristol? We've got you covered!
Begin Slideshow

»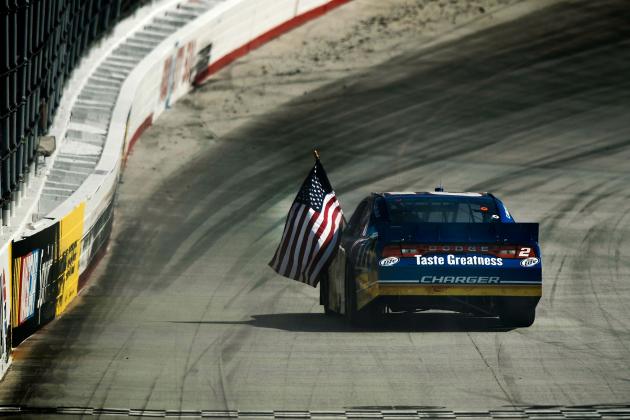 Jared C. Tilton/Getty Images
Brad Keselowski won Sunday's race at Bristol in dominating fashion
Brad Keselowski made it look easy on Sunday.
The 28-year-old Michigan driver led a career-high 231 laps in Sunday's Food City 500 en route to his second consecutive win at the half-mile bullring.
With his win, Keselowski has established himself as potentially the new "King of Bristol," taking the reins from five-time Bristol winner Kyle Busch.
Keselowski's win also marks his first of 2012 and puts the circuit on notice that the Blue Deuce will be a contender come Chase time.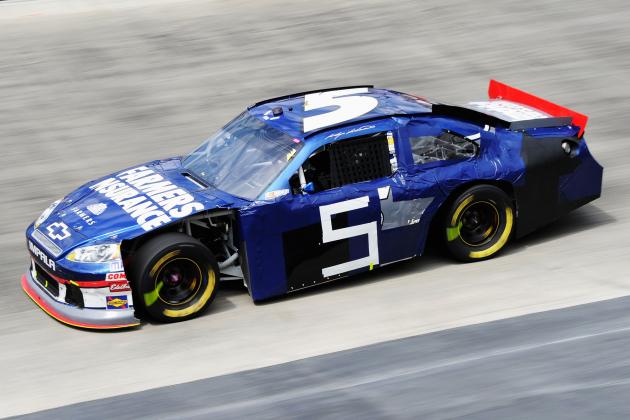 John Harrelson/Getty Images
Kasey Kahne's 2012 season has not gone as planned
Kasey Kahne's first four races with Hendrick Motorsports could not have gone any worse.
Expected to contend for wins early and often in his new ride, Kahne has crashed in every race so far in 2012 and sits 32nd in the standings after four races.
Unlike other drivers buried deep in the standings due to circumstances out of their control, Kahne has been his own worst enemy.
He hit the wall all on his own while running second at Phoenix two weeks ago. Then on Sunday, Kahne put the squeeze play on Regan Smith just 24 laps into the 500-lap event, triggering a six-car accident that also took out contenders Kyle Busch and Carl Edwards.
If Kahne wants to rebound in the standings, he'll need to learn to get out of his own way—and fast.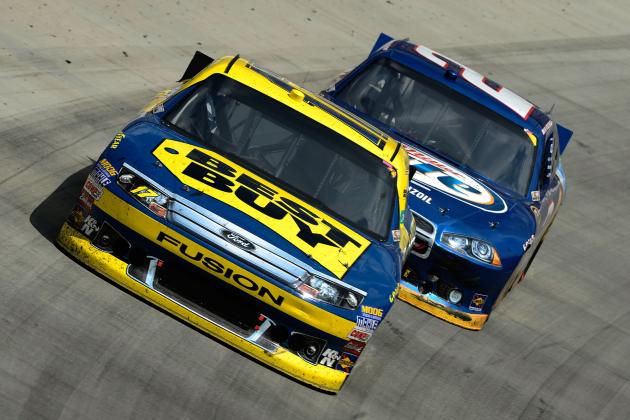 Jared C. Tilton/Getty Images
Matt Kenseth had a solid run at Bristol
Matt Kenseth did not have quite the finish he wanted at Bristol, but he got the one he needed.
Kenseth had been in a mini-slump since his Daytona 500 victory, finishing 13th and 22nd in the last two races, respectively.
He earned a runner-up finish on Sunday.
Kenseth also led 45 laps in Sunday's race and appeared to be the only driver who had anything for Brad Keselowski late in the race.
Kenseth now heads to Auto Club Speedway, a track where he's won three times.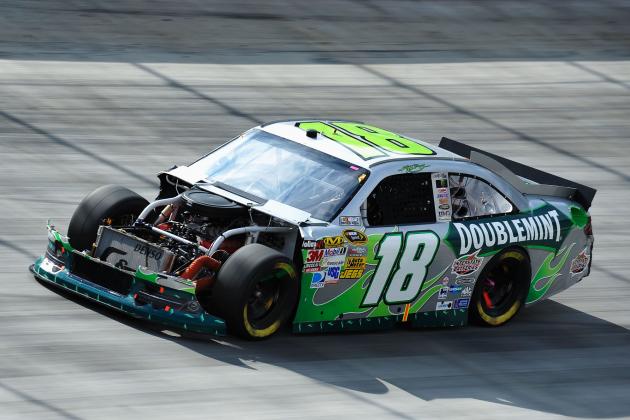 Rainier Ehrhardt/Getty Images
Kyle Busch came far from earning his sixth Bristol win on Sunday
Kyle Busch was the odds-on favorite to win Sunday's Food City 500.
He never got close.
Busch's struggles on Sunday came entirely due to a Lap 24 accident caused by contact between Kasey Kahne and Regan Smith. Busch got out of his car visibly upset, pounding the roof of his car in frustration.
Perhaps that's because Busch's 2012 season has not gone as planned. Through four races, Busch has one Top 15 (a sixth at Phoenix) and sits 15th in the standings.
Bristol was supposed to be the place where Busch turned his mediocre start around, but a 32nd-place finish is not what the defending winner had in mind.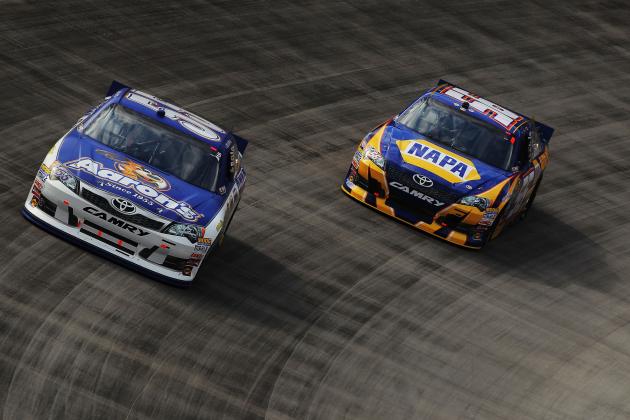 Justin Edmonds/Getty Images
Michael Waltrip's drivers finished 3-4-5 at Bristol
Everything went right for Michael Waltrip Racing on Sunday at Bristol.
Flagship driver Martin Truex Jr. rebounded from a tough pit stop early on to finish third and moved to fourth in the standings, while the team's newest addition, Clint Bowyer, earned his first Top 5 with MWR, finishing fourth.
And then there's Brian Vickers.
The man who was left without a ride after a tumultuous end to the 2011 season found himself in the lead for 125 laps in his first race for MWR and eventually settled for a solid fifth-place finish.
Now begs the question, what will MWR do for an encore at Auto Club?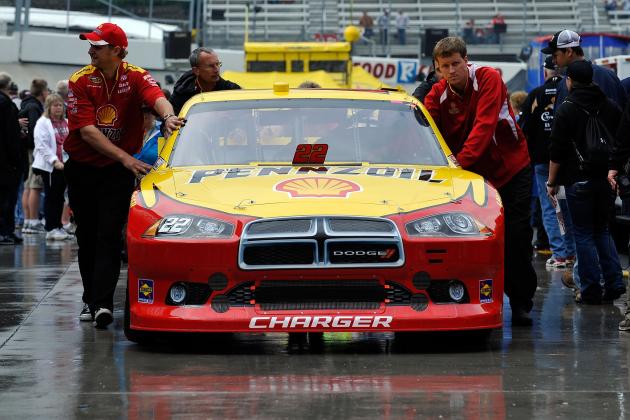 Rainier Ehrhardt/Getty Images
AJ Allmendinger finished a season-best 17th at Bristol, which isn't saying much
Perhaps it isn't fair to say that a driver who led 54 laps on Sunday was "bad".
But such is the case for AJ Allmendinger, who just seems to keep finding ways to produce mediocre finishes.
Allmendinger had a car at the beginning of the race that looked capable of contending for the win. But around Lap 200, his day started going south, as it always seems to.
Allmendinger, as it turns out, was just fighting severe handling problems that were fixed on an ensuing pit stop. But the damage was already done.
Allmendinger had fallen from a battle for the lead to dropping off the lead lap in just one run.
He never recovered and would finish 17th.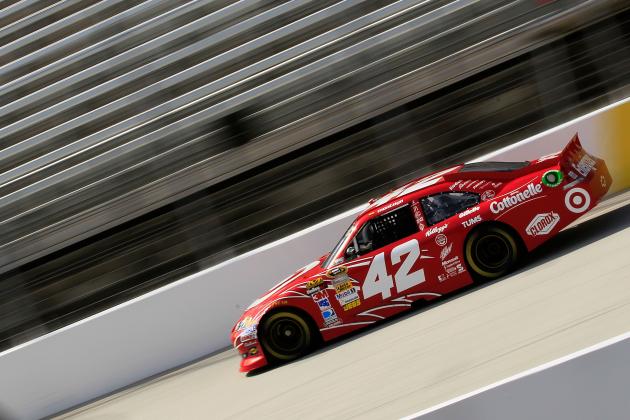 Chris Trotman/Getty Images
EGR placed both cars in the Top 10 at Bristol
MWR was not the only team to place all its cars in the Top 10 at Bristol.
Earnhardt-Ganassi Racing placed both Jamie McMurray and Juan Pablo Montoya in the Top 10 for the first time since Martinsville last April.
McMurray drove a solid race all day, hanging just outside the Top 10 throughout most of the race. McMurray's seventh-place finish also marked back-to-back Top 10s for driver No. 1 for the first time since his Brickyard 400 win in 2010.
Montoya's run was similar to McMurray's. Montoya ran around 15th throughout the majority of the afternoon, kept his nose clean and, when it counted, swooped in for an eighth-place finish.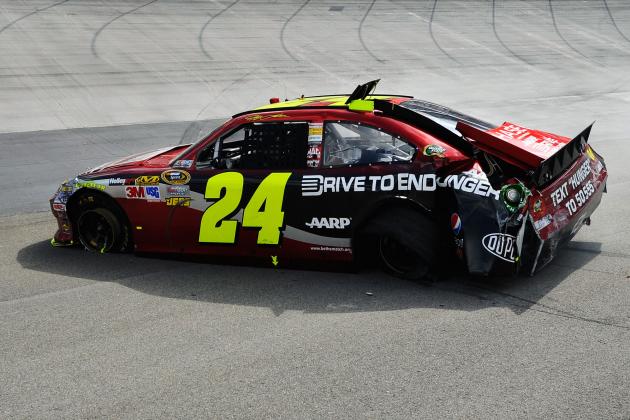 Rainier Ehrhardt/Getty Images
Jeff Gordon's car looked pretty sad after a brush-up with teammate Dale Jr.
If Jeff Gordon hadn't had bad luck...
Gordon was fast in Sunday's Food City 500. The five-time Bristol winner ran in the Top 5 for most of the day and claimed after the race he felt as though he had a car that could've won.
But Gordon would not make it to the flag.
Racing for fifth late in the going, Gordon and teammate Dale Earnhardt Jr. ran side-by-side coming off Turn 2. The two cars touched, with Earnhardt's tailpipe carving into Gordon's left-rear tire.
The tire came apart in Turn 3, where Gordon backed his No. 24 car into the wall effectively ending his day.
Gordon finished 35th and now sits 23rd in the standings.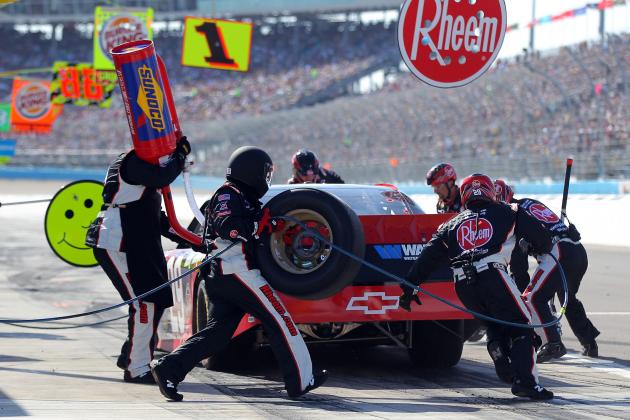 Justin Edmonds/Getty Images
Kevin Harvick's pit crew did a masterful job repairing his car at Bristol
Brad Keselowski may have mastered the track, but it was Kevin Harvick's crew who mastered the pits at Bristol.
Harvick was caught up in the Lap 24 accident with Kasey Kahne, Carl Edwards, Kyle Busch and Marcos Ambrose. But while all those drivers finished several laps down, Harvick finished on the lead lap in 11th.
Why?
Because Harvick's crew never gave up.
During the caution for the Lap 24 accident, Harvick came into the pit for repairs nine times. That's right—nine times. And with each stop, the No. 29 crew made Harvick's car better and better until Harvick was finally able to bring it home in the top dozen.
What the No. 29 team showed on Sunday is what champions are made of.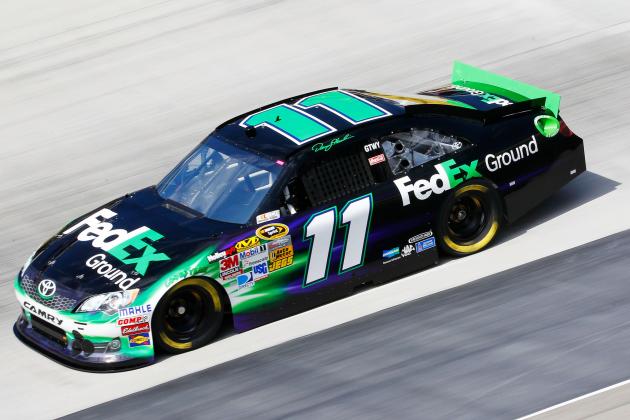 Geoff Burke/Getty Images
Since his win at Phoenix, Hamlin has a pair of 20th-place finishes
Perhaps we were a little too quick in suggesting that Hamlin is back to his 2010 form.
Hamlin had another poor run on Sunday, falling off the lead lap for a second straight week and scoring his second-consecutive 20th-place finish.
Hamlin started the season off strong with a fourth-place run in the Daytona 500 and a win at Phoenix, but the last two weeks have not been good for the 2010 Sprint Cup Series runner-up.
At least things couldn't have been worse for Hamlin on Sunday, right?
Never before in the three-week history of "5 Good, 5 Bad" have we found something so excruciatingly bad that we had to give it a whole separate section.
But such is the case for Denny Hamlin's pre-race Dougie, which takes the lone spot in the "Worse" department this week.
Nothing more needs to be said. But if I'm being honest, Mr. Hamlin did not do a half-bad job with his dance.