Latest Experts Comments and Laker Reaction to Derek Fisher Trade
March 16, 2012

Stephen Dunn/Getty Images
"They traded their soul."-Bill Plaschke L.A.Times 3/15/12
Derek Fisher is in his 16th NBA season, and he has only spent three of those not wearing the purple and gold uniform of the Los Angeles Lakers. 
Fisher has been part of five NBA Championships and seven trips to the Finals.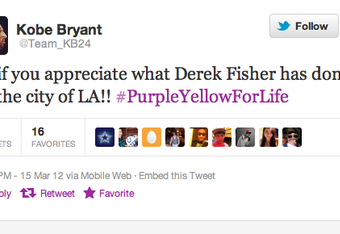 Yesterday his time as a member of the Los Angeles Lakers came to it's conclusion.
The Lakers approached the trade deadline knowing that they probably needed to acquire a point guard to have a legitimate chance at a winning the franchise's 17th Championship.
That "need" existed because Derek Fisher in 2012 is not Derek Fisher in 2000 or 2001 or even in 2010. Derek Fisher is in the twilight of his career and had become too slow to play in a league that is currently populated by as many gifted point guards as the league has ever seen.
It's not just that Fisher is getting older, it's that there are so many athletic point guards in the league right now that even Fisher in his prime would not have been the player many fans think of even when they think back to the glory days of 1999-2002.
That combination of colliding factors contributed not just to the Lakers dealing for the younger, quicker Ramon Sessions yesterday but also to the team dealing Fisher to the Houston Rockets for Jordan Hill who will backup the Lakers big men.
Then there's the whole "business" aspect of the deal.
Derek Fisher was under contract through the end of next season and slated to cost the Lakers $3.4 million.  It's not exactly superstar money but with both Fisher and Steve Blake under contract and Blake's contract length rendering him somewhat less movable Fisher became the odd man out.
That apparent for profit motive hasn't sat well with many loyal Lakers fans who would ideally like the teams' management to attach the same sentimental value to certain players that fans do.
Of course that's why one group of people are referred to as "fans" and one group are referred to as "management."
Lakers General Manager Mitch Kupchak acknowledged that having and paying for the services of three point guards just didn't make sense for the Lakers.
"In general, financial considerations are a part of every deal we make. Every owner, every general manager, that's one of the things you speak about when you're about to make a deal or are contemplating a deal. There's always financial considerations, especially going forward with the new collective bargaining agreement." 
Kupchak also acknowledged concern with how subtracting Fisher and adding Sessions could impact team chemistry. 
Yahoo Sports Kelly Dwyer seemed to be among those Laker fans readily willing to acknowledge Fisher's shortcomings but unwilling to reconcile those shortcomings with his trade to Houston. 
"Fisher, to be quite frank, has been absolutely brutal on both sides of the ball over the last two seasons for Los Angeles. He can't stay in front of even the NBA's slowest point guards, at this point, and he offers precious little offensively save for the occasional (as in, "32 percent of the time he shoots one") 3-point basket. By every conceivable standard, he was a millstone for the team on the court. No amount of leadership and smarts (two things Fisher provides in spades) could make up for his shortcomings.

It still doesn't mean you trade Derek Fisher, heart of the team, to save $3.4 million and a few million more in luxury tax savings. Some guys really should just be untouchable, even as their minutes decrease to nil. Derek Fisher should have been one of those guys."- Kelly Dwyer Yahoo Sports 3/15/12
That's a nice sentiment but in a league with a fairly rigid salary cap it's also not feasible. It's not realistic to expect a team to cling to it's aging players as their ability to contribute declines to the point where even fans willingly acknowledge his egregious shortcomings.
The reaction to the Fisher deal was split along both tangents. The "loyalty" and "team unity" camps matched up against those that feel that this team after yesterday's deals has positioned itself as a true contender and shed salary in the process.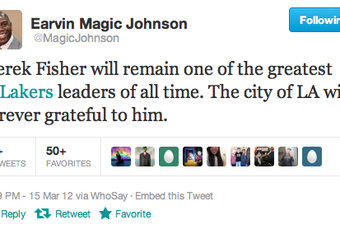 One thing that everyone seemed to agree upon was that Fisher's service to the Lakers had been memorable and worthy of high praise even from those who know a fair amount about being memorable members of the Los Angeles Lakers. 
Of course everyone thinks they're right but no one will know the answer to that question until the playoffs have properly vetted the deal. For that basketball fans will have to wait.