Baltimore Ravens Interested in Free Agent WR/KRs Eddie Royal, Ted Ginn, Jr.
March 14, 2012

Rick Stewart/Getty Images
The Baltimore Ravens are planning to take a look at two free agent wide receivers with kick return skills in the upcoming days—Ted Ginn, Jr., most recently of the San Francisco 49ers and Eddie Royal, who is coming off of a four-year stint with the Denver Broncos.
The team's pursuit of double-duty receivers is just what the Ravens need to do in free agency. They need veteran depth at receiver, but could sorely use improvements to their return game.
With free agent receivers being snapped up at an alarming rate, a more low-key player like Royal or Ginn would be most likely to remain on the market for a few days, giving the Ravens time to make a move.
Ginn caught just 19 passes for the 49ers in 2011, but was the team's leading returner, averaging 27.6 yards per kick return and 12.3 yards per punt return. Royal's career return average is similar, with 24.1 yards per kick return and 11.9 yards per punt return.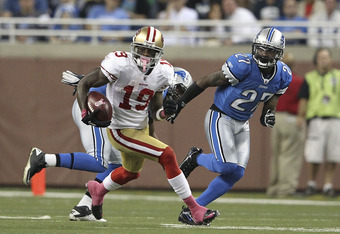 Leon Halip/Getty Images
Both players' best receiving years came in 2008. Royal had 91 catches that year, for 980 yards and five scores, while Ginn had 56 receptions for 790 yards and two touchdowns. Either man would likely be the Ravens' slot receiver.
Royal was first linked to the Washington Redskins yesterday and seemed on the verge of signing with that team until other squads, the Ravens included, expressed interest in him and the deal fell through.
Ginn is scheduled to meet with the Detroit Lions either today or tomorrow. As of this writing, the Ravens have yet to organize a meeting with either player, but have made their interest known.