The Sorcerer, the Vaporizer, and 12 Submissions We Still Haven't Seen in MMA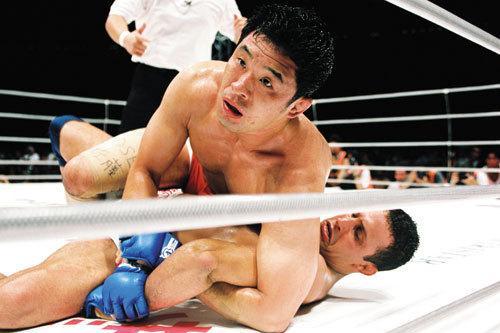 We've seen just about every submission possible in the MMA world, from the kimura to the armbar, to the heel hook, and heaven only knows how many versions of the triangle choke we've seen.
In addition, we've seen rear-naked chokes, arm-triangles, Achilles' holds, guillotines, the Americana, the north-south choke, and last year, we saw the Twister.
Now, this year, we saw the calf-crusher, but there's still a bevy of other submissions in the MMA world that no one in the MMA world has seen in a sanctioned MMA bout.
What you're about to see are ten submissions that have not been pulled off in MMA, and allow me to let you know in all fair warning:
There may be only about two or three that could actually be pulled off in MMA, but all of these submissions are on an insane level of pain if you know how to lock them just right.
Begin Slideshow

»
Now I might need an expert opinion on this in order to tell exactly what makes this version of the Twister different from the one we saw from Chan Sung Jung.
When Eddie Bravo demonstrates it, the "Swedish" Twister looks a little bit more uncomfortable than the regular version of the Twister because of the pressure applied to the opponent due to the placement of the arm.
We've seen the regular version of the Twister in the Octagon before, but imagine this version in any MMA bout...
The Executioner Neck Crank is probably as unlikely as any submission that Youtube will ever let you see, unless you're looking into pro wrestling submissions like the Koji Clutch, the Octopus Stretch, the STF, or the Bearhug.
However, unlike those that you might see in professional wrestling, the Executioner can make someone pay dearly for attacking the wrong leg on a single-leg takedown attempt against the cage.
Creative?
Not really at first glance, but if you put everything in its place when attempting this hold, the tap and perhaps even a nice Submission of The Night bonus could be next.
Pretty self-explanatory.
Get the back, trap an arm behind the back with one hand, place the shin on the arm, get the choke with the free hand, and force the tap.
The gogoplata's been seen before in MMA, but never like this.
With the right amount of flexibility and technique, though, could it be pulled off?
Hey, if a regular gogoplata can happen in MMA, a gogoplata from the back mount seems inevitable.
If this choke looks familiar, you either know your ECW or you know your Judo.
The Kata-Ha-Jime, better known as the single wing choke, could have been pulled off if the gi was still sanctioned for use in professional MMA competitions, but in the no-gi world of MMA that involved four-ounce gloves, it may be a bit tough to pull off.
Can it be done without the gi?
Well hey, if a Twister can happen, anything's possible.
It may just take a strong fighter to do it.
I'm sure anyone who has seen their WWE lately probably knows what the LeBell lock is, and really speaking, Gene LeBell's signature hold is something no MMA fan has seen done inside the cage or the ring under MMA rules
We've seen omoplatas and neck cranks done in the cage, and truth be known, the Twister, Swedish Twister, and the Exorcist Spine Twist do involve a little bit of a neck crank, but nobody's ever trapped the arm for an omoplata and then pulled off the crossface-hold.
Now, imagine someone doing this standing version of the hold...pretty painful thought of someone doing this, especially in an MMA bout.
The Anaconda VIce, an MMA move?
Actually, it's a Jiu-Jitsu maneuver often utilized in what some practitioners would call the "scarf hold position" in side control.
Call it a neck crank, or call it a choke, but realize that this is not an easy hold to sink in on an active opponent.
When the opponent is live and actively fighting back in order to defend this vice, the more likely scenario to encounter from this position would be the opponent on bottom clinching their opponent to more-or-less force a referee stand-up or a scramble, but it's never too late for this move to get pulled off inside of any bout under MMA rules.
Everyone, meet my favorite choke.
This baby has never been pulled off outside of the video posted here, but when the attacker maintains control of their opponent and can capitalize on the opponent's attempts to escape the choke's cousin, known as the Pentagram Choke.
All the attacker needs to do is thread the other arm through and squeeze their knees together to put their opponent out.
Weird choke?
Yes, but for the person that sinks this sucker in, it might be the most effective choke we may never see in the MMA world outside of Youtube.
The Scorpion Rib Crush is one of those submissions that one wouldn't initially think was a real submission. Truthfully, it seems like it might be an open invitation to get knocked unconscious the first time one sees it, but when applied in a correct manner, it can force a tap.
It doesn't work on everyone, but when it does, the only two options are to tap or let your lunch out.
Call it a "double armbar full nelson", call it "that one Eddie Bravo submission", or call it "a pain to get out of".
Either way, The Sorcerer requires some sweet flexibility and maybe a little bit of guidance from Bravo in order to pull it off with success.
Submissions like these aren't very complex as long as you have great flexibility and access to YouTube, so maybe the video demonstration is guidance enough. Just know that if you're going to use it in an MMA bout, be prepared to have to defend some vicious ground and pound in the process of getting anywhere close to pulling this off.
Either that, or train with Jake Salyer, who so far is the only man to have pulled off the double arm-bar in the cage.
If you know your submissions, you know that two of MMA's most brutal submissions are the slicers and the crushes.
Again, remember the calf-crusher we saw at the UFC on Fox 2 event?
The bicep crush is what we might call its cousin, just as the bicep slicer is seen as the cousin to the calf-slicer.
Would you like to see exactly how a human can crush a bicep, as opposed to slicing it?
If you answered yes, that's a good answer...just as long as you're not on the receiving end of one whenever you get a glimpse of this.
This can really mess you up badly if you're not careful, so proceed with caution...
It's really difficult to describe this one without a reference to a figure-four leglock, but it's one of those rare leglocks in the sport for which some might argue because of what goes into applying it.
Even if one loses the chance to tie the knot, the attacker can still get an Achilles' Lock in, but if the knot gets tied up, it's either tap or let the ankle snap.
I'd rather tap.
"One-third toehold, one-third calf-crank, and one-third devastation" is how I might be able to describe this Eddie Bravo submission, which is one of the most painful holds in the 10th Planet Jiu-Jitsu system.
The only catch is that the hold is not as easy to apply to an opponent that can defend the attempt as it would be in a demonstration for a Youtube channel. The only thing more painful than this hold is being trapped in this hold and trying to get out of it without tapping out or getting your knee severely damaged.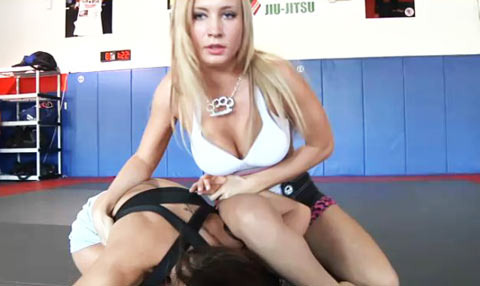 (Budo-Zone)
If you know of a submission that hasn't been pulled off in MMA, and you'd like to see it featured here, please don't hesitate to leave a link to it in the comments section.
If you have an opinion, feel free to leave it there too.