2012 NFL Free Agency: Would a Reunion for Plaxico Burress and Giants Make Sense?
March 7, 2012

Jim McIsaac/Getty Images
Don't look now, but the Plaxico Burress rumors are getting started up again.
That's right. You remember the whole song and dance from last summer, right?
If not, let me refresh your memory.
Burress is released from jail and negotiates with several teams on a contract for the 2011 season.
The Giants do offer Burress a contract, but it was more incentive-based, and ended up taking the first guaranteed offer he got in the summer; from the New York Jets.
Burress' first season back in the NFL was a decent one; Forty-five catches for 612 yards and eight touchdowns. It's not the numbers Burress used to put up as a No. 1 receiver a few years ago, but as a guy who was out of the NFL for two full seasons, it was pretty good.
There were a lot of rumors swirling that Burress wanted to play for the Philadelphia Eagles in 2012 and join an offense with Michael Vick, LeSean McCoy, DeSean Jackson and Jeremy Maclin.
But now, according to Mike Garafolo of the Star Ledger, Burress isn't ruling out a reunion with the team he won a Super Bowl with back in 2007.
Garafolo also said that while Burress' interest in the Eagles was high, the team's interest in the wide receiver was made out to be more than it was, kind of like last year, when Burress never made a visit to Philadelphia.
Does it make sense for Burress to go back to the Giants? Absolutely.
Burress wants one more chance at winning a championship and latching on with his former team who has an explosive offense and was more pass-based in 2011.
Plus, with the possibility that Mario Manningham could be playing for the Tampa Bay Buccaneers in 2012, the Giants will have an open vacancy at receiver.
Last year, Burress made it seem like he never had any intention on returning to the Giants, but given what happened with the Jets and their mess in 2011, Burress might look at the Giants situation and see that things aren't so bad on the other side.
Now, the flip side. Does it make sense for the Giants to bring Burress back? Good question.
Does a guaranteed contract for Burress make sense, given how he was a big part in the second-half collapse of the 2008 season? Absolutely not.
If Burress truly wants to play for the Giants and Tom Coughlin, then he will need to accept an incentive-laden, non-guaranteed deal for 2012.
If not for the past, then certainly for the fact that he will be 35 years old when the season starts up. Thirty-five-year-old receivers aren't exactly high on anyone's priority list right now.
My gut reaction right now says no on the Giants bringing Burress back.
Giants general manager Jerry Reese is all about moving forward and bringing in players who will help the team.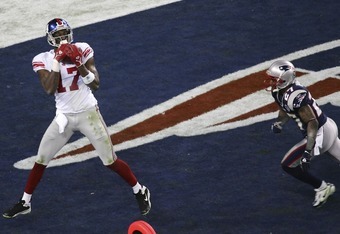 Jim McIsaac/Getty Images
I don't know if Reese sees Burress as helping the Giants win in 2012.
Although Reese could see Burress as a potential red-zone target for Eli Manning to utilize again. Hakeem Nicks and Victor Cruz are the deep threats, but neither are that tall receiver that can jump over defenders and create a huge mismatch.
The Giants were hoping for that with Ramses Barden, but in the three years he's been on the team, Barden hasn't been able to stay on the field and produce with consistency.
So in all reality, you just never know.
But if you asked me right now, I wouldn't bet on seeing Burress wearing his old No. 17 jersey in blue when the 2012 season begins in September.
The draft next month will really determine if the Giants have any serious interest in Burress.
Stay tuned, Giants fans.