Philadelphia Phillies: Why Fans Should Not Panic over Ryan Howard's Setback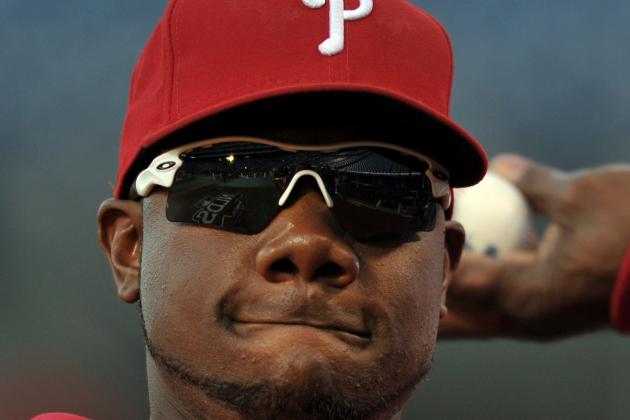 Drew Hallowell/Getty Images

The Philadelphia Phillies are expected to again reign supreme in the National League East in 2012. After a historic 2011 campaign in which they won a franchise record 102 games, they return largely the same group of players.
In fact, they could be considered better with a proven closer in Jonathan Papelbon and an All-Star RF in Hunter Pence. The fact remains that "The Big Piece" in their lineup will miss time in the early-going.
Ryan Howard had a setback in his rehabilitation from a torn Achilles tendon. He needed an infection cleaned out by the same doctor who conducted his surgery.
He is considered to be out "indefinitely" at this point and that is never good news for a struggling offense. Here's why Phillies Nation shouldn't fret Ryan Howard's setback.
Begin Slideshow

»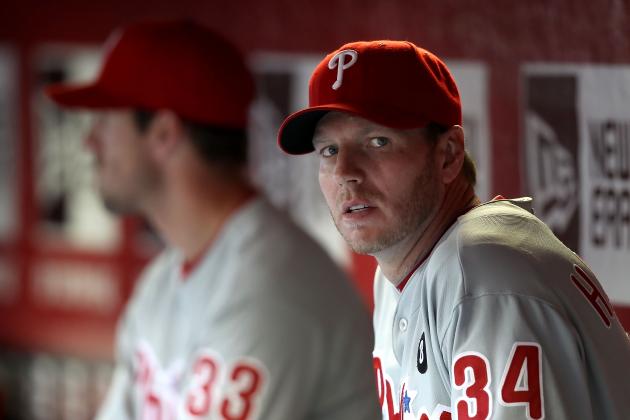 Christian Petersen/Getty Images

Pitching is the great equalizer in baseball. The ability to keep the opposition off the scoreboard will always keep you in games.
That's why GM Ruben Amaro has this team in a position to contend for a World Series championship every season. As long as Roy Halladay, Cliff Lee and Cole Hamels (no offense Vanimal) take the mound every fifth day, it's going to be very difficult to put together a winning streak against the Phillies.
Ryan Howard can take his time coming back from injury until he's finally healthy. He can sleep well knowing that the Phillies pitching will keep them in every game.
Three runs for the Phillies and there is a great chance they will win the game. It's as simple as that.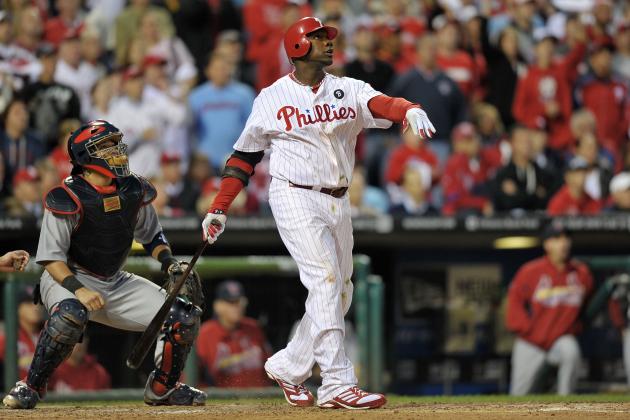 Drew Hallowell/Getty Images

The greatest era of Philadelphia Phillies baseball has centered around Jimmy Rollins, Chase Utley and Ryan Howard from an offensive standpoint. Well, the Phillies have had to endure long stretches without Rollins and Utley (screw you degenerative knee), and they were still able to win games.
Utley missed the first two months of last season and the team was still able to win the most games in franchise history. This team knows how to win and they'll do whatever it takes to win.
Ryan Howard or no Ryan Howard.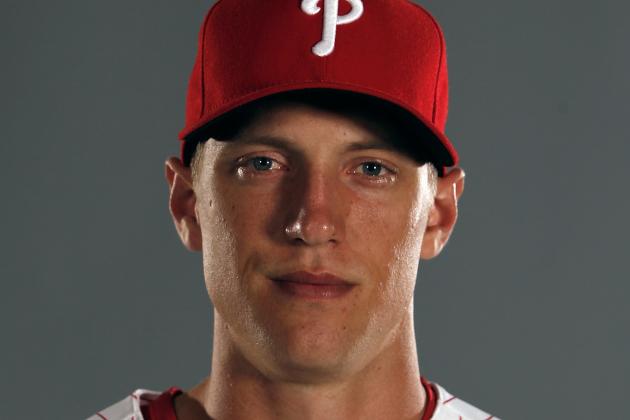 Jonathan Ferrey/Getty Images

Remember last season when all of America was clamoring how the Philadelphia Phillies needed another right-handed bat? Remember when the name Hunter Pence was thrown into the conversation and the so-called "experts" laughed out loud at the notion?
Never count out Ruben Amaro, as he added a guy who hit well over .300 and 20+ HR. Pence hit in a pitcher-friendly ballpark with the Houston Astros, not to mention it was often half empty.
Now he's hitting in a "band box" (Jeff Francouer's words not mine) in front of the most passionate fans in the country. Hunter Pence is the now the man that makes this offense go, regardless of how much money Ryan Howard makes a year.
It's time for the lineup to jump aboard Hunter Pence's broad shoulders.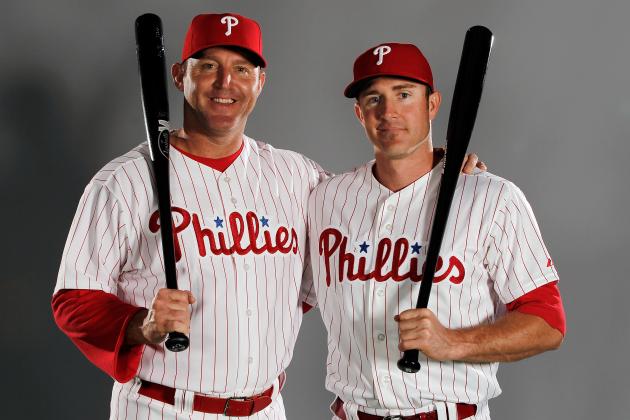 Jonathan Ferrey/Getty Images

I find it downright humorous that teams like the Miami Marlins (30.0 games behind) and the Washington Nationals believe they can compete with the Philadelphia Phillies in 2012. Maybe in a couple of years they will have their moment, but there not even close to the same level as the Phigtin's.
As Phillies Nation sits back this spring training and plays GM, we ask ourselves this simple question: Which teams scare you in the National League?
The defending champion St. Louis Cardinals lost their offense when they lost Albert Pujols. The Milwaukee Brewers lost their Prince, and their golden boy LF Ryan Braun will have to endure steroid allegations for the rest of his career.
The San Fransisco Giants will continue to be strong with their starting pitching, and the Arizona Diamondbacks are up and coming. I get all of that believe me I do.
Riddle me this: Which team would you rather have in a playoff series? I know what's happened to the Phillies since 2008, but they're stronger on the bench and they've added Hunter Pence.
Halladay, Lee, Pence, Papelbon, Worley, Thome, Wigginton, Nix, Mayberry Jr. have all been added to this team since they won it 2008. The fact that the bats have gone cold at the most inopportune times happens in baseball.
GM Ruben Amaro has done his job, it's time for the guys to go out there and back him up. They can survive without Ryan Howard until he is fully healthy.