Marcos Ambrose Will Win at Least One Oval NASCAR Race This Season
March 6, 2012

Tyler Barrick/Getty Images
We are two races into the 2012 NASCAR Sprint Cup Series season and we have a lot of different stories to follow. From Danica to Matt Kenseth winning the Daytona 500, to the Jet Dryer fire to Jimmie Johnson's impending penalties. 
Flying under the radar is Marcos Ambrose.
With A.J. Allmendinger gone from Richard Petty Motorsports, Ambrose is already showing that he can carry the load of being the team's top driver.
Ambrose has looked strong all during Speedweek, the Daytona 500 and this past Sunday in the Subway Fresh Fit 500 at Phoenix.
Ambrose finished third in the Budweiser Shootout and the first Gatorade Duel race.
He ran up front for a good portion of the Daytona 500 and held his own against the top NASCAR teams, finishing 13th.
Now Daytona is a track where any team can win with how wild the racing and the drafting is.
But Phoenix is where Ambrose really showed his skills and his team's strength.
Marcos ran up front for most of the race, getting up to third with less than 20 laps to go. Then disaster stuck.
The motor blew on the No. 9 Stanley Tools Ford and ruined Ambrose's day.  He ended up finishing in 32nd.
Ambrose's run in Phoenix was really impressive for a team that has had some rough seasons and a questionable future.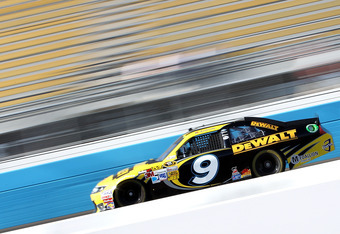 Christian Petersen/Getty Images
What has helped Ambrose is working with veteran crew chief Todd Parrott. Parrott's experience has helped Ambrose adjust to NASCAR and get better every race.
Ambrose has tremendous driving skills, which he shows at the road course races in both the Sprint Cup and the Nationwide Series.
Ambrose broke through and won his first career Sprint Cup Series race last season at Watkins Glen. Now the question is, when will Marcos Ambrose win an oval race?
I believe that answer is 2012.  
Both Ambrose and his team keep getting better on oval tracks and as the season goes on, Ambrose is only going to improve and be in contention to win.  
He's going to be the favorite at the road course races and he could sweep both races.  I expect him to win at least one oval race this year.  
While everyone is focused on Tony Stewart, Carl Edwards and the other top drivers, watch out for the Tasmanian to strike and steal a few wins in 2012.