LA Dodgers 2012 Preview: What to Do with Young Stud Nathan Eovaldi
March 6, 2012

Joe Murphy/Getty Images
Coming into the 2012 season, the Los Angeles Dodgers are looking to pitch their way back into relevance. Behind the dominance of Cy Young winner Clayton Kershaw, the consistency of Ted Lilly and the hopeful reemergence of Chad Billingsley, the Dodgers added two quality free agent starting pitchers this offseason.
GM Ned Colletti diverged from the expected route of re-signing fan favorite Hiroki Kuroda, while letting a young pitcher fill the role of fifth starter. Instead, Colletti signed Aaron Harang and Chris Capuano to two-year deals. Although both Harang and Capuano have had numerous successful seasons in the major leagues, Colletti essentially blocked the arrival of Nathan Eovaldi, one of the few bright spots from 2011.
Eovaldi was unknown to most Dodger fans coming into 2011, ranking behind highly touted pitchers such as John Ely, Chris Withrow and Allan Webster. However, Eovaldi came into 2011 Spring Training and impressed with his stuff and his grittiness, fighting his way through innings while showing great command. By the end of March, the right-handed power pitcher was one of the few prospects getting considerable looks in Major League games.
Nathan, a 22 year old from Texas, went to Double-A Chattanooga after 2011 Spring Training camp broke. Showing great consistency in the minors, Eovaldi earned a call up in August after fellow prospect Rubby De La Rosa went down with a year-ending elbow injury that required Tommy John surgery.
Colletti was cautious with Eovaldi, communicating with the Double-A pitching coach dozens of times to make sure Eovaldi's emotional makeup was strong enough to deal with potential failure. Many others were worried because Eovaldi had failed to truly dominate any level of the minor leagues, finding some success but never blowing away hitters.
Eovaldi's Dodger debut went smoothly, he won his first start and proceeded to have five solid starts in his first six chances.  Eovaldi did not dominate hitters, striking out just 23 batters in 34 innings. But he was able to limit the damage when faced with trouble, appearing unfazed in any situation.
As the 2011 season closed, most expected Nathan to have a spot in the 2012 rotation since he had done nothing but impress.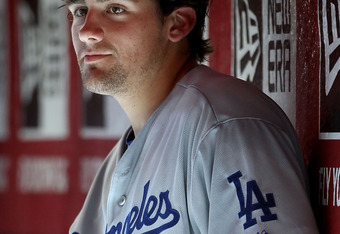 Christian Petersen/Getty Images
However, with the addition of Capuano and Harang, Eovaldi seems to be the odd man out. Although everyone from Don Mattingly to Ned Colletti continue to praise Eovaldi, even comparing him to the likes of Kershaw, they have not allotted him a slot in the opening day rotation.
With the Dodgers' history of pitching injuries, Eovaldi's depth is a necessity and he will likely get quality innings on the Major League roster this year. My question, however, is why did Colletti go out and sign Capuano and Harang, which will only limit Eovaldi's 2012 impact?
Is it better for Eovaldi to be on the Major League roster, assuming the role of spot starter and bullpen swingman? Eovaldi's durability is not in question because of his athleticism and age.  His velocity (92-95 mph) and repertoire of a power fastball, solid curveball and changeup also make him a candidate to be a valuable bullpen arm.
On the other hand, Eovaldi could continue to pitch every fifth day and provide leadership in Triple- A Albuquerque.  He could stay on track to replace any starter that goes down with an injury, or the Dodgers could even go to a six-man rotation during the dog days of the summer. The six-man rotation is a hopeless dream that I have had for years, but it could really provide a little extra relief for the fragile arms of Harang and Capuano.
The Dodgers might not be convinced just yet to hand Nathan a true impact role, as his numbers reflect a more mediocre starting pitcher. His 1.38 WHIP, 20 walks and high pitch counts are all reasons to suggest Eovaldi could benefit from more time in the minors or in the bullpen. His inability to go deep into games (six innings was his longest outing) could tax the bullpen and over time, the Dodgers might want to put a cap on his pitches in hopes of protecting his arm.
At the end of the day, Eovaldi's versatility, youthfulness and willingness to accept any role are huge assets that will serve him well as the season moves forward. I believe he deserves a shot to win a spot in the starting rotation, as his talent and excellence have only begun to be tapped into.
If Nathan fails to make the starting rotation out of Spring Training, as expected, I personally think he should stay with the big league team due to the fact that he has nothing left to prove in the minors. Learning from the best while seeing time out of the bullpen has helped many young pitchers hone their skills.  No matter what transpires in Spring Training, Eovaldi will see quality Major League innings due to injury.
With the Dodgers being in the tenuous state they are in, Eovaldi could be another season rescuer along the lines fellow Texan Clayton Kershaw was in his breakout 2009 campaign. Dodger fans can only hope for a miracle season that would foster another trip to the NLCS, but with the solid foundation of the Dodgers' pitching rotation, anything is possible if the team can find ways to score some runs.