Lakers Trade Rumors: Raymond Felton Would Fix LA's Point Guard Issues
March 6, 2012

Harry How/Getty Images
The Los Angeles Lakers need help at the point guard position. By trading for Portland Trail Blazers' Raymond Felton they will fix that gaping hole. 
According to Chris Haynes of CSNNW.com, the Trail Blazers and Lakers have been in talks with each other about swapping Felton for Steve Blake, saying:
A league source has informed CSNNW.com that the Los Angeles Lakers and the Portland Trail Blazers have had "exploratory talks" regarding Trail Blazers' guard Raymond Felton.

According to the source, talks have been ongoing for weeks and it is likely to involve Lakers' guard Steve Blake in the deal.

CSNNW.com has also been told that terms of this potential deal "haven't got off the ground" but it is one that is being considered by both sides. 
Currently, Felton is in the midst of career low numbers of 9.7 points, .368 shooting percentage and 6.1 assist per game. However, this is an odd year for Felton as over his career he has a .410 shooting percentage and averages 13.4 points and 6.7 assists per game.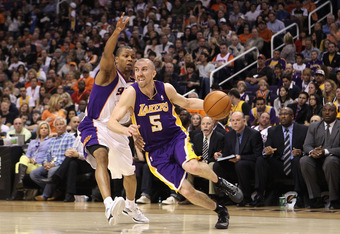 Christian Petersen/Getty Images
If the Lakers would make the swap of Blake for Felton they would be fixing a problem since the current crop of Lakers point guards are struggling to produce (Blake), or are on the last legs of their career (Derek Fisher). 
Blake has seen his numbers decrease over the two full months of this season. In January, Blake averaged 7.3 points per game; however, last month his production dropped to 6.3 and starting out and in March he's averaging only two points.  
In fact, when it comes to playing the Pacific Division, Blake has a only two points per game, a .278 shooting percentage and just four assists.  
However, those comparisons are for who Felton would be traded for; while comparing Felton to the current Lakers starter Fisher, Felton's numbers are still light years ahead of his.  
Fisher only has a 5.5 points per game against division opponents, a .409 shooting percentage and 3.3 assists.  
Felton isn't the big flashy name that will jump off of the pages of the sports section of the LA Times. However, he is the smart basketball decision to help fix a huge problem on this current Lakers team. 
He can help run this offense, while providing a solid second option to Kobe Bryant when the Lakers need a basket.  
At the trade deadline, the Lakers do not need to go out and over spend for Dwight Howard, instead they have to make a smart decision by adding Felton.