Danica Patrick: Why Has She Been Involved in So Many Crashes Lately?
March 6, 2012

Tom Pennington/Getty Images
Anybody who's worried about Danica Patrick's start to the NASCAR season, particularly in regard to the amount of her equipment torn up in Daytona, is jumping the gun.
No, the statistics didn't look good during Speedweeks. In three races, Patrick was the victim of three crashes. On the last lap of her Gatorade Duel, she took a hard hit on the backstretch that led to extended debate about drivers taking their hands off the wheel.
In the Nationwide race, an ill-timed attempt at bump drafting by teammate Cole Whitt sent her into the wall around the halfway point of the race. And her Daytona 500 ended before it began, as a second-lap accident not of her doing ended any pursuit of a good finish.
But remember, that's Daytona. Few drivers escaped the weekend without being involved in some sort of accident, and none of the accidents were Patrick's fault. In other words, the simple answer to the headline above is "extremely bad luck."
This weekend's Nationwide race at Phoenix represented a step forward in re-establishing Patrick's footing after a tough Speedweeks.
Her 21st-place finish wasn't exactly world-beating, and she fell off the lead lap early due to a 30th-place starting position, but she managed to keep a loose car under control and didn't make any errors all day.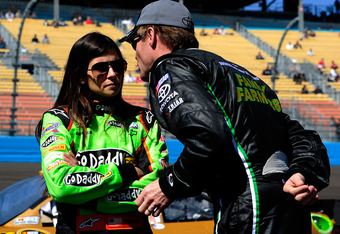 Robert Laberge/Getty Images
But Patrick is under a microscope every weekend, and that's not going to change for a very long time. Like Dale Earnhardt Jr., her celebrity transcends the race track in a very modern sense: advertising superstar first, respectable racing driver second.
Perhaps that's more a representation of where the sport has headed than who Patrick actually is, but it is what it is.
People want to read stories about her, whether it's because she's a female trailblazer in a male-dominated sport, because she's a major celebrity, or because they're a doubter who doesn't want to see her succeed to prove some sort of point.
So if you need to take a story out of Patrick's weekend, take this: she refused extended media comment after Phoenix. That's something that Earnhardt Jr., her Nationwide car owner and the best comparison as far as media reach goes, rarely (if ever) does.
A good part of that decision was probably out of frustration from a long day. Some of it might have been her better judgment telling her not to speak, lest she throw her crew under the bus (it wouldn't be the first time, as any IndyCar fan can tell you).
Or maybe she just wants us all to cool our jets and let her race.
I guess we can try that.