Albert Pujols Impresses in Angels Spring Training Debut: LAA Beats A's, 9-1
March 6, 2012

Joel Auerbach/Getty Images
New Los Angeles Angels first baseman Albert Pujols had seen exactly one pitch in his Halos spring training debut, but that was all he needed. On that first pitch, Pujols crushed a Brad Peacock offering into left field for an RBI double, driving in shortstop Erick Aybar and advancing second baseman Howard Kendrick to third base.
Pujols later came around to score on a Vernon Wells single to center field and by day's end had collected two hits in three at bats before being lifted for pinch hitter Jorge Cantu in the top of the fifth.
By the time Oakland's Manny Ramirez struck out in the fourth inning, the Angels had taken a commanding 9-0 lead, with Pujols responsible for two of those seven runs—Kendrick drove in two and scored twice, while the other six run-scorers were Aybar (twice), right fielder Torii Hunter, Wells, third baseman Alberto Callaspo and new catcher Chris Iannetta.
The contest was such a hit parade for Los Angeles that every starter, save for DH Hank Conger, had at least one hit, with Aybar, Kendrick, Pujols, Wells and Iannetta reaching base multiple times. Conger wasn't completely shut out though, reaching base on a third inning walk at the hands of pitcher Grant Balfour.
Here's a gem the Angels rarely got to say in 2011: Their starting catcher was also their lead RBI man—Iannetta drove in three of the team's nine runs.
As for the other half of December's Angels free agency coup, starter C.J. Wilson pitched two innings, giving up one single to Coco Crisp and walking Kurt Suzuki for a 0.00 ERA and WHIP of 1.00.
Another new Angel, pitcher Brad Mills, took over for Wilson, holding Oakland scoreless in the third and fourth. The Angels had acquired Mills from the Toronto Blue Jays in exchange for struggling catcher Jeff Mathis.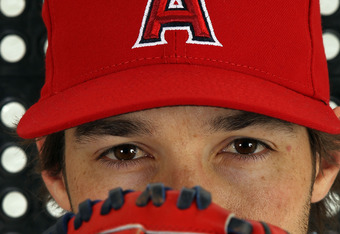 Jamie Squire/Getty Images
Notably absent Monday was first baseman Kendrys Morales, who is still recovering from a multi-year ankle injury that the Angels are hoping will be resolved by April.
For the Angels, the only footnote to damper their impressive March debut was the identity of their opponent: The Oakland Athletics played a series of split squad games Monday as part of their effort to play a compressed spring training schedule. The A's had come into Monday's contest with a 2-1 record.
The A's and Seattle Mariners will start the MLB regular season early when they play baseball's opening game on March 28 at the Tokyo Dome in Japan, the fourth Japan Opening Series and first since the Red Sox vs. A's 2008 premiere.
Spring training is an opportunity for teams to test out their offseason acquisitions and alignments, for players to return to playing form in advance of the marathon 162-game MLB season and for fans to catch a glimpse of their favorite teams in the warm Arizona or Florida sunshine.
Because of the fluid mindset characteristic of the annual March preseason, baseball enthusiasts collectively accept that spring training stats are not always reliable—the Kansas City Royals finished in second place in the 2011 Cactus League final standings yet were near the bottom of the MLB charts at the end of the 2011 season.
Still, the Angels' blowout of Oakland in their spring training debut should provide fans back in Anaheim with a great deal of excitement heading into 2012.