EPL: Manchester United and the Rise of David De Gea
March 3, 2012

Clive Brunskill/Getty Images
When David de Gea was dropped by Sir Alex Ferguson for Anders Lindegaard, it appeared that he would not be United's goalkeeper for a very long time.
He was making silly errors, couldn't handle crosses and did not have the confidence needed at the back.
One freak injury to Lindergaard and De Gea was back and the speculation was rife that Manchester's title hopes would slip away with the keeper's mistakes.
And amidst all the speculation and criticisms, the real David de Gea stepped up.
The David de Gea that was rumored to be worth £17 million was finally in sight for all to see and the success began to flow.
He was instrumental in helping United secure a valuable point against Chelsea, with his save against Juan Mata's free kick arguably the best save of the Premier League season so far.
He was named Man of the Match against Norwich City last week—the only keeper in the season to receive an award to date, and followed that award up by being named Manchester United's Player of the Month.
What's more, he won with nearly 50 percent of the vote.
His unique abilities were always evident, but the main thing De Gea has shown lately is a significant increase in his confidence, something that Tottenham goal keeper Brad Freidel publicly vouched for De Gea about.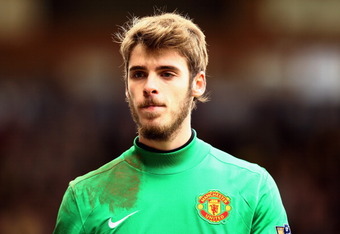 Bryn Lennon/Getty Images
Freidel said via The Sun that:
Goalkeeper is more of a mental position than any other on the field.

People need to give De Gea some credit for some great saves. That shows a lot of character—and the younger you are, it's even harder to do.
When De Gea hesitantly tried to clear the ball against Blackburn, he looked fragile; when he tried to do it against Norwich, he leaped with confidence and assurance.
He looked like the goalkeeper of Manchester United.
Which is in no easy title to make your own, with players like Peter Schmeichel and Edwin van der Sar coming before you. That's a rich history of prestigious keepers to follow and the pressure for success is as high as any club in the world.
And so far, this time around at least, De Gea is rising to meet those expectations.
Playing in the English Premier League is very different to playing in La Liga—especially when its for Manchester United and all that comes with being a Red Devil.
But with De Gea's natural reflexes and instincts already honed, and now solid in the air, the young Spaniard may continue to don the United shirt for many seasons to come.
He may even find himself with a league title to his name if he continues his fine form.
Read more articles by Dan here or follow him on Twitter: @dantalintyre.