Detroit Red Wings: Brendan Smith and Detroit's Most Well-Kept Secrets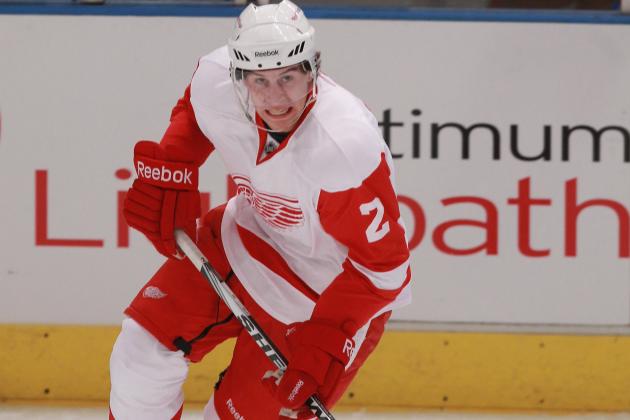 Bruce Bennett/Getty Images

In case you've been living under a rock for the last 20 years, the Detroit Red Wings are kind of good at drafting and developing players into NHL stars. After guys like Nicklas Lidstrom, Sergei Fedorov, Pavel Datsyuk, Henrik Zetterberg, Valtteri Filppula, Johan Franzen and others are drafted after the third round, you have to start assuming the front office knows what they're doing.
And yet for the past 10 years or so, there have been waves of fans saying that Detroit is going down.
They said it when Yzerman and Shanahan were aging and after the rise of Datsyuk and Zetterberg. You'd think they'd learn from past mistakes—but that's not the case. There are still a slew of people claiming that the Wings' window is closing.
However, anybody who takes a close look at the Red Wings' prospect pool would know that the end is nowhere near for Detroit.
That said, let's look over Detroit's most well-kept secrets.
Begin Slideshow

»
Drafted: 35th overall in 2011
Position: Center
Currently Playing For: Saint John Sea Dogs
Analysis: Leading up to the draft, Tomas Jurco had been drawing comparisons to current Chicago Blackhawk and former Red Wing Marian Hossa. After many Detroit fans saw the video above, Jurco began drawing comparisons to Pavel Datsyuk.
It may be a hasty assumption to compare Jurco to one of the best players in the world, and he's going to have to work on skating and defense in order to make his outstanding stick-handling matter in the NHL, but Jurco could turn out to be a great pick for Detroit.
With 45 games logged in the QMJHL this season, Jurco has 65 points and is a plus-43 rating. Jurco also had an impressive performance during the World Junior Championships in Calgary this year, despite playing for a subpar Slovakian team.
Jurco is still three to four years away from making the Red Wings, but when he hits the NHL, Ken Holland certainly hopes he'll be a hit.
Drafted: 111th overall in 2010
Position: Right Wing
Currently Playing For: Jokerit Helsinki
Analysis: Pulkkinen has taken a bit of a slide in the rankings this time around for a number of reasons. For starters, he's a bit young, but there are also concerns of how well he'll make the transition from European hockey to North American hockey.
Pulkkinen still draws a lot of criticism for his poor skating, which may or may not get better when he comes over to North America. There's less ice space on NHL ice than there is in Europe, so there's no telling whether that will benefit Pulkkinen or hurt him.
And if there's anybody who can help him make the improvements, it's Detroit.
In the World Junior Championships, Pulkkinen was one of the top-five scorers in the entire tournament, which would suggest that his skating isn't hurting him too much on NHL ice.
Nonetheless, there was a point when Pulkkinen was once considered to be right in the mix for first overall in the 2010 draft with Taylor Hall. Due to missing the better part of two years with injuries, Teemu fell far in the rankings.
Pulkkinen had a stellar season last year with Jokerit, breaking an assists record set by Teemu Selanne. This year, he's not doing so well, but neither is the rest of the team, so it remains to be seen where Pulkkinen will go in the NHL. He could be a 40-50 goal scorer or he could be a complete bust.
Drafted: 51st overall in 2010
Position: Center
Currently Playing For: Byrnas IF
Analysis: Jarnkrok moves up a spot in the rankings this time around. The young Swede has played in a manner that is drawing a lot of comparisons to Red Wings' superstar Henrik Zetterberg, who is coincidentally his favorite player.
The biggest issue with Jarnkrok is his weight. Upon being drafted, Jarnkrok only weighed 156 pounds, and a more recent update suggests he's gained ten pounds, but he may have gained even more since then.
Nonetheless, Jarnkrok is going to have to put on a lot of muscle to not be destroyed by the bigger players in the NHL.
Currently with Byrnas, Jarnkrok has 37 points in 48 games, which are stats comparable to those of Henrik Zetterberg at the same age. When Zetterberg was 21, he had 46 points in 47 games, and when he was 22 he had 32 points in 48 games.
Needless to say, if Jarnkrok can come anywhere near Zetterberg's caliber of talent, Detroit will be happy with their pick.
Drafted: 121st overall in 2008
Position: Left Wing
Currently Playing For: Grand Rapids Griffins
Analsys: Nyquist also moves up a spot with Pulkkinen's drop, and the current Grand Rapids Griffin is undoubtedly an NHL-ready player. Unfortunately, he suffers because of an overloaded Detroit offense.
Currently, Nyquist leads the Griffins with 51 points in 49 games and has a plus-three rating. He's also been up with Detroit for five games this season, posting one point and holding a plus-one rating.
Considering he only averages eight minutes of ice time in those five games, that's a pretty decent performance for the talented prospect.
Nyquist will likely finish the season with Grand Rapids and he may be lucky enough to get in a few playoff games with the Red Wings as a black ace in the spring.
Next season, Nyquist will likely have a permanent spot in the Red Wings roster, and we'll be able to get a better look at how he'll perform at the NHL level. He currently projects as a first- or second-line player.
Drafted: 27th overall in 2007
Position: Defense
Currently Playing For: Grand Rapids Griffins
Analysis: Smith is an absolute beast. Up until a few weeks ago, Detroit's overloaded defensive lineup prevented him from ever coming up to the roster. Now, with injuries to Nicklas Lidstrom and Jonathan Ericsson as well as the trade of Mike Commodore, Smith is in the Wings lineup and looking like he belongs.
Currently, the stud defenseman has 32 points in 47 games with the Griffins, and in such a limited amount of ice time in the four games he's played with the Red Wings, Smith has managed to put up two points and post an even rating.
Smith did get into a little trouble during the pre-season with the Red Wings. He was suspended for eight games for a hit on Chicago prospect Ben Smith. Although the hit didn't look intentional, there was no getting away from a suspension, likely costing Smith a few extra possible NHL games.
Still, Smith is a very promising prospect for Detroit. He's been a Hobey Baker Finalist for the NCAA's best player and is projected to be a top pairing defender as well as a common member of the All-Star Game.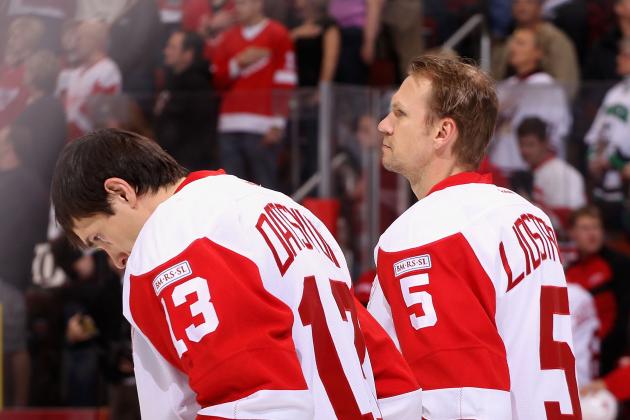 Christian Petersen/Getty Images