Jonathan Daniel/Getty Images
March 2, 2012
After missing Tuesday's game against the Columbus Blue Jackets, Detroit Red Wings legendary defenseman Nicklas Lidstrom will miss at least two more games with a deep ankle bruise.
The news was reported by a local Detroit website on Thursday evening, and the seven-time Norris Trophy winner will miss Friday's game against the Minnesota Wild and Saturday's game against the Chicago Blackhawks.
The Red Wings have been dealing with plenty of injuries lately, specifically at the blue line. Jonathan Ericsson broke his wrist on Saturday in a game against the Colorado Avalanche. Then, both Lidstrom and Kyle Quincey skipped practices and missed Tuesday's game in Columbus.
Ericsson is said to be out for a month, while Quincey, who has a sore groin, is said to be skating and is a possibility for Friday's game against Minnesota.
Up front, Pavel Datsyuk has missed the past week and a half after having maintenance surgery on his knee.
Meanwhile, even with Lidstrom and Quincey's additional injuries, Ken Holland traded away extra defender Mike Commodore on Monday afternoon of the trade deadline.
Until Lidstrom is back, Brendan Smith and Doug Janik from the Grand Rapids Griffins will remain on the Detroit roster.
Janik is a veteran AHL defenseman, while Smith is widely recognized as Detroit's best, most NHL-ready prospect, and certainly their best defensive prospect.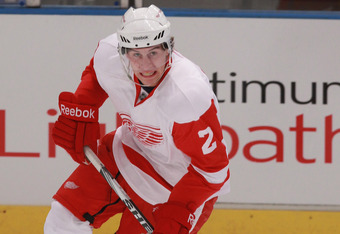 Bruce Bennett/Getty Images
While Lidstrom's injury may seem to be a problem, it actually may be a blessing in disguise. The nearly 42-year-old defender will get some time to rest in the latter half of the season in preparation for the playoffs.
In the meantime, Brendan Smith will get some quality time to get accustomed to the NHL level of hockey, which could be vital to his continuous growth.
Smith is projected to be a top NHL line defender in the future, and some professional experience could be great for his development.
Detroit certainly is hoping for no further injury complications with their top defender, but some time off should be good for Lidstrom, as the Wings aim to make a run at the Stanley Cup this season.
Jordan Matthews is a featured columnist for the NHL and the Detroit Red Wings. You can read recent articles by Jordan here:
Five Red Wings who Need to Show Up for a Successful Cup Run
Detroit Red Wings Post-Trade Deadline Roster Analysis
You can also follow Jordan on Twitter: Follow @JordanMatthew11
Like the new article format? Send us feedback!