Detroit Red Wings: Post-Trade Deadline Analysis of the Team
February 29, 2012

Dave Sandford/Getty Images
The trade deadline has come and passed, and we're headed into the final stretch of the 2011-2012 NHL regular season. As March begins, we'll have games getting more and more intense as teams battle for playoff position, or draft position, whichever the case may be.
For those teams that have made trade deadline moves, it's a time of analysis over what their team improved and needed to improve—the Detroit Red Wings are one of those teams.
The Red Wings were somewhat inactive at this year's deadline, which is more active than they usually are on the trade market at this time of year.
Detroit's moves started early in the week. The Colorado Avalanche moved former Detroit defenseman Kyle Quincey to Tampa Bay for Steve Downie. Tampa Bay GM and Red Wings legend Steve Yzerman then promptly moved Quincey back to Detroit for the Red Wings' first-round pick.
Holland and Yzerman weren't done making deals there, as on the afternoon of deadline day, the Red Wings moved extra defenseman Mike Commodore to Tampa Bay for their conditional seventh-round draft pick.
There's a lot to note about these trades. First off, Detroit will likely never see Tampa Bay's seventh-round pick. The conditions of the pick are that Commodore must play in 15 of Tampa Bay's remaining 20 games, and the Bolts must make the playoffs.
Currently, Commodore is likely to get enough games played, but with the Bolts being five points out of the playoffs this late in the season, it's unlikely that Detroit will ever see Yzerman's pick.
So the question becomes, why would Detroit essentially give away Commodore? For starters, they had eight defensemen, then Jonathan Ericsson broke his wrist, bringing them down to seven. Commodore's trade made it six.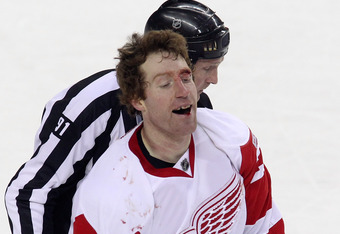 Mike Ridewood/Getty Images
Losing Nick Lidstrom and Kyle Quincey for a game didn't make matters better, but Detroit managed to control things anyways.
The answer to why Commodore was traded is quite simple—Brendan Smith was ready.
After Smith was called up from Grand Rapids, Red Wings coach Mike Babcock said in an interview:
"We felt the minutes in the minors were important. We felt he'd be on the team by the end. We think he's an NHL player. He could've probably played all year, probably could've played last year."
Moreover, Babcock hinted that he's wanted the talented defenseman all year when he said this:
"What this gives us is an opportunity to give him some nurturing. Actually, if the truth be told, the coaching staff wanted him, the general manager wanted to make sure he got some seasoning."
Smith's promotion to the Red Wings may be a more permanent one this time around, at least until Jonathan Ericsson returns from his wrist injury.
Up front, the Red Wings made no moves at the trade deadline, though there were rumors that they were looking at Paul Gaustad, who was acquired by the Nashville Predators.
Negotiations for Gaustad broke when the Buffalo Sabres set the price at a first-round draft pick, which the Red Wings didn't have after grabbing Kyle Quincey from the Lightning.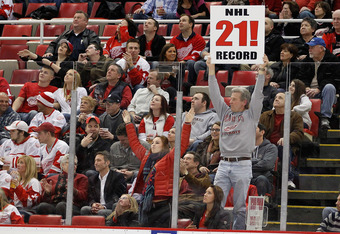 Gregory Shamus/Getty Images
Regardless of not making a move for a depth forward, the Red Wings should be fine up front. They're currently fifth in the NHL offensively, and when you combine that with their stellar defensive squad, it makes them one of the toughest teams in the league to beat.
In addition, consider the fact that the Red Wings will likely have home-ice advantage for a good portion of the playoffs, and the team is nearly unbeatable at home, having a record of 26-3-2 at Joe Louis Arena.
During those home performances, the Red Wings have averaged 3.6 goals per game, while only allowing an average of 1.8 goals against. Thus, if the Red Wings get home-ice advantage, watch out.
Despite only making minor improvements defensively at the trade deadline, the Detroit Red Wings are still a force to be reckoned with in the NHL, and they're certain to be a Stanley Cup favorite as this year's playoffs loom.
Jordan Matthews is a Featured Columnist for the NHL and the Detroit Red Wings. For more coverage, you can read recent articles by Jordan here:
NHL Trade Deadline: Detroit Shakes up Defense Again
Detroit Red Wings: Eight Reasons Fans Can Count On a Deep Playoff Run