NHL Trade Deadline: Detroit Red Wings Shake Up Defense Again
February 27, 2012

Gregory Shamus/Getty Images
Just a few days after the Detroit Red Wings acquired defenseman Kyle Quincey in a three-way trade involving the Tampa Bay Lightning and the Colorado Avalanche, they've made more defensive moves.
At around noon on the day of the trade deadline, the Red Wings traded Mike Commodore to the Tampa Bay Lightning for a seventh-round draft pick, as reported by ESPN.
This move isn't unexpected though, as Quincey gave the Red Wings eight defenders with one-way contracts. The only real question up until today's trade was whether it would be Commodore or Jakub Kindl to go.
However, this move is rather interesting now that the Red Wings have lost defenseman Jonathan Ericsson for a month due to a wrist injury.
With Ericsson's absence, trading Commodore has left the Wings with six defenders, and Mike Babcock hasn't made it any secret that he's not pleased with Kindl's lack of physical play lately.
So the real question is how do the Red Wings solve what has turned from a defensive surplus to a lack of defensemen?
The answer is relatively simple now, as Red Wings general manager Ken Holland noted Monday afternoon during a live interview with TSN that the Red Wings would play highly touted defensive prospect Brendan Smith in Tuesday's game against the Columbus Blue Jackets.
Smith is widely regarded as Detroit's best prospect, and that's speaking of a highly regarded prospect pool.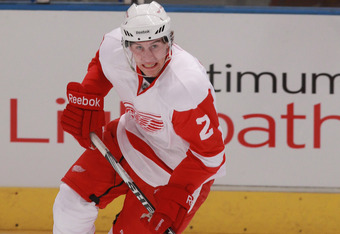 Bruce Bennett/Getty Images
Another possible complication is that Nicklas Lidstrom may not be ready to play in Columbus, and there is speculation that Doug Janik may be recalled from the Grand Rapids Griffins as well.
No other moves were made by the Red Wings for the rest of the day, although it was noted that they reportedly inquired about now-Nashville Predator Paul Gaustad, but didn't have the first-round pick that the Buffalo Sabres wanted.
Jordan Matthews is a Featured Columnist for the NHL and the Detroit Red Wings. You can read his recent articles here:
Where Do the Red Wings Land in Western Conference Playoff Seeding?
Eight Reasons Red Wings Fans Can Count on a Long Playoff Run