San Francisco Giants: 5 Giants Who Are as Good as New This Spring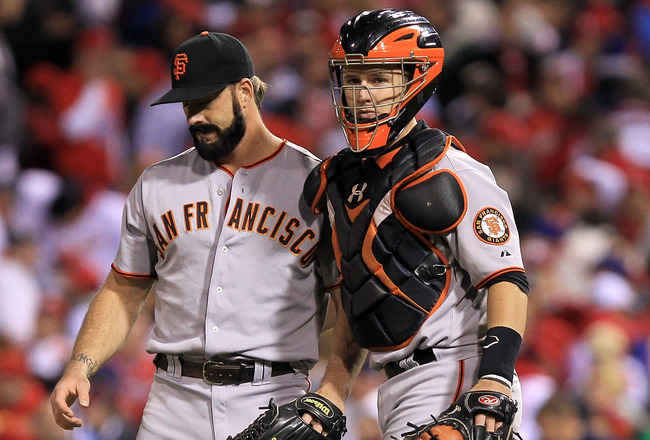 Chris McGrath/Getty Images
You say the 2011 offseason wasn't productive enough for the San Francisco Giants? I disagree.
Sure, the acquisitions of Angel Pagan, Melky Cabrera and Ryan Theriot aren't exactly boosting jersey sales over at the Dugout Store. But it's all a matter of perspective.
When the offseason gives you lemons, you make lemonade.
The 2011 Giants busted out of the gate fresh off a World Series run where every single thing that could go right went right. By May, they had blown a tire in Buster Posey's collision with Scott Cousins.
Several injuries and a few months of underachieving later, the Giants were completely broke down. They tried to jump start with some Carlos Beltran, but ended up just rolling into the ditch.
The bright side of the meltdown? There are some players that will be in the Opening Day lineup who were not part of the second-half meltdown last year.
Who needs free agency or trades? Look no further than the Giants' own roster.
Here are five guys you might not recognize if you just started following the Giants seven months ago.
Freddy Sanchez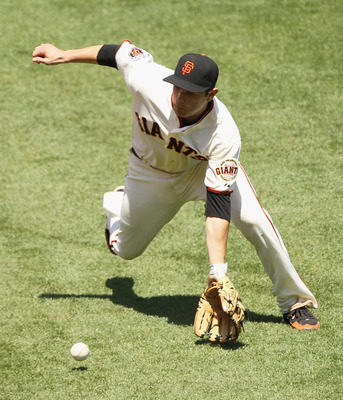 Ezra Shaw/Getty Images
OK, so not quite. But when is Freddy Sanchez ever good as new? Poor Freddy hasn't topped 500 AB since 2008 and went down last season with a serious shoulder injury.
Sanchez was slated to begin playing real games during the Giants' second week in Scottsdale. Apparently, Freddy was so excited to return to the field that he gave himself back spasms. Ugh.
Since Sanchez arrived in San Francisco, Giants fans have taken their Freddy with a healthy side of Manny Burriss, Mike Fontenot and now Ryan Theriot. As a 34-year-old in a 44-year-old's body, Sanchez only has so much left in the tank.
However, he will be a welcome improvement over whoever played second base last season. I can't even remember.
Buff Aubrey Huff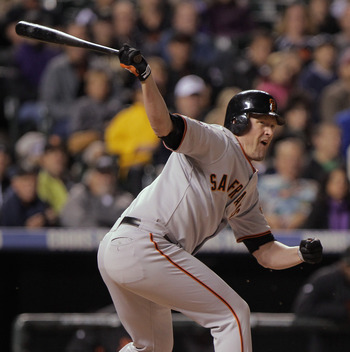 Doug Pensinger/Getty Images
It's common in sports these days for players to show up in camp claiming to be "in the best shape of their life."
For some, like Barry Bonds' magical transformation in 2000, the hype is real. For others, like the 2012 Miguel Tejada, it's best to just look the other way.
Apparently Aubrey Huff ate his veggies this winter.
Reports say he's in top form this spring. While this is good news, we will withhold judgment until June. Presumably all that gym work still won't enable to him to beat out the grounders to second that he was so fond of hitting last year.
Huff is still 35 years old. It's typically not stars like Adrian Gonzalez who come into camp making such claims. It's washed-up vets like Huff who are making one last run at a payday.
Let's hope Brandon Belt kept himself in nice shape this offseason in case Huff falters.
Brian Wilson's Healthy Right Elbow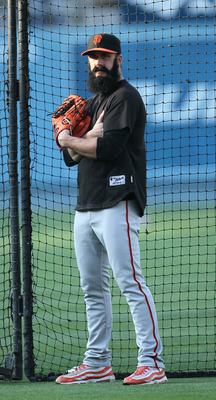 Stephen Dunn/Getty Images
The Bearded One hasn't exactly warmed Giants' fans hearts this offseason.
While elbow injuries are always cause for concern, word emerged that Wilson wasn't exactly playing it safe last season, often pitching through the pain.
Wilson has established permanent goodwill in the Bay Area, having been on the mound closing every big game during 2010. However, 74 Taco Bell commercials later, it's time for Wilson to get back on the mound.
Assuming he's healthy, Wilson should return to being one of the best and most entertaining closers in baseball.
Barry Zito Is Back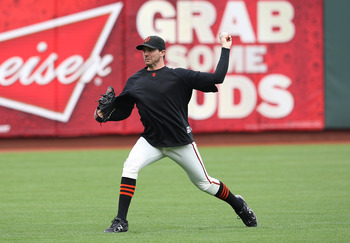 Tony Medina/Getty Images
Can you believe we are entering Year 6 of the Zito project? Time flies when you're having fun.
Giants fans don't hate Barry Zito. They hate the idea of Barry Zito. You can't fault a guy who took a payday after a bunch of good years in Oakland. It's all water under the bridge. Zito is back.
Zito will presumably get the first chance at the fifth-starter role. Despite the venom, Zito has been solid for stretches as a Giant, including as recently as 2010.
It's time to stop worrying about sunk costs and appreciate the value that Zito gives the team now. He only needs to put up fifth-starter numbers, which usually fall somewhere between Jamey Wright and Brad Hennessey.
In Zito's six seasons, the Giants have one World Series title. I'll take those numbers.
Buster Posey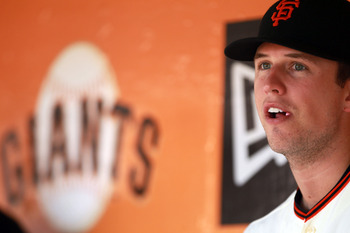 Ezra Shaw/Getty Images
If you squint really hard, it looks like the Giants signed a big-time free agent during the offseason. That's the impact that the 2010 Rookie of the Year's return to the lineup is expected to have.
In 2010, a blundering Giants offense was rescued by a young catcher who stepped in and provided immediate stability.
The 2012 Giants are going to try the same trick. After a historically bad offensive season, that same young catcher will be looked to for salvation.
Never has a team with such a disappointing offseason looked so much better the next spring.
Keep Reading

San Francisco Giants: Like this team?