Chargers Free Agency: Tracking 2012 Signings, Targets and Rumors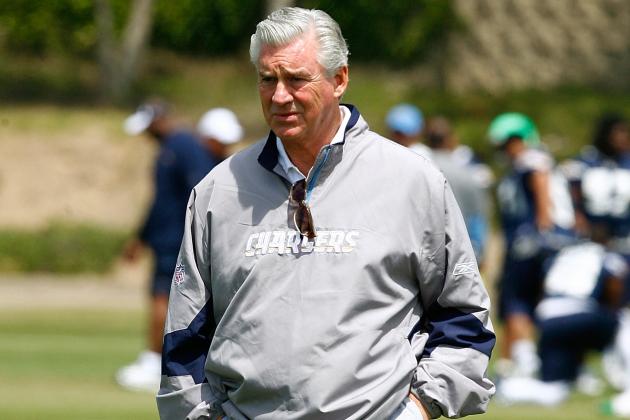 Kevin Terrell/Getty Images

Updated: Mar. 14, 11:27 a.m. PST/2:27 p.m. EST
After missing the playoffs for the second straight year, there is no doubt that the San Diego Chargers must retool their roster during the offseason.
The Chargers already made two of their biggest moves in the offseason when owner Dean Spanos decided to keep general manager AJ Smith and head coach Norv Turner.
Now, Smith is in charge of the Chargers in midst of their most pivotal offseason in his tenure.
Please don't think that this article is not current because of the March 2nd publish date—it will be updated almost daily. Any Chargers offseason news will be reported and analyzed in this tracker.
This tracker will be a hub for Chargers fans looking to keep up with the busy offseason the team is destined to have.
Michael Walkusky is a featured columnist on Bleacher Report. Follow him on Twitter
Begin Slideshow

»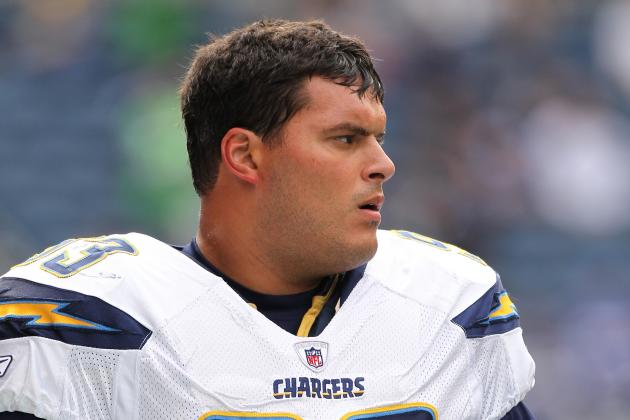 Otto Greule Jr/Getty Images

Mar. 14, 2012: According to various sources on Twitter, 3-4 OLB Jarret Johnson has agreed to a 4-year deal with the Chargers.
Johnson is not a pass-rusher at the position, but he will provide a much needed run-stuffer opposite Shaun Phillips. A combination of former teammates Johnson and Antwan Barnes at one OLB position will result in fantastic production for the Chargers. The team has made two great moves today as they have brought in Johnson and retained Gaither.
It is being reported that Jared Gaither has signed a 4-year deal with the Chargers. Re-signing Gaither was one of the biggest priorities of the offseason, and bringing him back has to make Philip Rivers happy.
In his short time as a starter for the Chargers, Gaither played like one of the best offensive linemen in the NFL. He allowed no sacks after being picked up from the Kansas City Chiefs.
The value of Gaither's contract hasn't been released yet, but as long as he stays healthy, it will be worth it no matter how much he is getting paid.
Mar. 13, 2012: ESPN is reporting that the Chargers have signed WR Robert Meachem to a 4-year, $25.9 million deal.
After losing Vincent Jackson, adding a receiver was a priority. Meachem was projected as a star wide receiver coming out of college, but he never turned into a number-one guy in New Orleans due to Drew Brees' propensity to spread the ball around and the emergence of players like Marques Colston and Jimmy Graham.
Meachem has a chance to prove himself as a number-one receiver in San Diego, and fans will be expecting him to perform like one after the big contract the Chargers doled out to him.
For those who haven't heard the news yet, the Tampa Bay Buccaneers have signed WR Vincent Jackson to a 5-year, $55.5 million deal. The move is a huge blow to the Chargers roster, and it shows that AJ Smith wasn't willing to pony up to pay his most dangerous wide receiver.
It's clear that Smith should have given Jackson the contract he wanted two years ago rather than drag this whole process out, but there's nothing the Chargers and their fans can do now except try to replace one of the biggest athletic freaks in the NFL. Jackson will be sorely missed by Philip Rivers on offense, and providing Rivers with a comparable weapon will be quite a task.
ESPN is reporting the Chargers have re-signed C Nick Hardwick to a 3 year deal. Retaining Hardwick is huge for the Chargers. He is a very good center, and he will help the offensive line maintain a bit of continuity after the loss of Kris Dielman.
ProFootballTalk is reporting that the Chargers will release LT Marcus McNeill and CB Dante Hughes. The release of both of McNeill and Hughes is no big news. Chargers' fans knew this was coming, as both players cap hits are way too big in 2012 considering their lack of production.
Mar. 8, 2012: ESPN is reporting that the Chargers have signed LB Demorrio Williams. Williams was recently cut by the Kansas City Chiefs. He will push Jonas Mouton for playing time as a backup inside linebacker, and he will likely be very helpful on special teams. Although Williams doesn't figure to make a big impact on the team, the last Chiefs castaway the Chargers signed—Jared Gaither—provided more of an impact than anyone could have ever imagined.
Mar. 5, 2012: The Chargers released defensive end Luis Castillo. Castillo was drafted by the Chargers in 2005, and he was one of the most productive players on the team when he was healthy. Releasing Castillo will give the Chargers approximately 4.5 million more dollars to spend this offseason.
Mar. 1, 2012: Kris Dielman announced his retirement from football. Dielman was one of the best guards in the NFL during his career with the Chargers. Dielman's retirement will add approximately $4.5 million to the Chargers payroll this offseason.
Jan. 31, 2012: The Chargers signed defensive end/outside linebacker Ricky Elmore to a reserve/future contract. Elmore was drafted by the Green Bay Packers in the sixth round of the 2011 NFL Draft out of Arizona, but released during final cuts. He was also on the San Francisco 49ers practice squad during their 2011 playoff run.
Jan. 12, 2012: The Chargers signed safety DeAndre McDaniel to a reserve/future contract. McDaniel went undrafted in the 2011 NFL Draft out of Clemson, and he was briefly on the Indianapolis Colts' practice squad in 2011.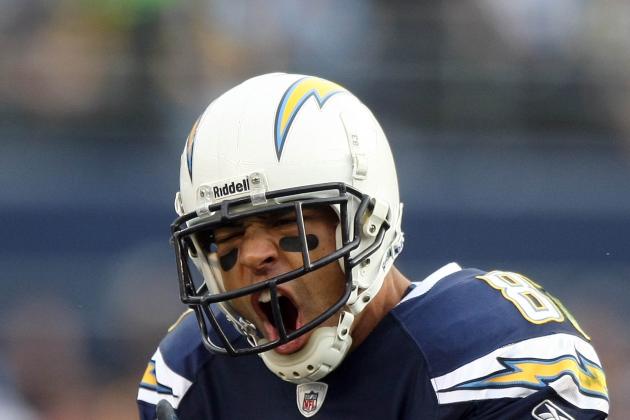 Donald Miralle/Getty Images

Prior to Marcus McNeill's release on March 13, Spotrac lists that the Chargers have $100,844,486 worth of contracts that will count against the 2012 salary cap. Factoring in the probable raise of the salary cap to $120.6 million from last year's $120 million and a projected $4.5 million added to the payroll due to Kris Dielman's retirement, the Chargers figure to be about $24.3 million under the cap.
Now that free agency has started, the Chargers' salary number will be constantly fluctuating, which will make it difficult to keep this section updated. However, B/R will try our best to keep this up to date.
Although the $24.3 million number looks nice, there are a lot of important Charger players that will be on the market. Antonio Garay, Jared Gaither, Mike Tolbert and Jacob Hester are among the free agents the Chargers are looking to potentially bring back into the fold.
For the record, all stated cap hits in this tracker include bonuses.
Problematic Cap Hits
After the release of both Marcus McNeill and Luis Castillo, the Chargers do not have a terrible contract on the roster.
Value Contracts
Donald Butler played very well in his "rookie" season after missing the 2010 season with a torn Achilles tendon. Butler finished second on the team with 96 tackles in addition to two sacks, one interception, two forced fumbles, one fumble recover and a touchdown. He will cost the Chargers just $692,500 against the cap in 2012.
In the 14 games Louis Vasquez played, he provided solid production from the right guard position. He is a bargain considering his cap hit in 2012 is just $765,000. If Vasquez can stay healthy and continue to improve, he can become one of the better guards in the NFL.
What to do With Vincent Jackson?
Well, it looks like Jackson is going to be playing for Tampa Bay next year.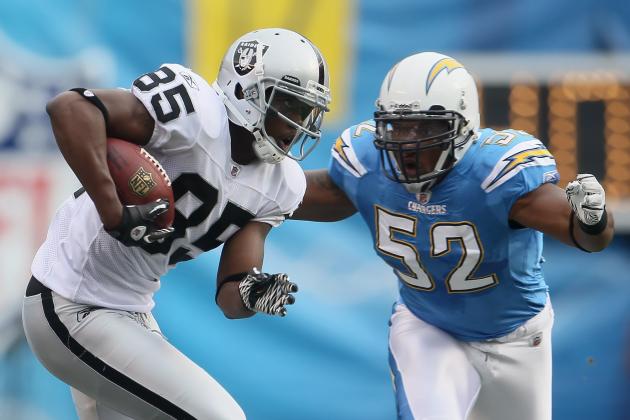 Jeff Gross/Getty Images

The Chargers have gone from being one of the most talented rosters, to a team that has a number of holes on their roster in just a few years. Injuries and age have been the main culprits in the decimation of the Chargers' roster.
Offense
The Chargers have needs everywhere on offense, except for at the quarterback position. Let's go through their long list of needs.
Offensive Line
Last year, the Chargers offensive line struggled to protect Philip Rivers. The offensive line woes have gotten even worse during the 2012 offseason. Kris Dielman announced his retirement from football due to a concussion, Nick Hardwick is a free agent and Marcus McNeill is expected to be let go due to the ridiculous amount of money he is in line to be paid next season. Jared Gaither filled in admirably for a hurt Marcus McNeill, but Gaither is a free agent this offseason.
The Chargers will look to re-sign Hardwick and Gaither. If they are successful in bringing Hardwick and Gaither back into the fold, they will still have huge holes at left guard and at right tackle, where Jeromey Clary is one of the worst tackles in the league.
Tight End
With Antonio Gates getting older and losing a step, and both of his backups—Randy McMichael, Kory Sperry—hitting the free agent market, there's no doubt that the Chargers have to bring in a tight end.
Now is the right time to bring in a young tight end and begin grooming him as Gates' heir apparent.
Wide Receiver
Malcolm Floyd and Vincent Brown are the only two receivers on the Chargers roster at the moment. Regardless of what happens with Vincent Jackson, the Chargers have to add a few more receivers in order to have more depth at the position.
Running Back
Both Mike Tolbert and Jacob Hester are unrestricted free agents this offseason. If both of these players walk, then the Chargers will definitely need to provide the injury-prone Ryan Mathews with some help in the backfield.
Defense
Just like the offense, the defense has a ton of glaring holes that need to be tended to by the front office. The only players on the roster that have no chance of having their spot taken in 2012 are Eric Weddle at free safety, Donald Butler at inside linebacker and Quentin Jammer at a cornerback spot. However, Jammer is getting up there in age and had his worst season ever last year.
Outside Linebacker
It's about time to give up on the failed Larry English experiment. The choice of English was another huge reach by A.J. Smith. The Chargers mustered just 32 sacks last season. Antwan Barnes proved to be a good situational pass rusher, but there's no doubt that the Chargers need to add a monster pass rusher to their linebacker corps in order to win more games.
Nose Tackle
It remains to be seen if the Chargers will be able to retain Antonio Garay. He has been a great find at nose tackle for the Chargers, but he showed last year that he can't be relied upon as a full-time player. Also, teams will be willing to overpay for Garay because of the dearth of solid nose tackles in the league. Cam Thomas looked good in spurts last season, but he cannot be the sole nose tackle on the roster.
Strong Safety
Let's be frank—Steve Gregory should not be a starting strong safety in the NFL. The Bob Sanders experiment failed miserably, and Eric Weddle needs a playmaker next to him.
Defensive End
Corey Liuget showed very little in his rookie season, and Luis Castillo will be released by the team very soon. The Chargers need to add a talented 3-4 defensive end that can not only make plays, but occupy blockers as well.
Cornerback
Jammer is getting old, and Antoine Cason looked like an easily replaceable cornerback last year.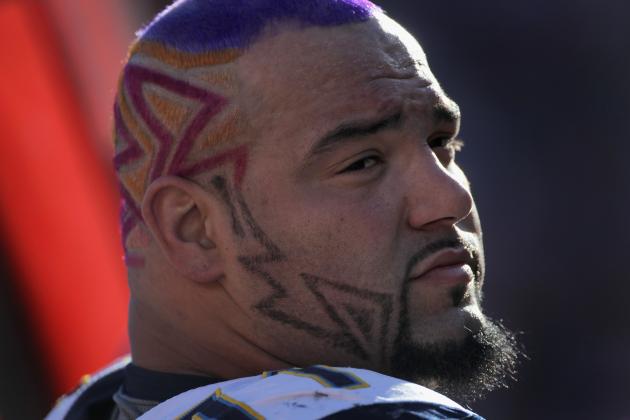 Doug Pensinger/Getty Images

Spotrac lists the following Chargers players as unrestricted free agents (UFAs),which means that unless the Chargers negotiate a deal in advance of the free agency start date, any NFL team has the ability to offer these players a contract:

Mar. 13, 2012: ESPN is reporting the Chargers have re-signed C Nick Hardwick to a 3 year deal.
WR Patrick Crayton
LB Na'il Diggs
OT Jared Gaither
NT Antonio Garay

S Steve Gregory
C Nick Hardwick
DT/DE Tommie Harris
FB Jacob Hester
WR Vincent Jackson

TE Randy McMichael
OG Tony Moll
OG Scott Mruczkowski
S Bob Sanders
CB Donald Strickland
RB Mike Tolbert

The following players are listed as restricted free agents (RFAs), meaning that the Chargers can offer them a one-year tender which any other team must match with draft picks:
OT Brandyn Dombrowski
TE Kory Sperry
An approximate $2.742 million tender equates to first-round compensation, an approximate $1.927 million tender qualifies for second-round consideration and the lowest base tender of approximately $1.26 million requires matching the RFA's original draft pick.
Also, there are exclusive rights free agents. These are free agents who have accrued just two years of NFL service. They can be offered a one-year tender of $540,000, and they must either take it or essentially leave the NFL. According to SB Nation, Chargers have two exclusive rights free agents:
WR Richard Goodman
LS Mike Windt
Update: It appears that the Chargers have tendered offers to Goodman, Windt, and Dombrowski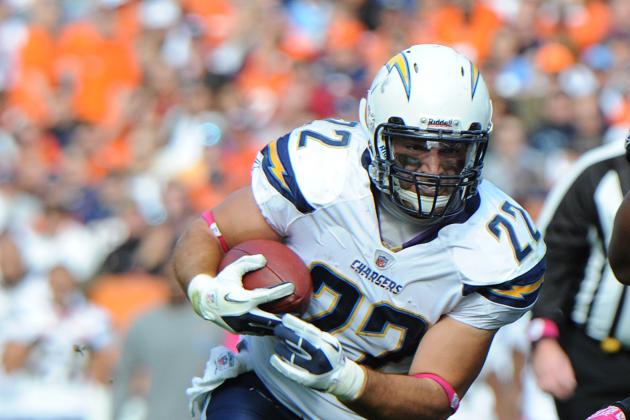 Bart Young/Getty Images

The Chargers have a lot of free agents, and it is going to be difficult to figure out which free agents they will want to bring back for next year.
Although the draft and free agency will be important for the Chargers, there is no doubt that their decisions regarding their own free agents will be huge in determining their success on the field in 2012.
Here is the value of each Chargers free agent this offseason:
Unrestricted Free Agents
Patrick Crayton: $1 million (estimated)
Crayton was brought in by the Chargers in hopes that he would be an effective slot receiver in their passing game. Instead, Crayton turned out to be an overpaid bust who couldn't stay healthy.
However, it's clear that Crayton still has some talent, and a team will likely offer him a decent salary to be their slot receiver.
Na'il Diggs: $925,000 (estimated)
Diggs did exactly what he was signed to do last year—provide veteran leadership and provide depth at the inside linebacker position. He didn't do anything particularly well, but he didn't make any huge mistakes either.
Jared Gaither: $5 million (estimated)
Gaither played like a Pro Bowler as Marcus McNeill's injury replacement last season. In 317 snaps, Gaither allowed zero sacks, zero quarterback hits and just three quarterback pressures. After just seven games, Gaither earned himself a nice paycheck going forward.
Teams are going to be throwing money at him, as he has positioned himself as the cream of the crop among free agent offensive tackles.
Update: Gaither has re-signed with the Chargers for four years.
Antonio Garay: $4 million (estimated)
After splashing onto the scene in 2010, Garay tailed off during his 2011 season. He was still an effective run-stopper, but he didn't collapse the pocket nearly as much. It's evident that Garay is only a two-down player as he gets gassed easily.
However, he will be a hot commodity among 3-4 defenses this offseason because of his ability to clog rushing lanes.
Steve Gregory: $1.2 million (estimated)
Gregory filled in for an injured Bob Sanders last year at strong safety. His stats look alright, but he did not do anything particularly impressive on the field. He says that he feels like he's a legit starter in the league, but he doesn't look like one.
Nick Hardwick: $3 million (estimated)
Although Hardwick contemplated retirement at the beginning of the offseason, his 2011 performance showed that he is still a solid center. A $3 million average salary seems fair for Hardwick.
Update: ESPN is reporting the Chargers have re-signed C Nick Hardwick to a 3 year deal.
Tommie Harris: $1.2 million (estimated)
Harris will never be the same player he was in his prime with the Chicago Bears, but he showed in 2011 that he still has some productive years left in him. Teams looking to add defensive line depth for a low price will be knocking on Harris' door.
Jacob Hester: $1 million (estimated)
Hester is far from the typical strongman fullback that the NFL has gotten accustomed to. However, his all-around talent is what makes him stand out at the fullback position. His athletic ability from his running back days at LSU have translated to his NFL play.
Although he doesn't punish defenders with blocks, he is very quick on his feet and gets in the right position to make the proper blocks in order to spring his teammates for positive gains. Also, he is a very good special teams player.
Vincent Jackson: $10 million (estimated)
Jackson is one of the top free agents on the market, and teams are salivating at the thought of their respective quarterback throwing to the huge wide receiver. The Chargers will have a tough time keeping Jackson in San Diego.
Update: The Tampa Bay Buccaneers have signed Jackson to a five-year, $55.5 million deal.
Randy McMichael: $925,000 (estimated)
McMichael was a serviceable second string tight end for the Chargers. He is definitely nearing the end of his career in the NFL, and he will only earn the veteran minimum with whatever team signs him.
Tony Moll: $825,000 (estimated)
Moll is as nondescript a player as you can get. He did little in the playing time he got with the Chargers, and if a team signs him, he will only receive the bare minimum a player with his playing experience can earn.
Scott Mruczkowski: $900,000 (estimated)
Mruczkowki is a very versatile lineman that has played center and guard for the Chargers. In the past, he has been a solid replacement for Hardwick when he's been hurt.
Bob Sanders: $825,000 (estimated)
There's no way a team will invest anything more than the minimum for this glass-man.
Mike Tolbert: $2.6 million (estimated)
The human bowling ball will make a lot of money this offseason due to his propensity to get into the end zone. It's too bad that his future touchdowns—and entertaining dances—will likely happen in a jersey other than the Chargers.
Restricted Free Agents
Brandyn Dombroski: $1.26 million (base tender, estimated)
Dombroski is a very versatile lineman who can play tackle or guard. He has helped the Chargers fill in several positions in a pinch. However, he isn't particularly good at any of the positions.
Kory Sperry: $1.26 million (base tender, estimated)
Sperry has done very little for the Chargers during his time in San Diego. He provided some decent blocking when he played, and he only caught one ball for 32 yards.
Exclusive Rights Free Agents
Richard Goodman: $540,000 (estimated)
Goodman has developed into one of the better kick returners in the NFL. He was fourth in the NFL in yards per kick return in 2012 at 27.5 and also returned a kickoff 105 yards for a touchdown.
Mike Windt: $540,000 (estimated)
Windt's name hardly comes up during telecasts, except for when he's tackling the opposing team's punt returner. That's exactly what you want from a long snapper, because that means he's made no mistakes.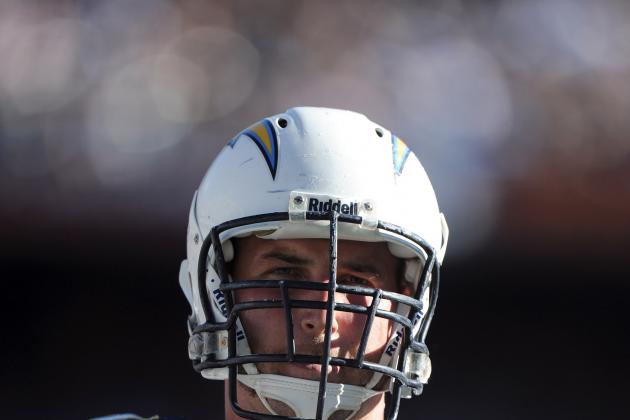 Harry How/Getty Images

The Chargers have too many holes on their team to try and fill them by signing other team's free agents and the draft. They will have to bring back some of their players that are testing the market because their familiarity with the Chargers' system is very important.
Unrestricted Free Agents
Patrick Crayton: Released
Crayton has been a huge disappointment, and the Chargers need to get younger at wide receiver.
Na'il Diggs: Released
There's no reason for the Chargers to bring Diggs back.
Jared Gaither: Re-signed
Gaither looked like a dominant tackle last year, and if he can keep producing at that level, the Chargers will have gotten a bargain with this contract.
Estimated contract: Four years, $21 million
Update: Gaither has re-signed with the Chargers for four years.
Antonio Garay: Released
Some team might vastly overpay for Garay, and with a couple of other nose tackles on the market, it wouldn't be wise for the Chargers to get in a bidding war for Garay.
Steve Gregory: Released
If Gregory truly believes he's a starting safety in the NFL, then it better not happen at the Chargers' expense. The Chargers need a talented strong safety beside Eric Weddle, and they can't waste money on Gregory if they want to bring in a good strong safety.
Nick Hardwick: Re-signed
The Chargers cannot afford to lose the anchor of their offensive line during an offseason that has already featured their Pro Bowl left guard hanging up his cleats.
Estimated contract: 3 years, 10 million
Update: ESPN is reporting the Chargers have re-signed C Nick Hardwick to a 3 year deal.
Tommie Harris: Re-signed
Harris has had a devastating offseason as he prematurely lost his wife. Nothing can help offset that loss, but the Chargers will make him feel wanted by bringing him back after a surprisingly good season as a rotational defensive lineman.
Estimated contract: 2 years, 2.5 million
Jacob Hester: Re-signed
Hester is simply too important to the Chargers for them to let him walk.
Estimated contract: 4 years, 4.4 million
Vincent Jackson: Released
Jackson's situation all depends on how big the market is for him. At the moment, it looks like teams might be willing to pay him more than $10 million a year on a long-term deal. That type of deal is far too rich for the Chargers at this point in time. However, if the market for Jackson proves to be softer, they could bring him back.
Update: The Tampa Bay Buccaneers have signed Jackson to a five-year, $55.5 million deal.
Randy McMichael: Released
McMichael provided exactly what the Chargers needed from him last year, but it's time for the team to bring in a young tight end to learn under Antonio Gates.
Tony Moll: Released
Moll gave the Chargers depth on the offensive line last year, but they need to use his roster spot for a more talented lineman in 2012.
Scott Mruczkowski: Re-signed
Mruczkowski is a solid lineman, and the Chargers would be smart to re-sign him for the value he provides at such a low price tag.
Estimated contract: 2 years, 1.8 million
Bob Sanders: Released
The Chargers will let another team gamble on Sanders staying healthy for more than two games.
Mike Tolbert: Released
Tolbert will command too much money as a free agent for it to make fiscal sense to re-sign him. The Chargers appreciate what Tolbert has done for their franchise, but it's time to bring in a different power back to complement Ryan Mathews.
Restricted Free Agents
Brandyn Dombroski: Released
Although Dombroski has been able to play several positions for the Chargers, he is definitely an expendable player. It's time for the Chargers to find another versatile lineman.
Kory Sperry: Released
Sperry has done very little to inspire confidence in his ability. The Chargers need to find a different third-string tight end that will provide more production.
Exclusive Rights Free Agents
Richard Goodman: Re-signed
Goodman has been a solid kick returner for the Chargers, and it would be the right move to bring him back.
Estimated contract: 1 year, $540,000
Mike Windt: Re-signed
Windt hasn't done anything wrong as a long snapper, which is exactly what you want from the position.
Estimated contract: 1 year, $540,000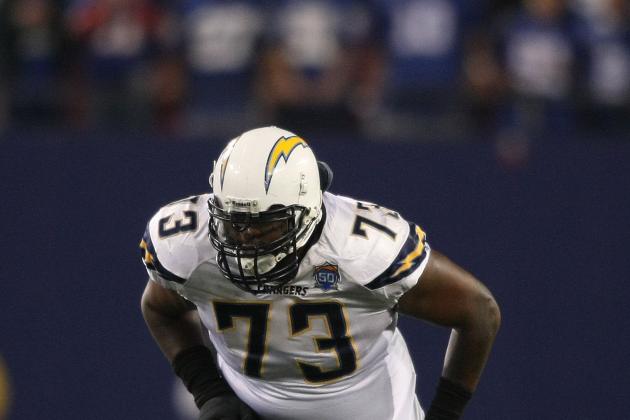 Nick Laham/Getty Images

The free agent re-signings in the previous slide add up to approximately $13 million when the contracts are averaged out evenly. Keep in mind that contracts are hardly ever paid out evenly, and most of the time, they are back-loaded to soften the present cap hit. However, it is too difficult to speculate as to how contracts will be paid out.
This means that the Chargers will have approximately $11.3 million to spend on the draft and free agents.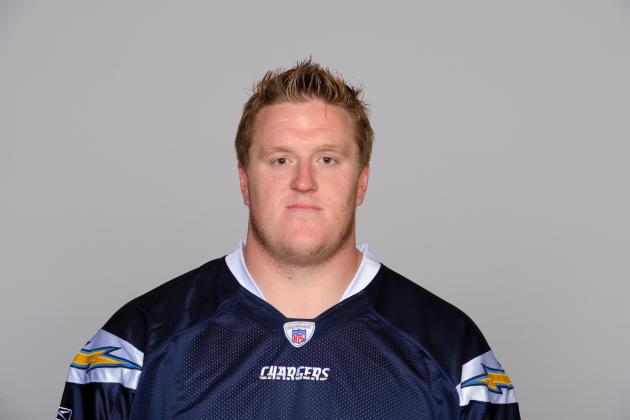 Handout/Getty Images

Sadly, after re-signing their own players, the Chargers will still have needs in all of the positions they needed prior to the re-signings.
The Chargers will have needs at the following positions: guard, tackle, tight end, wide receiver, running back, outside linebacker, nose tackle, strong safety, defensive end and cornerback.
The need to improve the offensive live might drop a bit in importance due to the re-signings of Jared Gaither and Nick Hardwick, but Tyronne Green at left guard and Jeromey Clary at right tackle are two players that are below average at their respective positions.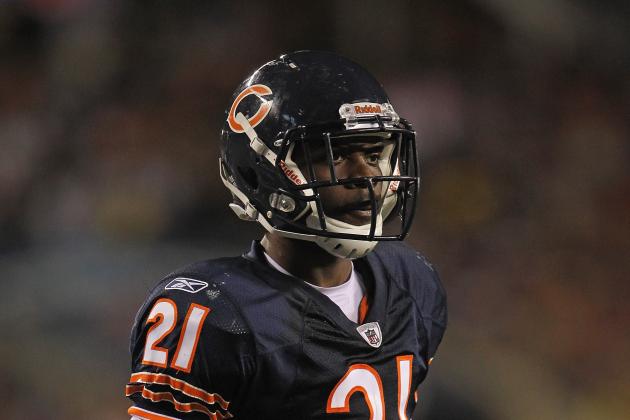 Jonathan Daniel/Getty Images

Cornerback
Corey Graham appears to be high on the Chargers wish list this offseason. In just 87 snaps with the Chicago Bears in 2011, Graham had three interceptions. Signing with the Chargers would allow him to prove himself as a defender after being known as a great special teams player for years.
Strong Safety
If the Chargers try to sign Graham, why not go after his teammate Craig Steltz? Steltz might not have the same name recognition as LaRon Landry, but he also doesn't have the poor injury history either. After finally getting a chance as a starter due to injuries, Steltz excelled.
He was one of nine safeties who played over 25 percent of his team's defensive snaps that didn't miss a tackle on a passing play—this shows that he's a sure tackler. Additionally, he didn't allow a passing play over seven yards in the last five games of the season. Steltz is a guy who can grow in the Chargers system.
Outside Linebacker
Although Jeremy Mincey has never played outside linebacker in a 3-4 scheme, there's no doubt that it's worth it for the Chargers to switch the defensive end to the position. He recorded 57 pressures on the quarterback last year, which would provide the Chargers defense with something they were missing last year.
Defensive End
Derek Landri had a breakout season last year for the Philadelphia Eagles. If you watched the Eagles play, you would have seen Landri pushing linemen back, being blocked by multiple offensive linemen and making huge stops in the run game. That's exactly what the Chargers need from a 3-4 defense end.
Guard
Okay, Chilo Rachal was terrible for the San Francisco 49ers last year. However, he is still very young, and he played well in 2010. Also, his poor 2011 season will make Rachal a cheap target in free agency. With some good coaching, Rachal could easily take away Tyronne Green's starting left guard position. Even if Rachal can't wrestle the position from Green, Rachal will provide good depth at the position.
Wide Receiver
Update: The Chargers have signed WR Robert Meachem. However, they will likely target at least one more wide receiver.
Tight End
Making a run at Martellus Bennett might be worth it for the Chargers. Despite doing very little in Dallas, there's no doubt that Bennett is a very talented young tight end.
Running Back
The Chargers will need a strong running back to replace Mike Tolbert, but it looks like Tolbert's replacement will come from the draft rather than free agency.
Offensive Tackle
There's not much of interest for the Chargers at offensive tackle. They will be better served taking a tackle in the draft.
Nose Tackle
Paul Soliai is the best nose tackle that will be available on the market this offseason. Sione Pouha is the other big nose tackle that the Chargers can take a run at. However, the price tag of both players may result in the Chargers trying to fill the nose tackle position through the draft.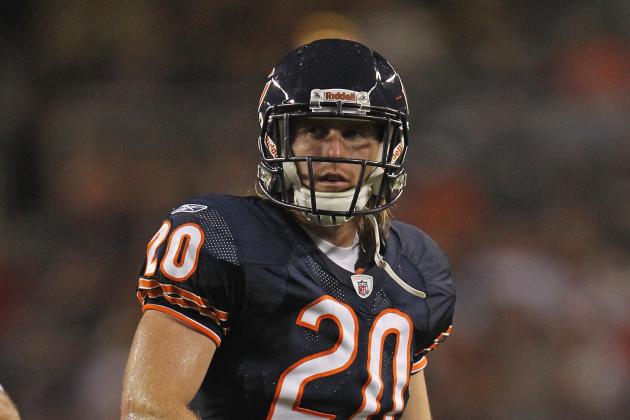 Jonathan Daniel/Getty Images

The previous slide listed free agents that would be a huge help to the Chargers' depleted roster. At the moment, the Chargers do not have enough money to dole out for all of the free agents listed here, but they will have enough money once the inevitable releases of Marcus McNeill and Luis Castillo take place.
Here are the projected salaries for the Chargers' free agent targets:
Corey Graham: 3 years, $9 million
Graham looks like he can be a very good corner in the NFL, and the Chargers recognize the potential Graham has. Cornerbacks are a valuable commodity in the NFL, and Graham earned himself a lot of money in his limited time last season.
Craig Steltz: 3 years, $4.5 million
Having the familiar Graham and Steltz play in the Chargers' defensive backfield will improve the talent and production of the Chargers. Steltz can be a playmaker for the Chargers, which is what Eric Weddle needs next to him.
Jeremy Mincey: 4 years, $20 million
Shaun Phillips needs a pass-rushing outside linebacker opposite him to ward off double teams, and Minceywill help provide that. Offenses will need to account for Mincey in their game plans, and it will make the rest of the defense much better overall.
Derek Landri: 2 years, $4 million
If Landri continues to perform like he did for the Eagles, he can parlay this contract into a huge deal after two years.
Chilo Rachal: 1 year, $1.2 million
Rachal has talent, but he played terrible last year. That's why the Chargers need to bring him in on a "show-me" one-year deal.
Martellus Bennett: 3 years, $12 million
Is this overpaying for a player who has done little in the league? Most likely. However, Bennett still has the potential to be a top tight end in the NFL.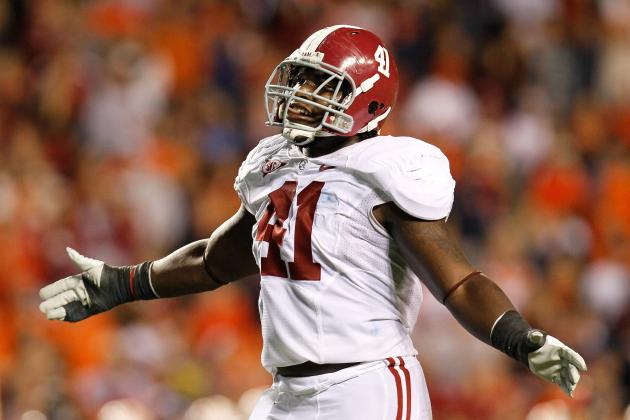 Kevin C. Cox/Getty Images

The Chargers' draft strategy is simple: they need everything except for a quarterback and special teams players.
The highest priority going into the draft is a pass rusher. You can never have enough pass rushers, which is what the New York Giants have proven with their Super Bowl teams. Luckily, the 2012 draft has players like Courtney Upshaw, Nick Perry and Melvin Ingram who have the potential to be great NFL pass rushers.
Besides a pass rusher, look for the Chargers to take the best player available at each draft slot. As stated earlier in this slideshow, the team can use offensive linemen, defensive linemen, defensive backs, wide receivers, tight ends and a backup running back.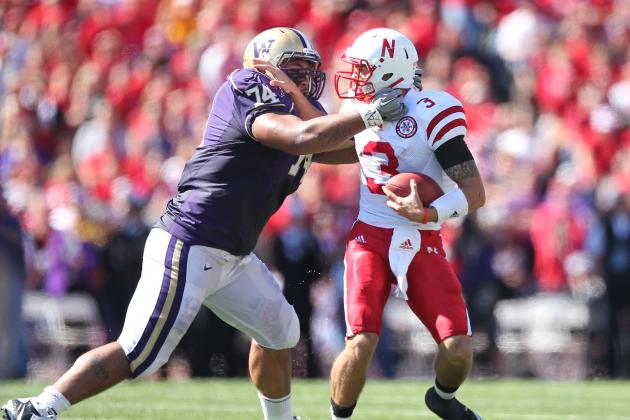 Otto Greule Jr/Getty Images

Because of how publicized a lot of the projected first-round draft selections are, the bulk of the content in this section will mostly consist of lesser-known players that will be taken after the first round.
But first, here are some first-round targets for the Chargers:
DE/OLB Courtney Upshaw, DE/OLB Nick Perry, DE/OLB Melvin Ingram, OT Riley Reiff and OG David DeCastro.
Upshaw, Perry and Ingram could all provide the pass-rushing threat that the Chargers need on the team. However, if Reiff and/or DeCastro fall to them at #18, it would be difficult to pass on either of the elite offensive linemen. Drafting one of Reiff or DeCastro would completely turn around the hurting Chargers' offensive line.
Other Draft Targets
NT Alameda Ta'amu
While everyone is on the Dontari Poe bandwagon, Ta'amu is the nose tackle in the draft that actually produced throughout his college career. Ta'amu had a disappointing senior season at Washington, but he looked like a future star during his junior year. He plays a bit upright, but with a bit of coaching, his body and style of play would be a perfect fit in the middle of the Chargers' 3-4 defense. If Ta'amu falls to the Chargers in the second round, they have to choose him.
SS Harrison Smith
Smith appears to be flying up draft boards, and one Chargers decision maker is said to like Smith very much. Choosing Smith in the draft would give the Chargers a pair of talented safeties.
TE Ladarius Green
Green weighed in at just 238 pounds at the combine, but his 6'6" height and 4.47 speed are just too impressive to ignore. Green will be a nightmare for opposing defensive backs and linebackers in the NFL. If he can't put on weight, he might even be able to make a transition to wide receiver. Green would be a great selection in the third or fourth rounds.
WR Brian Quick
The Chargers love tall wide receivers and Quick is just that, measuring in at 6'3-1/2" at the combine. He is still raw, as he played at FCS school Appalachian State in college. After a year or two in the Chargers system, maybe he can become the next Vincent Jackson? Okay, that's asking a little much of him, but Quick can certainly become a solid No. 2 wide receiver in the NFL. He would be a good pick in the fourth round.
RB Robert Turbin
Turbin is an absolute beast at running back. At the combine, his measurements and results were: 5'10", 220 pounds, 4.5 40-yard dash, 28 bench press reps. He was also very productive at Utah State. Turbin would be the perfect replacement for Mike Tolbert and the perfect complement to Ryan Mathews. Hopefully, he falls to the Chargers in the fourth round.
Michael Walkusky is a featured columnist on Bleacher Report. Follow him on Twitter